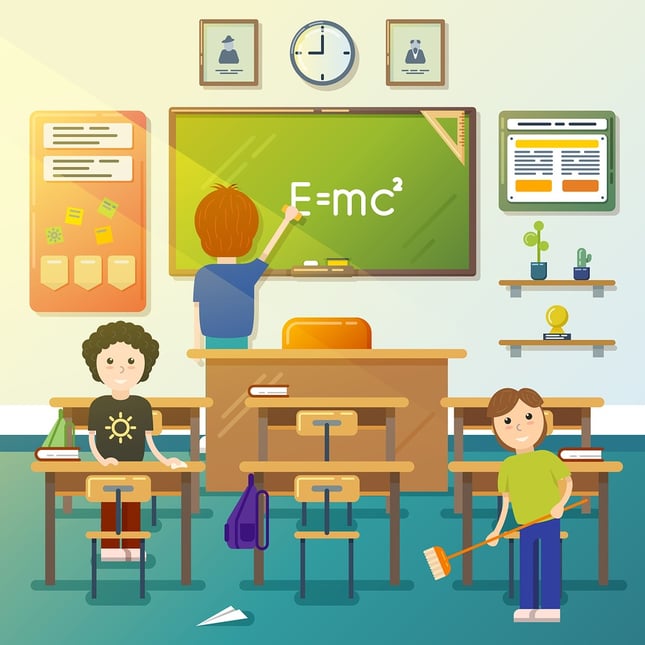 Fall Is Almost Here, Are You & Your School Cleaning Service Ready?
Some schools start soon, some are already in session. This time of year can be a blur for many of us, there is simply so much to do and it all goes by so fast. Before we know it, it's May/June again. Hopefully, you had the opportunity to use the summer to catch up on needed maintenance and deep cleaning around your facility. Maybe you even reexamined your school cleaning services, trying to determine how to get better, more effective service from your current school cleaning company or having a fallback plan to find a new janitorial services company. Summer is certainly a great time to attend to maintenance and shift cleaning into high gear, but if you and your school janitorial services didn't get as much accomplished as you intended or you are still stuck with less than great service, there is still time to turn things around. No educational facility should have to suffer poor service that compromises the healthiness or cleanliness of their learning environment.
You Have Just a Few Weeks Left to Get Ready Or Change Your School Cleaning Services
Summer offers a good time for you and your building maintenance company to catch up on your school's to do list and even make updates and repairs that may have been delayed during the school year. But if you are still in the weeds with regard to effective school maintenance and a responsive, professional janitorial service, you still have time. If you are settling with less than livable school janitorial services because you are worried about bringing on a new partner at this time you should know that sooner is better. Any minor disturbances in processes and establishing a rhythm are going to be far easier and shorter lived than living with ineffective, problematic school cleaning services.
Are You Getting The School Janitorial Services Your Campus Deserves?
If your school cleaning company isn't delivering the effective, responsive, consistent service you, your staff and students deserve, now is the time to reexamine your school cleaning. Is your school janitorial services doing the work they promised? Are you getting an effective green school cleaning program? Is your janitorial services company communicating with you? Is your university cleaning going the direction it needs to be? Is your custodial service making the most of your school cleaning budget? Are you still searching for private school cleaning that fits your needs? Is your school cleaning service delivering responsive, consistent service? Are you handling your school cleaning in-house and not seeing the results you need? Maybe your needs have changed or maybe your current school cleaning company just isn't making the grade. Either way, there is still time to turn things around and find a dedicated, responsive, professional school janitorial services that will provide the customized, effective service you and your students and staff deserve.
The Best School Cleaning Companies Can Help Maintain & Improve Your Learning Environment
Many school cleaning services also offer a myriad of other related services. Having these multi-tasking building maintenance companies on your side can keep small building issues from becoming larger, more expensive and time consuming ones. The right building maintenance and school cleaning company can help you with things like:
Cleaning classrooms
Deep cleaning and maintaining common areas like gyms, libraries and cafeterias
Servicing equipment like lockers
Keeping windows, walls & doors in good working order
Attending to and deep cleaning corridors, stairs & vestibules
Maintaining playgrounds, walkways & landscaping
Periodic daily cleaning and scheduled deep cleaning of restrooms
Plumbing, fixtures & drains
Lighting, new bulbs, repairs & cleaning
HVAC
Painting
Window cleaning
Floor stripping and resealing
Carpet cleaning
Don't Know Where to Start? Try CIMS
CIMS certification can offer an effective short cut for Facility Managers looking for better, more effective school cleaning. CIMS or the Certified Industry Management Standard, is an industry certification that signifies that a janitorial company has already passed a rigorous vetting process that determined they have the systems and practices in place to deliver highly effective service. Companies that seek this certification are fully committed to offering their customers their best and an extra assurance of their commitment to the work. CIMS certification is like an 'easy button' for facility managers everywhere as all of the work you would have to do to qualify a school janitorial service that has already been done for you. All you have to do is pick a company or two from those already certified in your area and then compare work recommendations and prices to find the best value for your facility.
If you need to find the right school cleaning services for your school or educational facility, now is as good a time as any to rethink your school cleaning, address the individual needs of your building, and commit to getting school cleaning services that fit the needs of your facility.