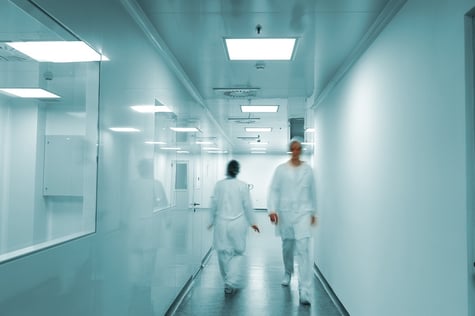 Hospital Environmental Services, or EVS is about more than looks, quality health care cleaning can offer real protection against Healthcare Acquired Infections (HAIs) and other disease and illness. Likewise, quality EVS can builds patient trust in medical facilities, which in turn can raise HCHPS scores.
Medical cleaning and Environmental Services (EVS) may represent just a fraction of your health care facility's overall budget, yet it impacts nearly all facets of your operations. From your reputation with physicians, staff, patients and families to your employee engagement and retention to infection control, patient health and surgical outcomes, a clean and well-maintained health care facility matters.
So the decision to outsource your Environmental Services to a medical cleaning company is an important one. Perhaps you have considered outsourcing your EVS but are justifiably concerned about quality control. Or maybe you hesitate thinking cost and quality might be better if you manage your own EVS in-house. This reluctance to hand off your medical cleaning to a health care cleaning contractor often serves to keep Environmental Services in-house until strong pressures, most often financial, creates a situation in which you must seriously consider outsourcing as a solution to your medical cleaning needs.
Why Operating An Environmental Services Department In House Is So Challenging
Whether you manage a clinic, hospital, ambulatory center, surgical center or other health care facility, every Facility Manager would like an efficient, effective EVS department. What does that kind of goal require? Having an in-house medical team that is both efficient and effective requires time, money, and effort in areas like recruitment, screening, onboarding, training, certifications and daily management. And even if you have the resources to run an EVS department in-house, it is still rife with headaches and obstacles. What kind of issues can plague an in-house healthcare cleaning team? Basics like staffing, benefits and management and not so basics like staying current on training and compliance requirements in spite of high staff turnover or wading through worker comp claims.
Why Outsource Environmental Services To A Medical Cleaning Company?
While cleaning and facility maintenance play a central role in a health care facility's effective operations, running an EVS department in-house can rife with headaches. It is often like running a business within your existing business. Likewise, one of the biggest advantages of outsourcing your medical cleaning is lowered facility maintenance costs. Outsourcing allows your health care facility to forecast and budget because your hospital cleaning or health care center cleaning becomes a fixed cost. Medical cleaning companies and even medical office cleaning companies can reduce costs because of the scale and specialty of their operations. Cost-saving is certainly a good reason to consider outsourcing your hospital cleaning but it isn't the only reason. In addition to cutting costs and streamlining your janitorial budget, outsourcing should also help improve patient safety, customer care, raise patient and staff satisfaction, improve infection control, HCAHPS scores, overall efficacy of cleaning processes, regulatory compliance and more. And when you partner with a respected, trusted and experienced healthcare cleaning company, you are more likely to be in a continual state of inspection readiness. Likewise, a well run EVS program protects the reputation of your health care facility and utilizes your time better by allowing you to focus on responsibilities that cannot be shifted somewhere else.
The Pitfalls of Outsourcing Your Medical Facility's EVS
While outsourcing your medical cleaning can offer a cost and time effective tool for managing your Environmental Services, there can be some pitfalls. Medical cleaning requires much more than just the basics and if your commercial cleaning company isn't familiar with the requirements, you could be in for trouble. Medical cleaning is completely different than office cleaning, school cleaning or industrial cleaning. With commercial medical cleaning it is about more than appearances, it is about health and safety and providing an environment that speaks to your facility's professionalism and inspires patient confidence. Ensuring a healthy and clean hospital environment protects patients, visitors, and health care professionals alike. The goal of cleaning for health within a health care facility like a hospital, rehab center or clinic offices is to insure clean surroundings for patients, visitors and health care staff, while at the same time reducing health care Acquired Infections (HAIs) through an effective and science based cleaning program.
Why the Goal of Outsourcing Environmental Services Must Be About More Than Just Cost
While cost-savings are critical, some janitorial companies on cost-cutting to the exclusion of effective EVS cleaning services. While cutting your costs must be a consideration, the preeminent goal must be that of keeping patients safe and creating a healthy environment. The danger of outsourcing cleaning with only cost in mind is you can end up with a janitorial company that just isn't up to the tough and important work of cleaning your healthcare facilities. Don't let your medical cleaning company's lack of professional experience jeopardize the health of patients and staff or sully the reputation of your facilities. The best medical cleaning companies are not necessarily going to be the least expensive but the best ones can help keep you costs in line with your budget and create real value with their EVS.
What the Most Effective Medical Cleaning Companies Do Differently
What sets apart a janitorial company up to the challenge of medical cleaning from the ones that want your business but are unprepared to deliver?
Solid experience with medical and healthcare cleaning accounts
Careful screening & oversight of employees in your facilities
High level employee training & low turnover
Hospital approved chemicals
CIMS certified with knowledge & adherence to blood borne pathogen guidelines
Knowledge of HIPPA & related regulations
So when considering outsourcing medical cleaning, you should be asking the following of any prospective commercial cleaning company:
Do they maintain safety compliance training for OSHA, HIPPA, & Blood borne Pathogens?
Do they use of EPA approved, spore-killing disinfectant cleaning agents?
Are they aware of the disinfecting strategies that are required for proper infection control like dwell time?
Do they offer significant experience working in hospitals and other medical environments?
Are they in compliance with all federal, state, and local regulations?
Do they offer an organized staff that is efficient and well trained?
What specifically do they do to prepare employees for medical cleaning?
Getting the Most From Outsourcing Your Hospital EVS Programs
If you are considering outsourcing your Environmental Services to a Facility Management Company or commercial cleaning company willing to take an in-depth look at your current operations to determine what kind of plan will best serve your facility and your budget requirements. The best medical janitorial companies will be able to provide you with a detailed plan that uncovers service gaps and outlines opportunities for more effective cleaning. Outsourcing your health care cleaning to a reputable, experienced cleaning company with history of successful medical cleaning is the first step. An effective medical cleaning company will pay for itself in the long. Additionally, a medical facility that looks clean and is clean, is far more likely to earn top marks from patients and other health care providers and reflect positively on HCAHPS scores, adding up to repeat business and referrals over time and even better physician and staff retention. The best medical cleaning companies are the most transparent ones. They will offer an open book bid process and open book, transparent pricing to both allow you to compare competing quotes and clearly understand exactly what you will get for your cleaning budget. This kind of transparency also helps you and your medical cleaning team gauge success. Taking the time to find the right medical cleaning company isn't always easy, but it is worth it. In the long run, you will save time, money and preserve health.
Are You Ready to Get Started?
While maintaining a clean and healthy medical environment is a demanding responsibility, with the right information, planning, and partner, not only is it possible, it can be affordable. Even though a flux in medical care costs and razor thin health care budgets may have you searching for cost-savings measures, you don't have to live with health care facilities that are less than clean. Protect the health and safety of every individual that enters your building and maintain your facilities and your reputation.
Stathakis operates right here in South Eastern Michigan delivering effective, professional medical cleaning services. You might say our "treatment plan" on medical cleaning vastly outperforms that of our competition. If you want the most effective health care cleaning services for your facility delivered with value and responsiveness, please contact us and we can work with you to put together a clear, straightforward, workable plan for your individual facility.