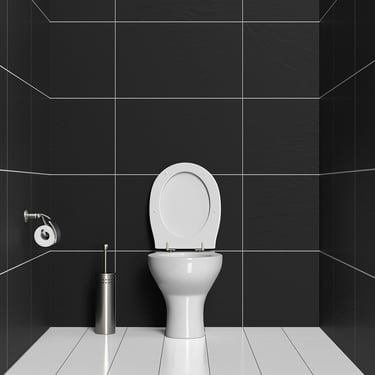 Restroom cleaning can be a taboo subject when it comes to office cleaning or your facility maintenance. Maybe it's the mix of very personal and very public that makes restroom cleaning a bit of a taboo subject. Perhaps it's the inherent yuck element of this important area of your facility. Still, however embarrassing or taboo, dirty restrooms can have a significant negative impact on a number of factors critical to your business. As the facility manager, it is important to have the systems and procedures in place keep your office restrooms, facility restrooms and all the areas of your building cleaning and in good working order. Why is restroom cleaning so important and what can you as the facilities manager do to ensure this necessary part of your facility maintenance is given the attention it deserves? Let's look under the lid of restroom cleaning, why it matters and how to make sure it's getting done.
Are Dirty Restrooms No Big Deal?
Dirty restrooms present more than an ick factor, they can actually hurt your bottom line. For one, dirty bathrooms can contribute to an increase in employee illness and absenteeism. Along the same lines, dirty facility restrooms can negatively impact employee turnover. It can also chip away and employee satisfaction and leave you and your business with a less engaged workforce, lowered employee productivity and reduce sales. Whether you operated a business in your facility or you manage tenants, unclean office restrooms willing time create and negative impression of the overall quality of your facility and your business. If you have tenants, this can lead to higher turnover. If you operated a business within your facility, this may lead to negative online reviews and a greater difficulty attracting and retaining high-quality employees. No matter which way you look at it, restroom cleaning can either bolster your bottom line or hit you where it hurts. Don't let poor restroom cleaning soil your reputation or chip away at your bottom line.
Who's Cleaning Your Office Restrooms?
Okay, so we know that restroom cleaning is important, Let's consider who is responsible for restroom cleaning in your facility. Maybe you have a cleaning service or perhaps you have an employee charged with the task of restroom cleaning. Chances are if you have an employee tasked with restroom cleaning, much of the important work is going undone. The reality is your average employee does not want to clean the toilets that fellow employees use each day. Even if you try to spread restroom cleaning around to multiple staff members, your restroom cleaning is bound to suffer. Spreading the responsibility around this area more frequently leads to everyone pointing the finger at someone else or passing the buck on this important element of facility maintenance.
Ideally, you will have a local Michigan janitorial company or Detroit commercial cleaning company in charge of your restroom cleaning. The pros will always know how to best clean your restrooms and there's a clear demarcation of responsibility when it comes to your commercial cleaning. While a professional Detroit janitorial service will always be your best bet, you also have to choose the right company willing to deliver the best work. It might seen from the outside that restroom cleaning boils down to little more than a few rags and a toilet scrubber, but there's a great deal more to it than that. As a facility manager, you will get the best restroom cleaning from those Michigan cleaning companies that have the systems in place to deliver an expert cleaning consistently and understand all the factors at play in delivering reliable restroom cleaning to you and your facility.
Is It Time To Flush Your Restroom Cleaning Company?
Is your commercial cleaning company delivering on their promises to you or is your restroom cleaning in the toilet? The best Detroit janitorial service companies know that restroom cleaning is the foundation of any solid cleaning plan. They know that health and safety are at stake when restrooms are not cleaned properly. How can you as the facility manager determine if your Detroit commercial cleaning company is adequately maintaining your restrooms?
First the best cleaning companies understand germs, how they're spread and how they're eradicated. If you're local Michigan janitorial company doesn't fully understand cleaning for health and critical cleaning requirements liked dwell times, it's likely time to change course. Dwell times referred to the amount of time a cleaning product must cling to a surface wet in order to kill germs and limit the spread of bacteria, viruses and more. Next, you're Detroit area commercial cleaning company should utilize industry best practices when caring for all areas of your facility, including your restrooms. This might include state-of-the-art cleaning equipment, practices like color-coded cleaning cloths to avoid cross-contamination and more. Likewise, because commercial cleaning is a service intensive business, people make all of the difference. Great employees who are properly trained are the best defense in stopping the spread of disease in your building and keeping an eye on your bottom line through adequate facility maintenance. To accomplish this, you're Michigan janitorial company must work hard to find quality employees and then provide and even require comprehensive training to make sure your restrooms are sufficiently maintained.
While it might be nice to think about having a Detroit building maintenance company that never makes a mistake, this isn't likely to happen in real life. For this reason, it's important to find a commercial cleaning company that has the systems and procedures in place to manage problems when they come up. A company that communicates effectively will help you get responsive facility maintenance and the clean healthy restrooms you, your employees and your customers deserve.
Getting the best Service from your Michigan commercial cleaning company
Well-maintained restrooms are important to fighting the spread of disease and keeping your employees, customers and bottom line healthy. There are a great number of commercial cleaning companies out there to choose from. Some are big, some are small, some are great and some are not so great. So how can you as a facility manager tell the difference? For one, the best janitorial companies will offer transparent pricing. Transparent pricing means that you will know precisely what you are getting for your cleaning dollar. Why is this important? It's important because when your janitorial company it transparent from the beginning, you both have a benchmark to measure success. If a cleaning company hasn't taken the time to detail the work they will do for you, how likely is it that they can deliver on a promise they don't fully understand?
Second, the best local Michigan cleaning companies understand that as a service intensive business, their frontline employees are the most critical element of stellar service delivery. And to that end, they will work very hard to ensure that they find, vet and train the best people for placement in your facility. Whether you are trying to get the best from your current janitorial company or you are shopping a new local Michigan janitorial service, ask questions. How do you find your employees? What methods do you use to ensure the people in my building are safe? What kind of training do you provide for your new employees? How often do current employees receive additional or ongoing training? What systems do you use to communicate issues I may have with the team it services my facility?
Finding the right local Michigan commercial cleaning company can make all of the difference with your restroom cleaning and the overall state of your entire facility. Don't risk your bottom line or your reputation by settling for less than clean restroom cleaning or a cleaning company that is either unwilling or unable to deliver expert cleaning and care to your building on a consistent basis.