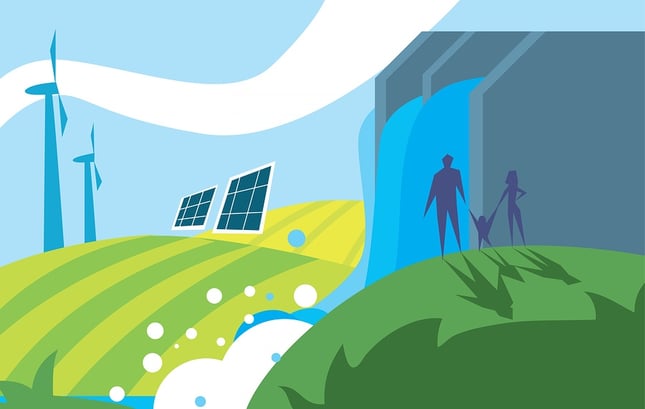 Green Cleaning Cannot Be An Empty Promise
In the 21st century, more and more businesses are interested in sustainability and eco-conscious practices. In fact, sustainable facility maintenance and green cleaning has never been more pressing. But does your commercial cleaning company really put sustainability and green cleaning into practice in your facility? Green cleaning gets a great deal of hype but as much as companies might want to tout their environmental commitments, much of what they might call 'green' really isn't. Green office cleaning can be a demonstrable commitment to best practices or a bunch of meaningless buzzwords, exaggerated claims, meaningless promises and watered down results. If a commercial cleaning company claims to be 'green' but that equates to green chemicals and a few microfiber rags, that is not a real green cleaning program. Real and effective green cleaning options must go beyond lip service. There must be green cleaning strategies, sustainability practices, green cleaning equipment, a commitment to indoor air quality and green cleaning chemicals that demonstrate a solid commitment to a green cleaning program. You don't want a false sense of green cleaning or a bunch of meaningless spin, especially since it takes you further from simple, effective and even cost saving ways to make our facilities safer, healthier and greener.
What A Green Cleaning Program REALLY Looks Like
First, what is Green Cleaning and what might commercial cleaning services be doing to assure they follow green cleaning and sustainability best practices?
Your janitorial company should be using supplies that reduce environmental impact like recycled content paper products. Even replacing folded towels with hard roll towels can reduce overall paper waste.
A cleaning company should use chemicals that are green certified wherever possible. This is good for your occupants, the cleaners themselves, indoor air quality and the environment. A win win!
Sizing trash can liners correctly (you might be surprised how often incorrectly sized liners are used) reduces using more plastic material than necessary. Even emptying receptacles of paper material without putting in a new liner can further reduce plastic waste.
The use of floor mats at entrances limits the amount of dirt brought into your facility, thereby reducing the need for more cleaning and products than needed.
Backpack vacuums are not only lightweight and ergonomic for the cleaner, they are quieter contributing less to sound pollution. Likewise, with HEPA air filters, they protect indoor air quality.
Use of tech savvy floor cleaning machines, like Boost floor technology, reduces the use of chemical floor strippers and more while also reducing water usage.
Automatic chemical dispensing procedures reduce chemical overuse and assure correct mixing is followed.
Training Cleaners in all of the environmentally beneficial methods of cleaning and best practices is critical to getting the most out of any green cleaning program.
How Can You As A Facility Manager Insure Your Commercial Cleaning Company Is Really Invested In Green Cleaning?
Request a copy of their documented Green Cleaning Services Program. This should include a Company Green Cleaning Policy, a Green Cleaning Technical Manual, an Environmental Policy Statement, and a Green Cleaning Training Program. Determine whether their chemicals have Green Seal certification, the testing data that indicates it meets the environmental standard. Likewise, in the case of disinfectants, approval by the Environmental Protection Agency (EPA) should be noted. Make sure that their Vacuum Cleaners meet GS-42 and/or EcoLogo standards for filtration & noise levels. Additionally, microfiber clothes or other reusable cleaning cloths is also a must for a sound green cleaning program. As an added bonus, it's great if your prospective commercial cleaning company is using a color coded microfiber cleaning cloth system as it helps reduce cross contamination in your facility keeping your overall work environment healthier. When new cleaners start in your facility, you should ask for confirmation that they have completed the janitorial company's Green Cleaning training as quite often, a janitorial company has a green cleaning program but fails to make regular use of it. And when looking for a new janitorial service, it is wise to request references for clients for which they currently provide Green Cleaning.
Using ISSA CIMS-GB to Make Your Life Easier
All of this checking and confirming can add up to more work on your plate than you need. Your to do list is already a mile long right? If you need to make the process of finding a new commercial cleaning company more streamlined, professional certification can help. The ISSA's CIMS-GB is a professional certification program for the building services industry. Much like ISO-Type certifications, CIMS-GB is a standard that requires a janitorial operation, whether contracted or in-house, to demonstrate controlled processes in six areas:
Quality System
Service Delivery
Human Resources
Health, Safety and Environmental Stewardship
Management Commitment
Green Buildings and Service.
These six areas correlate directly to the quality of service and efficacy you can expect to receive. When you hire an ISSA CIMS-GB Certified commercial cleaning company that an outside independent examiner has verified meets or exceeds all LEED requirements, you know exactly what you are getting without all the leg work on your behalf.
Balancing Green Cleaning & Your Bottom Line
Green cleaning is great but not if it priced significantly beyond your budgets right? Your green cleaning objectives must be balanced with your company's bottom line. Of course you want to see progress in your organization's commitment to green building objectives and practices, but that cannot come at the cost of value. Your janitorial services company should help you grow your company's commitment to green facility management while protecting your bottom line and business health. We like to think about the concept of 'People, Planet & Profit.' Profit isn't something to eschew and it isn't in opposition with environmentally friendly practices. Profit and green cleaning can share the same space if implemented correctly. When green cleaning is done right, you get not only dollars and cents, you get dollars and sense. Why? Because the right green cleaning program helps bolster employee productivity through maintaining a healthy work environment. Moreover, your building may benefit from reduced costs in areas like water and energy usage. What's more, with an effective green cleaning plan in place, you can even reduce the overall cost of your facility maintenance increasing the overall value of what you are getting. Essentially, an effective green cleaning program helps reinforce profitability without threatening the other pieces of your overall environmental goals-- People and Planet. The right janitorial services company or office cleaning company can help you meet your sustainability and environmentally sound practice goals while making sure your facility looks great and you are meeting your budget requirements. A little work upfront assures you find a cleaning company that will be a true partner looking ahead.