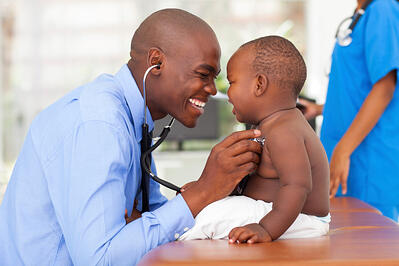 As a hospital administrator, a medical group owner or a facilities manager, you are required to manage and handle so much. When you outsource your medical cleaning, you want to pass on the duties to your commercial cleaning company trusting that they have the information, training and systems that guarantee the job is completed to the required standard. So it is really disappointing and frustrating when you realize your cleaning company is not up to the job.
Health Care Cleaning Vs. General Office Cleaning
Medical cleaning is very different than general office cleaning. There are compliance and safety issues that go well beyond mopping a few floors and emptying trash cans. Adding to the already overloaded facility manager's duties is the discouraging fact that many commercial cleaning companies will say whatever they think they need to get your business. In a general office setting, this might result in a few months of trying to get the job done that you were promised. However, in a health care setting, the consequences of poor medical cleaning go well beyond frustration and a few angry phone calls.
So Much is at Stake With Health Care & Medical Cleaning

What's at stake? Heath care facilities are perceived very differently from retail spaces like shopping malls and store fronts. Because of risks and fears about disease and the fact that health is so personal, so intimate and so important, patients and consumers expect that the places they go for healthcare service be squeaky clean. No one wants to take their small child for a check-up or vaccines and see dirty floors, soiled chairs or unknown fluids running down a wall. These telltale signs that a medical building is not being well maintained set up all kinds of doubt in a person's mind. What's at stake when you allow your facilities to go untended to is your reputation, your practice but also the health and safety of every individual that enters your building.
Find the Right Medical Cleaning Service
It is one thing to know you need a solid and reputable medical cleaning company maintaining your health care facilities, but it is a completely different thing to know how to identify the medical cleaning company that is truly up to the job. A great way to find the right commercial cleaning company is to ask other Facility Managers managing health care facilities like your own. Referrals can go a long way toward identifying some health care cleaning companies in Michigan that might be a good fit for your facilities. But what else can you do to find the right healthcare cleaning service?
Experience is the Best Teacher With Medical Office Cleaning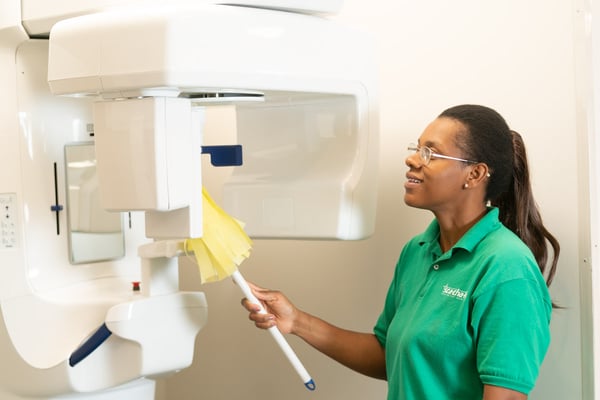 The highest performing medical cleaning companies are typically those that have the most experience in this very specific area of the janitorial and maintenance industry. It just makes sense, the longer you do something, the better you get at it. A commercial cleaning service that has worked with health care accounts has likely developed specific training and already worked out many issues related to the inherent and steep learning curve when learning something new. Don't get talked into being some mom and pop cleaning company's "learning curve." Let them cut their teeth and make their mistakes somewhere else. Trust your facilities, the health and welfare of your patients and staff and your reputation to a pro.
On that same note, an experienced medical cleaning company will have solid knowledge of the regulatory and compliance side of health care cleaning. Any commercial janitorial service intending to clean a health care center, doctor's office or clinic should have a thorough and up to date understanding of HIPPA, blood borne pathogens and other pertinent safety guidelines. The best commercial medical cleaning companies will have extensive knowledge of hospital-approved chemical for cleaning.
Do You Trust Your Medical Cleaning Company? Should You?
In any service industry, people are the most critical element and this is no less true when it comes to your health care cleaning. What Facility Manager want people in their building who may not have been thoroughly screened? Just think about what could go wrong if the wrong person has access to your health care facility. Any health care cleaning service should be able to show you precisely what they do to screen every single employee who will enter your facility. They should be running national criminal background checks in addition to a check right here in Michigan. There should be drug testing and reference and employment verification for an added layer of security and transparency.
Does Your Commercial Health Care Cleaning Company Train Their People?
On that same note, a solid and high performing medical cleaning company will be able to really show you their training and not just offer lip service. Exactly how is your medical cleaning company preparing their employees to handle the precise needs of a health care center? If they care about servicing their medical cleaning accounts, they will have specialized training and protocols to reflect that commitment. And want to know one great secret to finding the best medical cleaning company? Look for those companies that have a staff turnover well below the national average at around 200%!
In fact, if you as a Facilities Manager are working with a medical cleaning company with higher turnover, you are paying higher prices for less experienced cleaners. When this happens, the value of what you are getting goes down significantly. Why pay more for less when there are experienced professional cleaning companies out there that offer a significantly lower turnover in their staff at a reasonable, competitive price? Especially when hiring medical cleaning company that experiences a high rate of turnover, even if they came in with the lowest bid, will cost you real money down the road.
Finding a Medical Cleaning Company With the Systems in Place that Guarantee Success
Do you have systems in place to keep your business running smoothly? Of course you do. A commercial medical janitorial company should be no different. How can any company do good business consistently without systems in place to keep track of it all? The answer is they can't. This is a fundamental reason why so many janitorial companies of all different sizes fail to deliver great service. It isn't that they don't want to just that they are not equipped to. Serious, established, professional medical cleaning companies either realized early on what was needed to run a professional business and deliver consistent service, or they got that message along the way as they matured as a company. Either way, with systems in place from how they hire and screen to how they train to how they inspect all keep the right Michigan medical cleaning company operating smoothly with happy, satisfied customers.
Can You Find a Great Michigan Medical Cleaning Company at a Good Value?
The answer is yes. In the janitorial industry, more expensive does not equal better. A higher price tag can easily point to inept pricing or wishful thinking rather than premium service. And quite often that low low bid will turn in to anything but as your cleaning service tacks on extra fees or shorts you on promised work. The goal for any Facility Manager in securing medical cleaning services should be value. Certainly there are budgets to stay within but great medical cleaning services should deliver value—the services you need at a fair and reasonable price. So how do you know what is fair and reasonable? A good Michigan health care cleaning company or janitorial service will offer transparent pricing. They will be able to show you in a bid or quote precisely what services you are getting and how it all breaks out. Not only does this allow you to compare multiple quotes, it gives you and your cleaning service a roadmap for success. With transparent pricing and a detailed quote, there is no confusion about what is included, what is not and how much it will all cost.
Please Tell Me There Is An Easier Way to Hire a Great Medical Cleaning Service
Well, it will never be easy but it can be easier. There is a really useful shortcut of sorts that c
an lighten the workload and improve the likelihood of finding a great Michigan medical cleaning company that will deliver value and consistency. That is CIMS Certification. CIMS certification is an industry certification that requires a maintenance company to demonstrate that they adhere to a set of industry best practices. These best practices are designed to deliver value, service and consistency to customers. CIMS isn't some certificate that a company just sends in a check for, it is a challenging certification and review process that requires a real commitment to running a professional business with management and systems in place to succeed. Most cleaning companies don't even try, but those that do and succeed demonstrate both their commitment and their resolve to the highest standards in their industry.
Many a happy Facility Manager has used CIMS certification to develop their "short-list" of prospective janitorial companies and then looked for the best value among the consistent, reliable medical cleaning service providers. And even better, this information costs you nothing. Finding the right Michigan medical cleaning team or healthcare janitorial service isn't just possible, it's likely if you keep in mind what fundamentals really allow a commercial cleaning company to deliver great service and build a consistent partnership with you: experience, great people, systems, value and commitment.