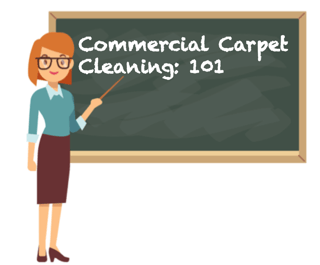 The condition of your carpets and hard flooring has a measurable impact on the way your facility is perceived. No matter how updated and clean the rest of your building is, if carpets are worn, stained and dirty, people notice. And in commercial facilities, unlike homes, you can't just move a sofa or table over the bad spots. Often with commercial carpeting, the high traffic areas are the ones that see the most wear and there is no way to hide it. So keeping your office carpeting in good condition is critical to the overall reputation of your facility. And regular carpet maintenance extends the lifespan of this expensive asset. Maybe you have had carpets cleaned before with disappointing results or maybe this is the first time you are requiring a cleaning. No matter what the case, you want to arm yourself with the information to make a good decision, get carpets cleaned effectively and not spend more than you have to. So what matters most when choosing a commercial carpet cleaning company and what should you look for to decide whether they are the right Detroit carpet cleaning company for you and your facility?


Banish Bonnet Carpet Cleaning, It's Too Abrasive & Ineffective
One thing to be aware of when planning and pricing commercial carpet cleaning service is that you should steer clear of Bonnet cleaning. Many carpet cleaning companies still use Bonnet carpet cleaning and it is unfortunate because not only is it ineffective at cleaning, it is too hard on carpets. If it isn't a great method, why do some commercial carpet cleaners still use it? Mainly because they still have the equipment and they either can't or don't want to spend money upgrading to better, more up to date equipment. Likewise, because it is so easy to operate, some carpet cleaning companies continue to use Bonnet carpet cleaning because it is easy to train new employees on. It is important to keep in mind that established, experienced commercial carpet cleaners have banished Bonnet carpet cleaning. A machine designed for hard flooring just isn't effective on your carpets. Why is it ineffective and abrasive? Bonnet cleaning typically utilizes a cotton, rayon or polypropylene pad and a rotary machine with the cleaning pad saturated with carpet cleaning solution. As the Bonnet machine moves over the carpeting, agitation loosens some soil sitting in top layer of carpeting, some of which is transferred to the cleaning pad's surface. This method can wear carpet fibers because of the rotation and even heat generated by it. Additionally, it is aggressive on carpets without being effective as it leaves solution and dirt in carpets that can attract more dirt quickly diminishing your carpet's appearance. Most carpet warranties specifically prohibit Bonnet cleaning because they know it is too hard on carpets. Don't let a company using ineffective, dated and overly aggressive carpet cleaning methods put your building assets at risk.
What IS Most Effective? Truck Mounted Hot Water Extraction Carpet Cleaning
The single most effective way to deep clean your office carpets is with truck mounted hot water extraction carpet cleaning. Detroit carpet cleaning companies know it is safe, it is effective and it is cost efficient. Truck mounted hot water extraction carpet cleaning utilizes a powerful machine that heats water in the service truck. Then carpet cleaning technicians use a professional hot water extraction cleaning machine to inject water and carpet cleaning solution into your carpets and remove the dirt. The extraction machine then uses powerful suction to pull out the cleaning solution, dirt, soil and hot water out of the carpet. This method not only removes the most debris and material from your carpets, with nearly all of the water removed, carpets dry quickly making resoiling unlikely and putting areas of your building in operation sooner.
Portable Hot Water Extraction Machine For Accessibility
Truck mounted hot water extraction is the most powerful, reliable clean, however, some areas of your facility might be difficult to reach with the truck mounted machine. Other times, you might only require spot cleaning or cleaning a smaller area and in these cases, a portable hot water extraction machine is very effective. Portable Hot Water Extraction carpet cleaning works much like the truck mounted hot water extraction carpet cleaning apart from the process happens within the machine itself. This makes it a bit more portable and very effective at spot treating or completing smaller service areas.
Dry Carpet Cleaning Methods Are Effective & Efficient
Dry carpet cleaning is among the advances in commercial carpet cleaning that have continued to push for better results, more efficiency and getting carpets back in service faster. With dry carpet cleaning like the dry encapsulation method, special polymers in the carpet cleaning solution capture soil and debris acting like tiny sponges to lift and collect stains and soil from both the carpet's surface and deep into the carpet's pile. The solution then rapidly dries forming hard crystals that encapsulate and trap dirt into a dry crystal material that is vacuumed up leaving carpets looking great and ready to be in service in no time. Encapsulation carpet cleaning modalities, like the Whittaker carpet cleaning method, offer a great method for interim carpet cleaning between hot water extraction cleaning.
Who Cleans Your Carpet Is As Important As How They Clean Your Carpet
As important as the carpet cleaning methods are, and they are important, it is also important WHO cleans your commercial carpeting. As technology has advanced, there is much more required by a carpet cleaning technician. A technician needs to be fully trained to identify stains, understand what should be used to treat and remove stains and recognize what cleaning methods are appropriate for your carpets. Accordingly, when it comes to choosing commercial carpet cleaning services, experience is paramount. Pair experience with the best available carpet cleaning methods and you will find a carpet cleaning service that will deliver the level of service you deserve, protect your carpets and get them cleaner than you thought possible.
Get Carpets Cleaner Than Ever
At Stathakis, we employ innovative commercial carpet cleaning methods with a proven track record of results. Looking for carpet cleaning in Detroit? As commercial and industrial carpet cleaning has made great strides in technology and environmental soundness, Stathakis has lead the way within our industry to use the best tools possible and train our teams in order to get our customers the best results and real value. Whether you need school carpet cleaning, industrial carpet cleaning, office carpet cleaning, medical carpet cleaning or something more, we will work with you to put together a plan that takes into account your carpet, the level of soil, carpet condition and your budget. We utilize the best in proven carpet cleaning methods including truck mounted carpet cleaning, portable machine carpet cleaning, low moisture carpet cleaning, dry carpet cleaning all designed to deep clean carpets, keep carpets looking great longer, extend the lifespan of this expensive asset and keep your building looking great year round. With both on-demand carpet cleaning and subscription based carpet cleaning programs, we help Facility Managers just like you get a cost savings and reduce the hassle of planning your ongoing carpet maintenance. For more information on how you can keep your floors cleaner than they have ever been, please contact Matt Brown, Stathakis Special Projects Manager at #800-278-1884.