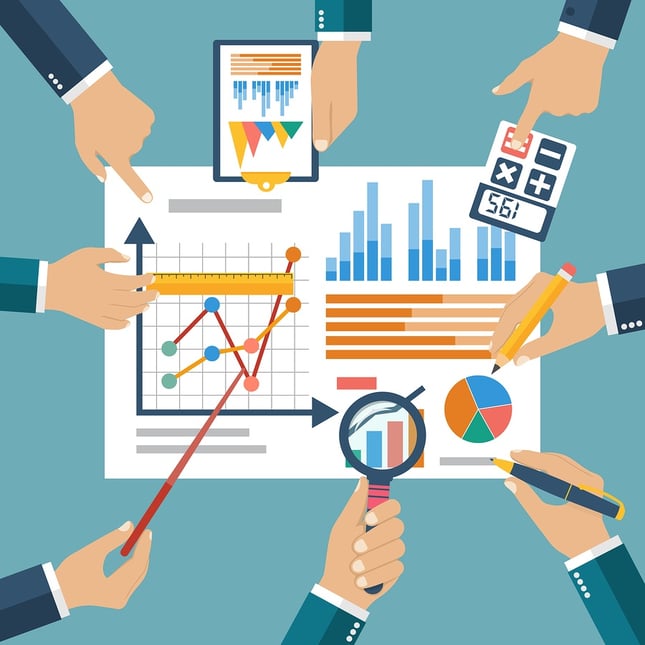 Commercial Carpet Cleaning & Ongoing Carpet Maintenance
The crisp fall weather is here with cool, snowy winter months soon to follow. While these cooler seasons are great for cocoa in front of the fire, they can be particularly hard on Facility Maintenance and your building's flooring. Cool weather ushers in rain, snow and salt, all of which are very hard on your facility flooring. And cool weather brings with it cold and flu season as more people spend more time indoors exchanging germs at a record pace. Add to that the fact that as buildings are battened down to keep warm in cold months, air quality can suffer as dust and other allergens build up. Commercial carpet maintenance is more important that ever to both keep carpets looking great, keep carpets lasting longer and maintain a clean and healthy work environment by eliminating as much of the grit, dust and grime as possible to assure overall good indoor air quality. Is your janitorial service or carpet cleaning company doing all they need to in order to meet your goals this season?
Daily Carpet Care Can Reduce Maintenance & Increase Carpet's Lifespan
If you wanted to get into shape and maintain your physical health, would you go to the gym four times a year, eat fast food and desserts the rest of the time and expect to look and feel good? No, as with any other maintenance, we all know that what you do day in and day out matters a great deal more than what you do periodically. The same can be said for your carpet maintenance. Sure spot removal and deep cleaning matter but daily carpet care sets the base line for your carpet maintenance program. Every carpet maintenance program must include daily vacuuming of carpets to remove dust, debris and more. This vacuuming becomes even more critical during the cooler months as visitors carry in more as traffic moves in and out of your facility. And daily vacuuming helps carpets last longer by removing the often sharp and jagged dirt particles can actually cut, tear and wear at carpet fibers if left to be walked upon and ground further into your carpet's pile. You can also provide a layer of protection for costly carpets and other flooring with a solid mat program. Mats placed at your building's entry points and high traffic areas can reduce the amount of dirt, grime, salt and wetness that enters your building and good mats in the right places can even protect against slip and falls.
Treating Carpet Stains & Wear Patterns Quickly With Carpet Cleaning Is Imperative
So carpet should be vacuumed regularly and walk off mats used to provide extra protection but timely spot removal is also an important part of your carpet maintenance program. Removing carpet stains quickly can make all the difference in how close to its original appearance you can get your office carpeting. If you partner with a commercial carpet cleaning company, you can utilize them for periodic carpet stain removal at commercial carpet cleaning prices that you can easily fit into your maintenance budgets. The trick with carpet stain removal is to treat stains quickly and correctly. Using the right stain remover in the right way makes a huge difference in the results you will get. This means working with experienced commercial carpet cleaning services will get you a better overall result when it comes to spot cleaning carpets and eradicating stains.
A Good Carpet Maintenance Programs Helps You Plan & Budget
So you must have a daily vacuuming routine, a matting program at your building's entry points and high traffic areas, and have a plan to treat stains and spots as they happen. You must also put into action ongoing carpet maintenance that targets your building's high-traffic areas. Areas like walkways, hallways, waiting rooms, lobby areas, areas transitioning from flooring to carpets and other heavily used areas of your building can show use and wear much faster than less traveled areas in your building. Do you know which areas of your facility are likely to get dirty faster? These high-traffic areas are likely to need maintenance before you need all of your building's carpeted areas cleaned. In fact, regular maintenance of these high use areas can help you delay complete carpet cleaning longer and budget for more regular, ongoing carpet maintenance. For this kind of maintenance, we recommend dry carpet cleaning methods like Whittaker's encapsulation carpet cleaning. Chemicals are worked into the carpet that then dry and crystallize around dirt and grime, then these crystals are simply vacuumed up leaving carpets clean and fresh. And because they are low moisture, carpets dry quickly meaning they can be walked upon in no time without resoiling.
Making Time For Deep Carpet Cleaning
As effective as the dry method is for carpet cleaning, to most deeply clean carpets, the hot water extraction method is optimal. Your carpet's warrant will likely recommend regular hot water extraction cleaning, typically one to two times each year. This deep carpet cleaning gets carpets their cleanest and removes even deeply embedded debris. This carpet cleaning method can use the truck mounted hot water extraction cleaning for the best results anywhere possible in your building. For areas not accessible with the truck mounted system, a portable hot water extraction carpet cleaning machine can be use with great efficacy. In these methods, a very hot water solution is pushed into your carpets to release dirt, grime, allergens, debris and more and it is then suctioned up with a high powered vacuum to leave carpets as clean and dry as possible.
Carpet Cleaning & A Healthy Work Environment
While it is imperative your office carpets and facility flooring looks good, clean carpets and floors also help maintain a healthy work environment. How? Remember carpet is great at catching dust and germs in its surface keeping it from circulating throughout the air. In this way, carpeting acts almost like a secondary air filter. But if not cleaned regularly, carpet dirt and soil builds up and carpets will start to add dust and grime to the air rather than help remove them. By keeping your HVAC system in good shape and keeping carpets clean, you as a Facility Manager help assure a clean and healthy work environment.
Expert Carpet Cleaning Services Make All Of The Difference
At Stathakis, we offer the businesses of Detroit and Southeastern Michigan expert commercial carpet cleaning and floor maintenance. With proven carpet cleaning technologies like truck mounted hot water extraction carpet cleaning, portable machine carpet cleaning, and low moisture carpet cleaning, Whittaker Carpet cleaning, we give your carpets a deep clean, improve their appearance, extend their lifespan and even facilitate improved indoor air quality. Get on-demand carpet cleaning or one of our subscription based carpet maintenance programs. Save money on your carpet cleaning and reduce the aggravation of planning your ongoing carpet maintenance. For more information on how you can keep your floors cleaner than they have ever been, please contact Matt Brown, Stathakis Special Projects Manager at #800-278-1884.