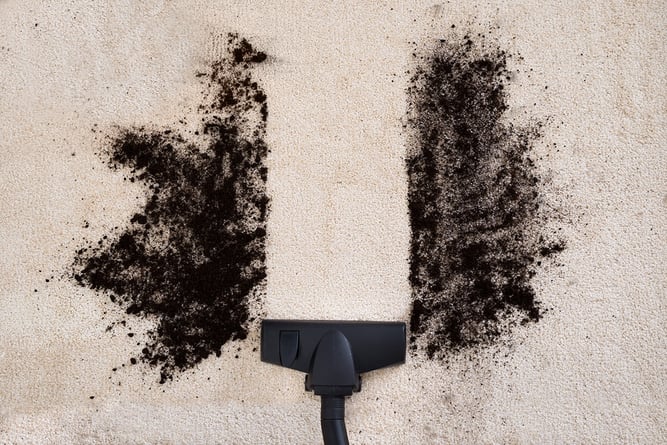 Price Versus Value In Commercial Carpet Cleaning
Commercial carpet cleaning may seem like a big expense if you are a Facility Manager trying to cut costs. However, cleaning carpets and regular carpet care costs just pennies compared to the cost of replacing carpets prematurely. You have to remember that price is what you pay, value is what you get. So if you are a Facility Manager prepared to spend the money on carpet cleaning services, how do you assure you get effective carpet cleaning at a solid value?
Don't Wait Until Your Office Carpeting Looks Dirty to Call Your Detroit Carpet Cleaners
Carpet doesn't need to look soiled and stained to be dirty. Of course, carpets that are visibly soiled should be cleaned but just because your carpet doesn't look dirty doesn't mean it's clean. Dirt and pollutants make their way into your carpet over time carried in on the feet of those entering your facility. Allowed to settle into your carpet, this dirt, grime and gunk can exacerbate indoor allergies and hamper healthy indoor air quality. Likewise, dirt, sand, grit and more all are extremely abrasive on your carpets. Allow dirt and soils to hang out and accumulate on your carpets and it acts like a blade every time people walk on it, grinding the dirt into your carpeting, cutting and needlessly wearing your carpet's fibers. Delaying needed carpet maintenance causes increased damage and a shorter carpet lifespan which all adds up to increased facility costs.
Optimal Methods In Commercial Carpet Cleaning Services Matter
Some carpet cleaning methods are simply better than others. The industry has undergone some significant changes over the last few years with commercial cleaning becoming more effective, more green and more convenient. Abrasive, potentially damaging carpet cleaning methods like bonnet cleaning are out and low moisture carpet cleaning like the Whittaker carpet cleaning program are in. Also very, very effective is the hot water extraction and portable hot water extraction methods. Low moisture (dry) carpet cleaning, like the Whittaker carpet cleaning method, offers an effective cleaning and quick dry times. This is because the technology encapsulates soils into hard crystals that are vacuumed up soon after, so your building's traffic gets back to normal quickly. With hot water extraction via a truck mounted carpet cleaning system, you get what is considered the gold standard in commercial carpet cleaning with hot water temperatures and powerful suction. Portable commercial hot water extraction allows you to bring the same general method into areas of your building that might be inaccessible to the truck mounted carpet cleaning machine. Many office and commercial carpet warranties even require regular hot water extraction to maintain your carpet's warranty.
Office Carpet Cleaning Done Regularly Makes Carpets Lasts Longer, Look Better
Again, because dirt left to linger prematurely wears carpet fibers, regular carpet cleaning and maintenance can net you years in terms of your carpet's viability. And regularly cleaned carpet looks and smells better creating an overall positive impression in your facility. Regular carpet cleaning brightens and significantly improves your carpet's appearance. Stains, soils and irregular wear and soil patterns are something your building's occupants' notice. But industrial carpeting and office carpeting are so often manufactured to resist soiling and clean easily, but you have to maintain them in order to get the full benefits from this heavy duty carpeting.
Get a Deep Clean That Lasts Longer With Effective Commercial Carpet Cleaning
As we noted, the method used in your commercial carpet cleaning matters. Not only do some carpet cleaning techniques wear and damage carpet, they can leave behind sticky residues that act like a magnet to future dirt dirtying your office carpeting far sooner than they should. Dry carpet cleaning methods like Whittaker carpet cleaning use microencapsulation technology to grab soils and fully remove them from carpets. Hot water extraction methods use the hottest water and suction to get you a deep, lasting clean. Many carpet maintenance programs effectively pair these two methods to deliver the best, longest lasting, deepest clean to your carpets.
Green Carpet Cleaning Is Good For Your Bottom Line Too
Sometimes green cleaning carries with it an extra cost but did you know that green carpet cleaning can be good for your bottom line too? Your carpet cleaning company can help you earn LEEDs points with approved carpet cleaning technologies. Low Moisture Carpet Cleaning is, as of now, the single recognized and accepted LEEDS method of carpet cleaning. To adhere to the Carpet and Rug Institutes Seal of Approval, vacuums must operate at less than 70 decibels. Carpet cleaning equipment must also get the Carpet and Rug Institutes Seal of Approval certification and satisfy low moisture and green product requirements. And even if you don't have your sights set on LEED points, green carpet cleaner is better for your carpet and employees helping you maintain optimal indoor air quality and a healthy work environment.
Getting Value From Your Commercial & Industrial Carpet Cleaning Services
Taking care of your carpets will get you much more in terms of their overall lifespan but you need a Building Services Company that can get you the effective cleaning and value you and your facility deserve. At Stathakis, we offer South Eastern Michigan commercial carpet cleaning results and carpet maintenance programs made-to-order to meet YOUR needs. We utilize state of the art carpet cleaning technologies in order to clean and protect your carpet, take into consideration the needs of your facility and your budget. We offer truck mounted carpet cleaning, portable machine carpet cleaning, low moisture carpet cleaning, dry carpet cleaning all designed to get you a deep clean, improve your carpet's appearance, extend the life span of your carpet and improve the indoor air quality in your facility. Whether you are interested in on-demand carpet cleaning or even a subscription based carpet cleaning program, we are ready to help. For more information on how you can keep your floors cleaner than they have ever been, please contact Matt Brown, Stathakis Special Projects Manager at #800-278-1884.
Stathakis, helping you with Ann Arbor carpet cleaning, Detroit commercial carpet cleaning, Livonia office carpet cleaning, Auburn Hills professional carpet cleaning, Farmington Hills commercial carpet care, Troy carpet cleaning and other areas of South Eastern Michigan.