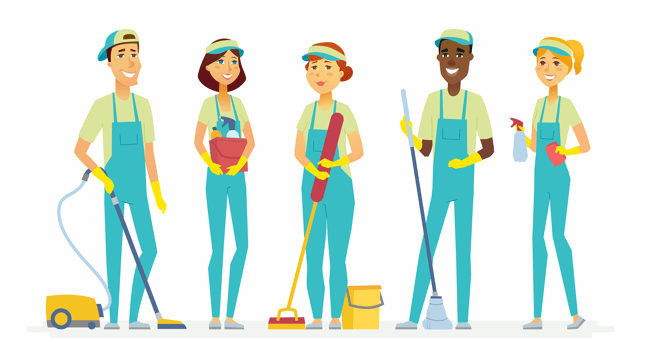 When It Comes to Janitorial Service, Multitasking Isn't Necessarily Good
While often as a society we extol the virtues of multitasking and 'wearing many hats,' there is a great deal of data that doesn't confirm that. In fact, studies show us that specialization is often more effective and productivity increases with task focus. So it shouldn't be a surprise that the old way of cleaning a large building, with one person working within a specific area or zone and performing all functions of cleaning is falling out of favor.
It is easy to imagine that with varied responsibilities, it's simply more likely that a cleaner will miss duties and tasks. With zone cleaning, each cleaner needs their own equipment, which causes costly duplication, storage and maintenance/replacement issues. Zone cleaning simply takes more time and is significantly less efficient because cleaners are task switching and even multitasking, which is slower and requires more labor hours. A single individual handling all cleaning duties in a specific zone often results in a higher margin of error, specialized equipment requirements for every zone, and training that is more involved, costly and challenging to manage. So what is the alternative?
Team Cleaning Outperforms Zone Cleaning Hands Down
Having a single cleaner or custodian in a facility is often the answer but in some facilities, especially larger buildings, team cleaning can have significant and substantial advantages over the oft used zone cleaning. What kind of perks can you get from Team Cleaning?
Faster, simplified training results in a cleaning employee fully equipped to do THEIR job well.
A team of both specialists and generalists giving you both precision and flexibility.
Getting consistently high results much easier and more likely.
A higher quality of cleaning performed in less time saving you labor hours and cost.
Streamlined training, ease of supervision, and absentee/team member replacement equals consistency for you.
Lower onboarding cost of cleaners passed on to you the customer.
Can be customized to the needs of YOUR facility.
More cooperative attitude among workers as everyone fully understands their duties.
Fewer equipment costs/servicing resulting in lower costs for you the customer.
Efficient use of required labor hour means reduced overall costs.
Better bottom line for both janitorial companies and their customers.
Directives and outcomes like Cleaning for Health & Smart Cleaning are more likely.
The more simple the system, the greater chance of sticking with it.
Team Cleaning Can Be the Simple Answer to the Problem of Cost
If you are a Facility Manager facing belt tightening and budget cuts, Team Cleaning can help you reduce janitorial costs without sending your facility maintenance into a tail spin. With Team Cleaning, individual cleaners learn and perfect tasks, performing them throughout your facility. For instance, a light duties specialist might dust and clean all surfaces, clean windows and doors, empty trash and stack trash for pickup by another team member to collect. A team could also include a vacuum specialist, utilities specialist, restroom specialist and more. With task specialists, not only do you limit the risk of cross contamination, the team members are specialized to clean the right way, every time. And quality control is simplified because the guidelines of who does what and who is responsible for what are completely clear. Think about it, one or two people vacuuming your facility can get that task done far more efficiently than eight people juggling a laundry list of duties. Even better, Team Cleaning can be completely customized to the individual needs of your facility.
Labor Hours & Rising Janitorial Costs
The single highest cost in a janitorial services company is labor. While that has always been the case, major upticks in minimum wage, including here in the state of Michigan, as well as changes to health care requirements, have sent commercial cleaning costs soaring. After labor hours, the second highest cost to a cleaning company is that of their equipment. When commercial cleaning companies can drive these costs down, they can then pass along some cost savings to you, their customer. Team cleaning goes a long way in managing labor and equipment costs without compromising the overall quality and effectiveness of your cleaning and maintenance plan.
Is It Time For A Change?
Are you satisfied with the quality of service and value your current janitorial services company is providing you? Is it perhaps time to find a new cleaning service that focuses on best practices, efficiencies and cost saving measures without sacrificing service? Do you need to cut costs but don't want that to result in a bevy of complaints about the state of your building's maintenance? Here at Stathakis, we deliver consistent, responsive, effective service and real value for businesses all over southeastern Michigan. With over thirty years in business, we have developed a standard of service delivery that works, just ask our customers. We work hard to create lasting partnerships and offer the businesses of southeastern Michigan the quality, cost-effective janitorial services they deserve. If you are a Facility Manager in Ann Arbor, Detroit, Royal Oak, Farmington Hills, Farmington, Dearborn, Livonia, Troy, Auburn Hills, Novi, Plymouth, Downriver or surrounding areas and you are looking for commercial cleaning services, office cleaning, school cleaning, industrial cleaning, medical cleaning or a janitorial company, please contact us to learn more about how we can help make your job at least a little easier and make your facility shine.
Are you looking for school cleaning companies? Think your facility might benefit from day porter duties and what does a day porter do anyway? Are you a Facility Manager lookign for real committment and quality from medical office cleaning services? Call Stathakis at 1-800-278-1884.