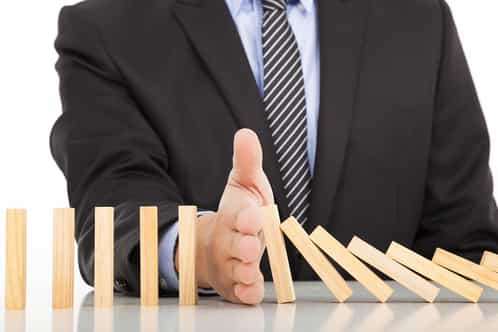 Do you have 99 problems but your janitorial services are not one of them? Great, you don't need to read any further. But for the rest of us, let's consider that there are just five major issues causing as much as 95% of the problems we experience with our janitorial services companies. Why is it so important to recognize where our commercial cleaning services go off the rails? Because if we can pinpoint where the major issues pop up, we can work with current cleaning companies to get them back on track or use the 5 issues to screen prospective janitorial companies. So what five things matter so much that in their absence they can predict smooth sailing with a commercial cleaning company?
1. Inadequate Training
One of the best ways to sidestep service issues from your commercial cleaning company is to assure that they understand the importance of training their people. To provide you and your facility with consistent, effective, individualized service, your building services contractor must have a formalized training program for a systematized cleaning process. Very good service requires very good employees, and employees need effective training to be very good. Your janitorial services company must provide their teams with comprehensive training designed to help cleaners consistently deliver good service. And apart from training in the basics like:
Restroom Cleaning
Blood Borne Pathogen training
Hazcom Communications
Interior Office Cleaning
OSHA & other Safety training
If you are in the market for medical cleaning, industrial cleaning or school cleaning, your janitorial services company must provide their teams with training specifically geared toward your kind of facility. Any cleaning company can tell you they effectively train their employees but can they show you? The best janitorial services companies can show you their training process and even document that employees have actually gone through comprehensive training.
2. High Janitorial Turnover
High turnover from your janitorial company can be a silent service killer because you might think your cleaning company's turnover is their issue not yours. While it's easy to think you and your facility are insulated from your cleaning company's janitorial turnover issues, you are not. How does your janitorial services company's high employee turnover hurt your facility?
It reduces the value of your commercial cleaning.
It can lead to poor quality work.
It can result in recurrent, uncompleted tasks.
It diminishes the relationship built between on site cleaners and customers.
Too may new people often means damaged equipment and material waste.
A sea of new faces results in both real and perceived security questions.
It increases costs for your cleaning company that are likely passed on to you the customer.
Where does high turnover come from? It can stem from a myriad of issues like: inadequate training, minimal pre-employment screening for 'fit,' illegal hiring/subcontracting, inadequate, ineffective management and a lack of competitive wages and benefits.
And while employee turnover does tend to be significantly higher in lower-skilled, lower wage jobs, many janitorial contractors have figured out how to significantly reduce their janitorial turnover. From their hiring processes to how they train employees to how they hold their people accountable through measurable systems, these janitorial companies attract and keep very good people.
3. Absence of Effective Quality Assurance Systems
Effective, responsive service never happens by accident, it happened by design. Quality assurance systems assure reliability through accountability. The most effective practice for quality control in the janitorial industry is janitorial inspections. Janitorial inspections connect a facility manager and a cleaning company. Not only do the janitorial companies use janitorial inspections regularly, they also put technology to use like apps, software and reporting to communicate the information gathered from janitorial inspections quickly and to the right people to streamline your service and handle issues promptly.
4. Lack of Communication
Poor communication can be the number one factor in subpar cleaning, a strained relationship between you and your cleaning company and overall dissatisfaction. So why do so many janitorial companies still get it wrong? It doesn't matter if they have the best cleaning products out there or brand new equipment and a crew ready to work, if a commercial cleaning company doesn't effectively communicate with you the customer or their own people, they simply cannot deliver the level of service that makes them worth keeping. Maybe your cleaning company puts their focus on the wrong things. Or perhaps your janitorial services company lays low assuming that 'no news is good news.' Maybe they worry that if they reach out to you, you may issue a complaint you've been hanging on to. Still the most effective janitorial services will never shrink from getting your regular feedback, both positive and negative. They know mistakes are bound to happen, things need adjusting sometimes and at the end of the day, they want you completely satisfied with the work you are getting.
So, do you know whom to go with about issues you might have? Do they respond in a timely manner? And is the necessary information passed along to your front line cleaners? There are a number of people in play here, you and your occupants, your front line cleaners and the management at your cleaning company. If you are communicating things to your cleaning company that are not getting communicated to the cleaning staff, then service will suffer. And this can be incredibly frustrating when you have communicated the same issue more than once and it continues to get overlooked. The most effective cleaning companies will have a communication system in place and will utilize other systems and oversight, like janitorial inspections and training, to make it work for you and them.
5. Lack of Systems & Processes In Place To Deliver On Service Promises
Most cleaning companies want to deliver effective service but without a great deal of time and resources put into planning and systems, these good intentions are little more than a pipe dream. Effective janitorial service requires accountability and accountability is assured through systems that keep everyone on track. Effective cleaning service requires no less forethought and strategy than any other business. Great service doesn't happen by accident. You have to understand what constitutes good service to your customer, how to find good people and equip them to succeed and how to keep the process running smoothly with quality assurance measures like janitorial inspections. If your janitorial company doesn't know how to do these things, they cannot deliver the level service you expect, even if they truly want to.
Conclusion
Find a cleaning company that offers effective training, lower than average janitorial turnover, quality control measures, solid communication and the systems in place to assure great service and you will eliminate nearly all of the day to day problems that can plague your facility services.