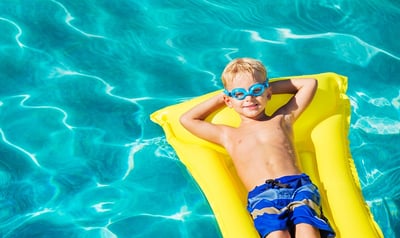 While summer can provide a much-needed break for students, families and teachers, for your school custodians, the summer months can be especially busy. Quite often, the absence of kids in the halls, class rooms, gymnasiums and cafeterias can offer your cleaning team or custodial workers the perfect time to get your facility maintenance on track and prepare for the start of a new school year. Whether you handle your school cleaning in-house or you outsource school cleaning to a commercial janitorial company, how can you make the most of summer downtime and get your school or learning facility in optimal condition?
Summer Offers The Perfect Opportunity To Get Caught Up On School Cleaning
While summer can offer an ideal time to get caught up on your school cleaning, nothing should be hit or miss. The best way to make the most of summer's downtime is to prepare a written plan. A written plan of proposed cleaning and maintenance, prioritized by the importance can help your commercial cleaning company fully understand what is most important to you. Even the process of creating the plan will help you think about areas of your school that might require cleaning or maintenance that you wouldn't have otherwise thought of. Once you have your written maintenance plan, you can establish who will do what and when. Summer is indeed fleeting, and without a plan, needed maintenance might easily get swept into the following school year when it is less convenient and might interrupt or disrupt the critical learning environment.
Tackle Tough School Cleaning Projects Like School Floor Care During Summer
While the school year sees regular ongoing maintenance, summer can be the best time to tackle tough school cleaning projects. What tops the list in many schools, campuses and educational facilities? Floor care. Michigan school cleaning offers unique challenges and among them are the wear and tear winter weather doles out on our floors. Summer offers a great time to take a look at your school's floor maintenance. Ongoing maintenance like carpet cleaning, floor stripping, scrubbing and more can extend the life of this valuable asset. Maybe carpeted areas need a deep cleaning after winter's ice, slush and salt. Low moisture carpet cleaning methods like the Whittaker System Carpet cleaning can be done year round, but are especially easy and convenient during low traffic summer months.
In addition to your carpeted areas, your tile and hard flooring might need some extra care. You might need cleaning, polishing, stripping, waxing and maintenance of all floor surfaces including tile, wood, granite and composites. Most school janitorial companies offer regular maintenance packages, special cleanings and even complete refurbishing. The right Wayne County janitorial company can help you keep all of your flooring in top-notch condition.
What other areas of your school facility see the most traffic? Restrooms. Your school restrooms and even locker/shower areas can see some serious wear and tear over the school year. It seems kids can make messes as fast as we can clean them so summer offers a valuable time to deep clean school restrooms and do any needed repairs.
The Right Time For Preventive School Maintenance
Summer can afford some time to inspect your facility for issues that might need your attention. For example, summer is a very good time to evaluate any cleaning equipment to ensure that everything is running properly and ready to go come fall. It is more convenient and affordable to maintain, replace or repair cleaning and maintenance equipment over summer then in the middle of the busy school year. The summer slowdown presents an equally opportune time to do general maintenance and preventive maintenance checks on the many parts of your building. Items like roofing, HVAC, painting, construction, repairs and more. Your school janitorial service likely has a larger service menu that can help you with either ongoing maintenance or one time or periodic projects. Schools take a beating in Michigan and preventive maintenance is always better than emergency repairs. Your Livingston county school cleaning company or Oakland county building maintenance company can help you determine and schedule the preventive building maintenance your educational facility needs.
Summer Offers Time To Evaluate Your Current Michigan School Cleaning Company
From your classrooms to your restrooms, your school janitorial services are charged with keeping your facility clean and in good order. So how are they doing? With school budgets continuing to shrink, outsourcing your school cleaning services can protect your bottom line, but if the school cleaning suffers, you aren't seeing real value from your school Detroit area school cleaning.
Your Michigan school cleaning company should consistently offer professional, innovative and responsive commercial school maintenance. You shouldn't have to grapple with high overhead, staff turnover, liability concerns and the visible and hidden costs associated with an in-house custodian in order to insure your school is well maintained.
Whether you are searching for a nighttime school cleaning service or on-site daytime custodian or custodial team, there are professional, trusted Michigan janitorial companies who have the knowledge and know how to earn top marks and protect student and staff health and your valuable reputation.
Finding A School Cleaning Company That Will Earn Top Marks
Finding the right Farmington Hills school cleaning company won't happen without some work on your part. The task of vetting prospective cleaning companies takes some time and effort but is worth it. What should you look for when shopping Michigan school janitorial companies?
▪ Full school compliance & CIMS-GB Certification
▪ Green Cleaning to get effective, consistent results in a safe & environmentally conscious manner
▪ A systemized approach to help make managing school maintenance hassle-free
▪ A system in place to solve real problems in your school cleaning as they come up
▪ Documented training programs that substantiate a commitment to green building services
▪ Testimonials Do you know an administrator or building manager that might provide you with a recommendation? You can also ask other companies you contract with.
When you partner with the right Dearborn school cleaning company, or a solid, reputable school cleaning company in Livonia, Ann Arbor or Farmington Hills, everyone in your school benefits.