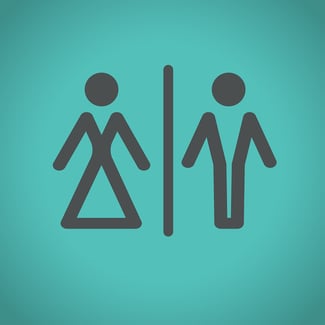 What is the number one issue in commercial cleaning? Well really it is the number one AND the number two issue. The issue we speak of is facility restrooms. Dirty restrooms, dirty office bathrooms and a lack of a restroom cleaning service can be challenging to any facility. As a building services contractor (BSC), there is no shortage of tough cleaning challenges but restrooms continue to top the list. Why is this? Well, there are a number of reasons why restrooms become a point of contention in a facility. One, they can be a the toughest room to tackle. Two, they are private spaces where people are doing their business, business that is more messy and smelly than say, making copies or printing off a document. Third, at home your bathroom is either yours alone or shared with a few family or friends. In a large facility, you share this private space with any number of people you might prefer not to. So having the space look and smell clean is even more important. Fourth, no one really wants to have to clean up after coworkers bathroom messes and so when facility managers try to handle restroom cleaning in-house, the efforts usually fall short.
Dirty, Smelly Restrooms Get Noticed
Restroom cleaning issues are a problem because they are frequently used by building occupants, staff and visitors. The condition of your facility's facilities is a reflection of the business itself. Smelly restrooms, overcapacity trash cans and empty hand washing supplies send a message of sub par work and apathy. If visitors or customers see a filthy restroom, it gives the impression that you take shortcuts and compromise quality to cut costs.
To employees it sends a different but equally powerful negative message, poor restroom sanitation tells employees certain that quality and productivity aren't terribly important. Dirty office restrooms might even lead your tenants to believe that you aren't up to the task at hand. As an experienced Facilities Manager, you don't want to send the unintended message that you either don't know about or don't care about the condition of your building.
Assessing Your Facility's Restroom Cleaning
Take a long look at your restrooms and be honest, do you like what you see? Are your building's restrooms really clean? Do they smell fresh? You may not be thinking about what it really takes to get a clean, fresh well-stocked restroom, but the best commercial cleaning companies do. The best Michigan maintenance company knows that well maintained restrooms requires both periodic checks throughout the day and regular deep cleaning. What are just a few f the things your janitorial services be doing to keep your restrooms clean and inviting?
▪ Inspect fixtures, dryers and paper dispensers to make sure they are in good working order.
▪ Refill critical supplies like toilet paper, soap and hand towels.
▪ Clean by removing dirt and grime first and then disinfecting surfaces using appropriate dwell times and the right products.
▪ Paying special attention to "touch points" to reduce the spread of disease.
▪ Keep floors clean and free of trash and debris.
▪ Consistently empty trash & empty sanitary disposal containers well before they are full.
▪ Keep floors and counters clean and dry, free of splashes, spots and standing water.
Can I Afford Commercial Restroom Cleaning?
Of course every business must manage expenses and stay on budget and so, many building owners, managers or facility managers might wonder if they can afford commercial cleaning services but there is a cost in going without regular maintenance. Regular maintenance and preventive deep cleaning of your building's restrooms can actually minimize replacement costs by maintaining floors, tile, fixtures, lights, vents and more. Likewise, occasional deep cleaning makes everyday maintenance much more effective and efficient. Often the best commercial cleaning companies are so experienced and utilize the best tools and products that they can clean your restrooms and the rest of your building quickly, sufficiently and cost-effectively since they can do more in less time.
Tackling Your #1 & #2 Problems With the Best In Janitorial Services
When you partner with a restroom sanitation service that offers consistent, reliable janitorial services, you are free to focus on your business and not where your employees do their business. You save yourself from having to deal with the torrent of employee or customer complaints that result from filthy, smelly restrooms. The benefits of clean restrooms add up quickly. Don't ignore your restroom sanitation services or underestimate how critical clean bathrooms are. Keeping your building's restrooms clean a big job and a dirty job that plays a crucial role in the image your business or facility presents. Make that image a positive one by outsourcing this important, often overlooked dirty job to the professionals.