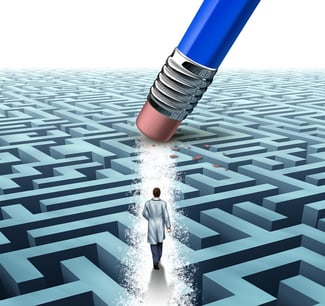 Whether you run an ambulatory surgical center, a clinic, medical group offices or other healthcare facility, you know medical cleaning matters. There are many reasons why health care cleaning is so important. For one, people seeking medical care are often at their most vulnerable both physically and emotionally. Adequate healthcare cleaning has been shown to minimize the risk of communicable diseases and comfortable, clean facilities allow patients to focus on recovery. Likewise, proper medical cleaning inspires the confidence of patients and their families and impacts their overall view of their healthcare teams. From the standpoint of a medical facility, satisfied patients contribute to better HCAHPS scores, which have a direct impact on your bottom line.
When To Call In A Healthcare Cleaning Specialist
In medicine, you would not want a general practitioner to perform your heart surgery or a pediatrician serving the geriatric population. No matter how capable any physician might be, we understand that specialization leads to both the depth and breadth of knowledge that result in better care for patients. With medical office cleaning and healthcare cleaning, this same principle applies.
Medical and healthcare cleaning are specialties, and not every Detroit metro area commercial cleaning company is prepared to clean your healthcare facilities. In order to get the most responsive care for your facility, you should partner with a janitorial cleaning contractor that has substantial experience with medical cleaning. Furthermore, the best medical cleaning companies will be able to demonstrate a clear understanding of all medical cleaning requirements including CDC requirements for medical cleaning and industry specific issues like blood borne pathogens and infection-control training.
Choosing Healthcare Cleaning for Medical Facilities in Detroit & Southeast Michigan
Because there are unique challenges inherent in medical cleaning, commercial cleaning companies can't just want your health care cleaning business, they must earn it. How does a commercial janitorial service earn your medical cleaning business? They should demonstrate that they understand the most critical elements of service delivery for your medical facility. The first most fundamental element is people in training. Medical cleaning is a specialty and therefore requires that your janitorial company offer you some of their best people. Because of the sensitive nature of both the delivery of healthcare and the administration of healthcare, you need people in your facility you can trust.
That means you're Michigan area commercial cleaning company must properly screen every employee that steps foot in your healthcare facility. Screening must include criminal background checks and drug testing, but the best Michigan area commercial cleaning companies will go even further to make sure to find a great fit for your facility. Once they have great people, they must arm them with great training. Medical cleaning is different from general office cleaning, so employees must have the training that will help them offer you consistent, responsive medical cleaning.
What Separates Good From Great When It Comes To Medical Cleaning
Some medical cleaning companies are good and some are great. So if you as the facility manager are shopping medical cleaning companies, how can you find the great ones? While any good healthcare cleaning company will have really good people who are well trained, the best Michigan area medical cleaning companies will have the systems in place to deliver the highest level of service. Even the best cleaners are people and people make mistakes.
Much like hospitals and healthcare facilities have safeguards in place to minimize human error, the best medical cleaning companies will likewise have systems in place to minimize human error and efficiently deal with issues when they arise. So if you are considering a new health care cleaning company, don't be afraid to ask questions. Instead of asking them if they have a system, ask to be shown the system they have. Any commercial cleaning company that has put thought into their systems will be excited to show you them.
Does Your Healthcare Cleaning Company Serve Your Type Of Facility?
There are as many kinds of medical facilities as there are physician specialties. The most experienced healthcare cleaning companies serve a variety of facilities. Commercial cleaning companies that have a specialty in medical healthcare cleaning bring their knowledge and skill set to a wide variety of healthcare facilities and areas like:
Medical Groups
Healthcare Facilities
Healthcare Buildings
Doctor's Offices
Ambulatory Surgical Centers
Medical Centers
Hospitals
Examination Rooms
Patient Rooms
Nursing Stations
Pre-Op & Post-Operating Areas
Restrooms
Waiting Rooms
Cafeterias & Kitchens
Locker Rooms & Break Rooms
Finding A Great Medical Cleaning Company
Like medical board certification, the CIMS or Certified Industry Management Standard can be a great way to identify the best commercial cleaning companies. CIMS is the Cleaning Industry Management Standard Certification and one of the most challenging levels of certification offered. CIMS certification substantiates a healthcare cleaning company's commitment to their industry and demonstrates that they have met the most rigorous standards set forth by the best among their industry. The CIMS standard includes:
Quality Systems: A structure to safeguard effective operations & ongoing improvement
Service Delivery: Processes & systems in place to deliver consistent, quality service
Human Resources: Best practices for managing any service industry's greatest asset—their people
Health, Safety, & Environmental Stewardship: Ensuring regulatory compliance, workplace safety, and health and environmental management
Management Commitment: Establishing a Mission, Vision, and Values and ensuring that the organization's continuity is secured.
When considering a new healthcare cleaning company, CIMS can be an effective "diagnostic" tool to help you identify your best prospects. CIMS offers a tool to weed out companies that are not fully committed to the work they do. CIMS can also serve to assist you in developing a short list of the best of providers to then find the right healthcare cleaning company to partner with to best care for your medical facilities.
Partner with a reputable and experienced Michigan health care cleaning company and every facet of your medical facility maintenance becomes better, easier and more manageable. Because they have worked to make your healthcare cleaning responsive and consistent, these quality companies are perhaps surprisingly often more affordable then inferior cleaning companies. They have become so efficient at service delivery that they can help you manage even the tightest budgets and still get the level of service your medical facility requires.