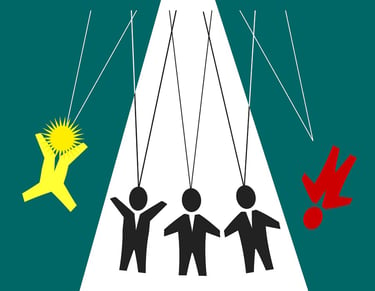 The Dollars & Cents of Janitorial Employee Turnover
Is your commercial cleaning company sending a revolving door of new hires in and out of your facility? If your janitorial service seems like a continual sea of new faces, it could be costing you money and reducing the value of what you are getting. No industry is completely exempt from the costs of employee turnover, however, the cleaning industry has always suffered from relatively high employee turnover. Historically, turnover in the janitorial industry has averaged between lows around 75% percent and historical highs of as much as 400%. Currently, employee turnover hovers around 200%.
To put these percentages into perspective, imagine a janitorial company has a team of 100 employees and a turnover rate of 200 percent annually. That's 200 new hires every year. Every time an employee leaves, it costs the janitorial company as much as $1,000 in recruitment, interviewing, criminal background check, employment and reference verification, drug testing, onboarding and training, all before the replacement employee generates a single dollar. To sustain a team of 100 workers with a 200 percent turnover means the cleaning company must hire 200 workers every year adding up to $200,000 in added costs annually. Costs that are nearly always absorbed by the customer.
High Employee Turnover Hurts Service Delivery In Many Ways
Beyond the dollars and cents, high turnover in the janitorial industry hurts service delivery as well. How you might ask? First, we all recognize that the longer you do something the more proficient you get. Even low skilled jobs require some level of skill and front line cleaners and janitors not only get better at service delivery, they become attuned to the individual needs of their specific customers. With the best employees, a real partnership can develop with the people in the building or buildings they serve. When you have a revolving door of new hires, your facility rarely gets the benefits that result from a long term employee.
Next, new employees are less productive, harder on equipment and are more likely to miss things as they acclimate to the job. Finally, when your cleaning company spends a significant amount of money on replacing people, that is money they are not spending on new equipment, better training programs and other assets and additions that help them deliver better, more responsive service to you. In this sense, high turnover means more time spent putting out fires rather than creating a healthy, thriving service business.
How Some Commercial Cleaning Companies Achieve Record Low Turnover
Commercial cleaning, janitorial and building maintenance are all service intensive business and service businesses rely on people more than anything. The best building services companies understand that good people are the heart of their business and their best ambassadors. At Stathakis, in our current economic climate where our industry averages 200% turnover, our turnover is just 40%! That's a fifth of the industry average and we are very proud of that. How do we do it?
Finding People Who Will Shine
We place a high value on choosing employees with a positive attitudes and engaging, helpful personalities. While experience matters, we have found that we can teach and train our teams the job requirements much easier than we can instill enthusiasm, positivity and a desire to do a job well. Taking the time to find team members who are excited to learn and feel a sense of personal responsibility to the clients they serve and the organization they represent means they are more likely to commit to the work they do. People make all of the difference!
Training Elevates Skill Level & Breeds Loyalty
We provide extensive training for a number of reasons. First, we all feel better when we are successful at work. Our employees are given the opportunity to feel this success because we arm them with the training, coaching and management to do their jobs very well. Additionally, research demonstrates that quality training and education generates employee loyalty, which in turn reduces attrition.
Competitive Wages & Benefits Matter
We offer our teams competitive wages and employee benefits. While there are significant upfront costs with competitive wages, benefits and even training, they contribute tremendously to staying power for team members.
We Show Our People They Matter In Every Way Possible
Every employee matters and is valued as an individual. Not only do we value our teams, we give them a voice with business matters that affect them, we use recognition liberally to reward our best employees, we provide opportunities for those interested to advance within our organization and every Stathakis employee has a financial stake in our success. We understand that team members who know they have opportunities to grow and learn here at Stathakis, won't feel like they need to change companies to explore their many talents.
How Low Turnover From a Janitorial Contractor Helps You
High janitorial turnover hurts you and your facility. When a cleaning company experiences lower than industry turnover it helps you the customer in a variety of ways. First, you can really establish a partnership with your janitor or cleaning team. In this sense, they become an extension of your own staff. This partnership makes communication better and results in overall better, more responsive and consistent service delivery. Next, because companies with lower turnover have reduced costs when it comes to new people, they have more money to invest back into their employees, technology, equipment and other areas that benefit you and make the company stronger and more resilient. Additionally, fewer new hires in and out of your building is safer and sends your employees or tenants a message of stability that is good for everyone. Last, employees with more experience under their belts do better. How much nicer is it to have the same cleaner for three years versus a new face every few months?
If you are seeing too many new people from your current janitorial service or you are considering contracting with a commercial cleaning and building maintenance company and want to benefit from a stable local Michigan commercial cleaning company with low turnover, please contact us to see how we can help you.