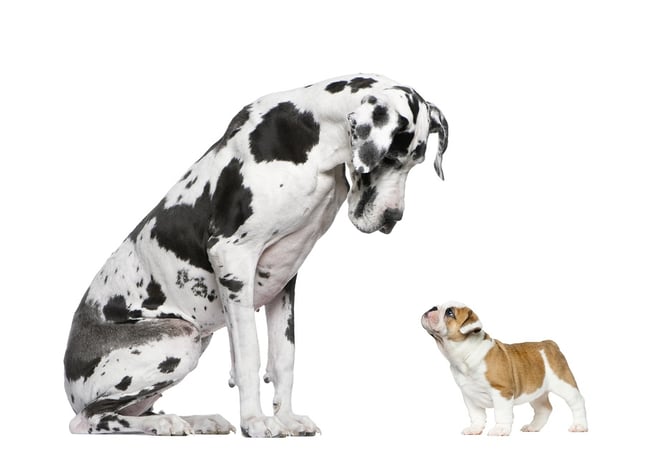 Does Your Facility Need a National Cleaning Company?
It can be easy to think your facility needs a national cleaning company. Maybe you have a large facility that requires multiple people or teams to maintain it. Or perhaps you have complex facility requirements like industrial cleaning, medical or school cleaning and you know that finding the right contractor to maintain your facilities is critical. Perhaps your organization has multiple locations and needs coordinated maintenance services. These factors and more can leave you feeling like maybe bigger IS better, but is that really the case? A national janitorial service might be a good option if you have locations throughout the country and require a single, centralized commercial cleaning company. But in most instances, the big national janitorial services can come with a variety of issues and obstacles you need to consider. Maybe you know you don't want the things that come with a national janitorial company, but you also know your operations are far too big and complex for just any janitorial company. You would really like to shop local but need to assure you partner with a commercial cleaning company that is big enough, experienced enough and professional enough to offer you the same benefits of national cleaning companies. What size and kind of cleaning company will serve you and your facility best?
Is a National Janitorial Company Better Because They Are Bigger?
In order to examine what size and kind of janitorial companies perform better, we must define what better really is. Many Facility Managers can agree that in order to offer effective, reliable service, a commercial cleaning company must:
Have employees who are a good fit for the work, have been properly screened, trained and managed to do their best for the customer.
Have transparent pricing that allows Facility Managers the ability to both compare janitorial quotes and hold janitorial contractors to their word.
Assure you know exactly who to call when there is an issue and then respond and rectify quickly to keep issues from becoming problems or burdens for you.
Be interested in a long-term partnership with you and not just getting the contract, which means they work hard to understand your business and your needs.
Janitorial services aren't a one time transaction rather it is an ongoing relationship of service delivery. You don't want to contract with a company that doesn't get the job done day after day. You want a partner that lives up to their promises and goes above and beyond to make sure your facility is well cared for and you are getting the full value of your janitorial budget. Now that we understand some of the most significant components of quality service delivery, lets examine how those measures relate to the size and type of commercial cleaning contractor.
Do National Cleaning Companies Have Better Buying Power?
Some Facility Managers like the idea of a national janitorial service because they know they are likely to have significant buying power where supplies like paper goods are concerned. While the larger companies certainly do benefit from the cost savings that comes with larger purchasing power, there is no guarantee they will pass along this savings to you the customer. The larger local commercial cleaning companies are likely to also have considerable buying power with cleaning supplies and stock supplies, and they are far more likely to pass their savings on to you the customer is order to stay competitively priced with national janitorial contractors.
Where Do National Cleaning Contractors Fall In When It Comes to Responsiveness?
With smaller cleaning services, you know exactly who's in charge and they are likely happy to talk to you, and yet, if you manage a large facility or multiple buildings, your needs are beyond the scope of a small scale cleaning and maintenance operation. With national cleaning contractors, connecting with a person who can address and remedy issues can be challenging to say the least. Like most other corporations, personal attention and accountability can be in short supply while bureaucracy and impersonal, out of step customer service can be the norm. Some of the most responsive service comes from those mid to large local building services contractors. These larger, local janitorial companies can offer a solid mix of personal and operational responsiveness with a clear point of contact and an ability to go 'up the ladder' if needed to get issues addressed. And because of their size, they can still compete with national janitorial companies when it comes to flexible staffing and a rich and helpful service menu.
How Do National Janitorial Services Line Up With Labor?
One of the most important elements of effective service in cleaning and maintenance is the front line employee. What matters most? Employees must be adequately screened, trained and managed in order to arm them with the ability and motivation to give customers their best day in and day out. Most national janitorial companies are set up to effectively hire and screen employees. They likely do the required drug and criminal background checks as required for new hires. But building loyalty with employees and creating a responsive work environment often evades the large corporate national janitorial companies. The smaller janitorial companies often have a tough time finding and retaining the best people for the job. Their need may rise and fall too quickly to keep an adequate reserve labor pool for growth and attrition. Likewise, they are less likely to offer the compensation, benefits and perks that can help janitorial companies retain the highest performing employees. The more sizable local cleaning companies quite often have developed systems to find, screen and manage a great team. But they also benefit from their relationships with the local community. This can make it easier to attract and retain great teams and get referrals for future employees from current employees.
What's Best For You the Customer?
All too often the really big guys, the national janitorial services leave you feeling lost in the crowd and getting the most attentive and effective service can be elusive. This is because national building services contractors can replace customers as fast as they lose them. Doing business in so many areas helps them spread out lost accounts and 'fish from many ponds' so to speak. It isn't that you as a smaller customer aren't important, it's just that you aren't as important as larger, harder to replace accounts. The smaller janitorial companies value every customer but whether or not that equates to effective, consistent service is anyone's guess. Often smaller businesses become perilously reliant on one client to keep their business afloat. The larger, local cleaning operations can't replace lost accounts so easily. Word of poor service delivery travels fast in local communities and among Facility Mangers and local Detroit janitorial companies must guard their reputations carefully in order to find success here in Michigan. So they often work harder to get and keep customers.
A National Janitorial Service Has Limitations & Drawbacks
What is it that you really need? You need effective service. You want to be seen as a priority and get the responsiveness that demonstrates that is the case. You need a solid value from your janitorial budget and a company that will know how to deliver the most for the budget you have. You want a company that focuses on their customers rather than their shareholders. You need a janitorial company large enough to have at their disposal the methods, systems and procedures to deliver on their promises of quality service. You deserve to partner with a commercial cleaning company dedicated to finding the best people for the job and then arming them with everything they need to be successful in your facility. For all of these aims and more, a large locally owned large cleaning companies, like Stathakis, offers the best combination of benefits from both the big national guys and the little guys giving you just the right balance of professionalism and those personal touches.