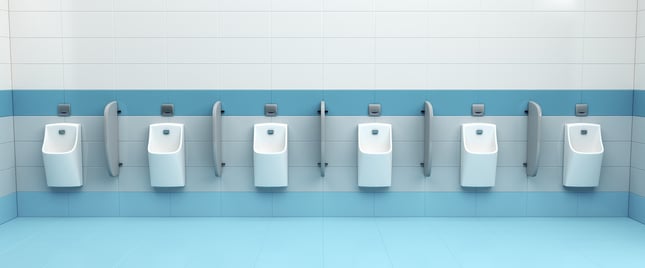 Is Your Commercial Cleaning Company Failing To Deliver Effective Restroom Cleaning?
Restroom cleaning is one of those things that if it is going well, no one notices, but if your restroom cleaners aren't effectively cleaning your restrooms, everyone notices. More than any other space in your facility, the state of the restrooms impact the overall perception of staff, visitors and customers. Why is that? Probably because we all try to ignore the fact that so much personal business happens in this shared space. But when it looks or smells dirty, there is no way to ignore it. Our normal revulsion to bathroom odors and soils is natural, deeply ingrained and can only be countered with clean, fresh restrooms. So is your restroom cleaning service doing the work they need to be in order to keep your restrooms clean and fresh while protecting the image of your facility? There are some signs that your restroom sanitation service has gotten off track. Ask yourself these questions. Are restroom floors damp, dirty or look like they have been given a thoughtless once over with an already dirty mop? Is the restroom trash full or close to overflowing? Do you see any dirt, graffiti or unknown staining on restroom stall partitions? Do sanitary disposal containers have old trash in them, are they working well or broken and in disrepair? Are counter tops damp, wet and dirty? Is there a lingering unpleasant odor? Does the area around the door handle appear dirty? Are all of the needed hand washing supplies well stocked? Are the mirrors cleaned? Do you notice any deposits or mucky buildup around urinals, toilets or sinks? Is the floor clean and floor drains free from grime, debris or dust?
Poor Restroom Sanitation Services Are a Stain On Your Facility
Everyone likes walking into a restroom that is clean and smells fresh but as far as your bottom line goes, do clean restrooms really matter? The answer is yes and it matters more than you may think. What are the real costs of poorly maintained restrooms?
Poorly maintained restrooms can raise employee turnover
Ineffectual restroom cleaning will likely lead to lower rates of employee satisfaction
Subpar restroom cleaning decreases productivity and increases employee apathy
Poor commercial restroom cleaning diminishes employee engagement
Restroom cleaning that doesn't clean for health increases illness and employee absenteeism
Dirty restrooms can even lead to lost sales
Restroom cleaning services that isn't effective can send a message that you don't care. This can lead to a downshifting of productivity or employee apathy. Poor employee attitudes can be contagious creating a vicious cycle.
Using A Restroom Cleaning Checklist To Keep Your Restroom Cleaners On Track
If you already have a great commercial cleaning company keeping your restrooms in tip top shape, then you don't really need a restroom cleaning checklist. But if your janitorial company is not delivering when it comes to your commercial restroom cleaning, a restroom cleaning checklist might help them get back on track. Or at the very least, it can help YOU know what to look for and require from new janitorial services in Michigan. There are a number of things that good restroom cleaners do every time they clean your restrooms. Here are some of the things your janitorial services company should be doing regularly to keep your office restrooms sparkly and fresh.
Cleaning must be done first and then disinfecting surfaces using the proper dwell times to assure disease causing germs and bacteria are eradicated.
Careful cleaning of "hot spots," "high contact" and "touch points" to diminish the spread of disease causing germs.
Mirrors should be clean and shiny.
Using industry best practices-- chemicals, agitation and extraction to insure walls, floors, toilets, urinals, sinks, mirrors and fixtures are scrubbed and deep cleaned.
There should be no overwhelming 'toilet' odor and the overall smell should be clean and fresh.
Toilet and toilet seats must be cleaned, disinfected and wiped dry.
Urinal handles need to be cleaned, disinfected, wiped dry with urinal screens cleaned and blocks replaced.
Feminine hygiene dispensers should be cleaned, disinfected and restocked with new liners put in place as needed.
Frequent restocking of must have supplies like toilet paper, hand soap and paper towels.
Regularly emptying trash & sanitary disposal containers BEFORE they are full.
Routine inspecting fixtures like dryers, paper dispensers and more to insure sure they are in working order.
Cleaning floors and counters to eliminate splashes, water and keep surfaces looking good.
Systematically cleaning around and behind toilets and other hard-to-reach yet essential areas to help eradicate odors.
Maintaining restroom partitions so they are free of the three G's—grime, gum and graffiti.
When cleaning restrooms, floor drains and grout must be clean.
Regular dusting or vacuuming of air vents.
Check that all light bulbs are functioning.
Attention to detail including clean corners, ceilings and base boards.
Making sure regular deep cleaning is done to eliminate long term issues piling up and protect your building's assets
Great janitorial services use state of the art cleaning equipment to do the best job for the best price.
Restroom cleaning cloths, towel and mops should not be used outside of the restroom.
A visual inspection should be done upon completion and any areas requiring future maintenance should be noted.
The supplies and equipment closet should be clean, organized and well stocked.
Equipment should be properly maintained, repaired and replaced as needed.
What Makes Some Commercial Cleaning Companies So Much Better?
Today's restroom cleaning must go well beyond a little wiping, a mop and a bucket. Those cleaning companies at the ready use best practices and systems and processes to do everything from find, vet, hire and train good people to managing their teams and communicating with their customers. Technology with regard to cleaning has improved in leaps and bounds and this can mean increased efficiencies, reduced costs and more effective janitorial services. So is your commercial cleaning company or prospective restroom cleaning service equipped for today's high tech cleaning? Are they using a restroom cleaning checklist to keep their teams trained in the specifics of restroom cleaning and on track day in and day out? Better people, processes and technology all translate into better, more responsive and individualized commercial cleaning services.
Understanding What Restroom Cleaning Services Should Cost
When looking at prospective restroom cleaning companies it is essential that they offer transparent pricing. Not only does this help you compare multiple cleaning bids in a meaningful way, clear pricing helps you understand what you purchased and can even serve as a guide to keep you commercial cleaning company on track and accountable to the work they promised. All too often janitorial companies have cloudy pricing and fuzzy math. Sometimes this is just a function of inexperience with clearly pricing their services and other times, cleaning companies will provide a low but incomplete quote in order to get your business. As a Facility Manager, it is imperative that you know pricing well before you purchase services for your facility and that you are given the opportunity to compare janitorial bids side to side, service to service in order to secure the best value for your facility.
Commercial Restroom Cleaning You Can Count On
Clean, fresh restrooms are imperative to both the health and reputation of your facility. Sure, there are many commercial cleaning companies out there from which to choose. Some are big, some are small, some are great and some are not so great. How can you as a facility manager tell the difference? For one, any prospective janitorial company should provide transparent pricing so you understand what you are getting for your budget. Second, the best Michigan cleaning companies know they operate a service business and that front line employees are critical in excellent service delivery. To that end, the best commercial cleaning companies work very hard to assure that they find, vet and train the best people for placement in your facility. Third, let industry certifications like the ISSA's CIMS work for you to help you create a pool of certified janitorial companies from which to choose your next cleaning company. Industry certifications effectively prescreen cleaning companies putting you ahead of the start line when you begin your search for a true partner in your facility maintenance. Whether you are trying to get the best from your current janitorial company or you are shopping a new local Michigan janitorial service, ask questions. How do you find your employees? What methods do you use to ensure the people in my building are safe? What kind of training do you provide for your new employees? How often do current employees receive additional or ongoing training? What systems do you use to communicate issues I may have with the team it services my facility? Finding the right local Detroit commercial cleaning company can make all of the difference with your restroom cleaning and the overall state of your entire facility.