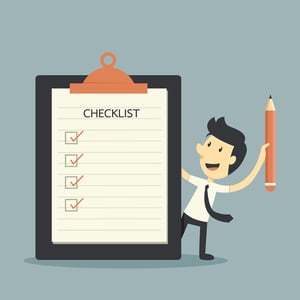 Clean restrooms matter. Poor restroom maintenance leaves you and your facility open to a host of problems that can pile up fast. Do your office restrooms stink both literally and figuratively? Are grievances piling up as fast as the restroom trashcans? Whether you are using an in-house cleaning team to manage your office restrooms or restroom cleaning services, if it isn't being done to standard, business will suffer. Whether it is office restroom cleaning, hospital or medical building restroom cleaning, school restroom cleaning or even the clean restrooms at your retail establishments, understand that the condition of your restrooms conveys a great deal about your business to your customers, clients and employees. Are you and your office restrooms sending the message you intend? And how do you know what great restroom cleaners look like if you have never had them?
"How do you know what great restroom cleaners look like if you have never had them?"
How To Tell If Your Restroom Sanitation Services Stink
Before we delve into the ultimate restroom cleaning checklist, let's examine what signs can point to dirty restrooms that are not being properly maintained. Maybe you can smell it the moment you walk through the door. Maybe you can see it with your eyes, the piles of trash or dirty corners. Maybe your office restrooms look okay but cleaning for health and minimizing disease causing bacteria is completely forgotten. Whatever the case, here are some signs your restroom cleaning is in the toilet:
Hand washing supplies like soap and hand towels are often empty.
Trash receptacles are full, almost full, overfull or trash has even accumulated around them.
There is a smell and it isn't pleasant.
There is dirt and grime on and around door handles.
An accumulation of soil, mineral deposits, and soap residues has been allowed to collect on sinks.
Sink fixtures are grubby and restroom counters are conspicuously dirty and/or wet.
Water, smudges, streaks or worse mark restroom mirrors.
A lack of maintenance to toilets and urinals shows with sediments and grimy buildup.
Bathroom stall panels and stalls are dirty with grime, fingerprints and graffiti.
Restroom sanitary disposal containers are damaged or full.
Restroom floors are dirty or cursory cleaned with no attention to detail.
Floor drains have collected soil, dust and debris and grout is dirty.
Your commercial restroom cleaning does not do the regular deep cleaning needed for upkeep and protecting your building's assets.
Often equipment is outdated, poorly maintained or not replaced when it breaks down leaving services left undone or dine poorly.
Effective Restroom Cleaning, What the Good Guys Do Better With a Restroom Cleaning Checklist
Good restroom cleaning comes down to a variety of factors from cleaning for health to the big picture to the small details and even understanding how your office restrooms are used and when they see the most traffic. Office restroom cleaning isn't the same as cleaning your home bathrooms and as such, requires a different kind of cleaning. And a restroom cleaning checklist as well as janitorial inspections can help keep your restroom cleaning service on track. What should your commercial restroom cleaning company be doing to keep your office restrooms are properly maintained?
Toilet and toilet seats must be cleaned, disinfected and wiped dry.
Urinal handles need to be cleaned, disinfected, wiped dry with urinal screens cleaned and blocks replaced.
Feminine hygiene dispensers should be cleaned, disinfected and restocked with new liners put in place as needed.
Cleaning must be done first and then disinfecting surfaces using the proper dwell times to assure disease causing germs and bacteria are eradicated.
Careful cleaning of "hot spots," "high contact" and "touch points" to diminish the spread of disease causing germs.
Frequent restocking of must have supplies like toilet paper, hand soap and paper towels.
Regularly emptying trash & sanitary disposal containers BEFORE they are full.
Routine inspecting fixtures like dryers, paper dispensers and more to insure sure they are in working order.
Cleaning floors and counters to eliminate splashes, water and keep surfaces looking good.
Mirrors should be clean and shiny.
Using industry best practices-- chemicals, agitation and extraction to insure walls, floors, toilets, urinals, sinks, mirrors and fixtures are scrubbed and deep cleaned.
Systematically cleaning around and behind toilets and other hard-to-reach yet essential areas to help eradicate odors.
Maintaining restroom partitions so they are free of the three G's—grime, gum and graffiti.
When cleaning restrooms, floor drains and grout must be clean.
Regular dusting or vacuuming of air vents.
Check that all light bulbs are functioning.
There should be no overwhelming 'toilet' odor and the overall smell should be clean and fresh.
Attention to detail including clean corners, ceilings and base boards.
Making sure regular deep cleaning is done to eliminate long term issues piling up and protect your building's assets
Great janitorial services use state of the art cleaning equipment to do the best job for the best price.
Restroom cleaning cloths, towel and mops should not be used outside of the restroom.
A visual inspection should be done upon completion and any areas requiring future maintenance should be noted.
The janitorial closet should be clean, organized and well stocked.
Maintaining, repairing and replacing cleaning equipment as needed.
Finding the Most Effective Janitorial Services For Restroom Cleaning Shouldn't Be Impossible
Finding the right Michigan restroom cleaning company isn't easy but it is worth it. The benefits of an effective restroom cleaning service are substantial. If you already have janitorial services in Michigan and they are okay but not great, spend a little time revisiting your cleaning spec with them to get your building maintenance back on track. If you are on the search for premier building maintenance, then equip yourself with the information needed to ask the right questions of any prospective janitorial company. Your facility restrooms are a critical component of the overall health and image of your business, don't let them make the wrong impression or negatively impact your bottom line.