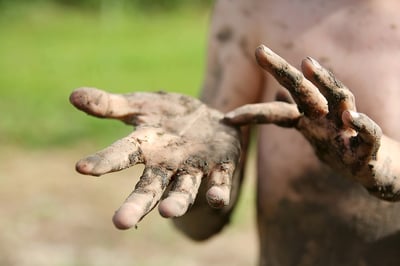 Does your janitorial company need to clean up their act? Are they slacking on consistency? Are you getting fuzzy math and unclear pricing on your cleaning bids? Is your janitorial service a revolving door of new hires and high janitorial turnover? Does your commercial cleaning company claim to be green and utilize green cleaning but they are more talk than action? Has your national janitorial company gotten sloppy with service and responsiveness? How can you as a Facility Manager know what you should expect from your janitorial company and when to tell your facilities services company to clean up their act!
Cleaning Up Inconsistent Service From Your Janitorial Company
When we talk to Facility managers, one of the things we hear quite a bit is that their janitorial services begin good enough but within a few months or even weeks, the service often becomes inconsistent at best poor at worst. Whether you need a hospital cleaning service, office cleaners or you just want clean restrooms; you and your facility deserve consistent service from your janitorial company. Why do so many janitorial and cleaning companies fail to deliver consistent, responsive service? Often it comes down to a lack of systems. Most of us want to do a good job but wanting to doesn't translate into consistent action. Systems helpless guarantee reliability through accountability. And we are not just talking about a duties checklist. For great janitorial service delivery, systems should include regular inspections that help communicate and facilitate improvement between you the customer and the frontline cleaners. Systems should include an easy way for you the customer to communicate with your janitorial company in a way that gets your needs met quickly. Great systems will also take advantage of technology driven solutions like apps, like QualityChex and other real-time reporting tools.
Cleaning Up Fuzzy Math & Cloudy, Confusing Pricing From Your Commercial cleaning
Whether you are considering commercial cleaning prices or cleaning bids, commercial cleaning pricing should be transparent and clear. Shopping commercial cleaning services is hard enough without fuzzy math and cloudy pricing making it even tougher. Transparent pricing allows you to compare apples to apples to find the best value in your Michigan cleaning services. Likewise, janitorial pricing is so critical because if you don't have a clear map of what you get for what you are buying, neither you nor your cleaning company can truly measure success. Whether you are in the market for medical cleaning, industrial cleaning, hospital cleaning or school cleaning, you deserve to know precisely what you are buying. All too often, janitorial pricing is unclear because your custodial services either are not experienced enough to understand how to accurately price their services or you are dealing with a Detroit commercial cleaning company who purposefully clouds their pricing to make it difficult for you to compare their cleaning bid with others.
Cleaning Up People Issues Within Your Building Maintenance Company
People are the single greatest asset in any service-based company. You can have all the great systems, green cleaning products, high-tech cleaning equipment but without good people, it's essentially useless. How does your building maintenance company get very good people? First the hiring process must be stringent. The best school cleaning companies, office cleaning companies and even industrial janitorial services go beyond the minimum when it comes to employee screening, Criminal background checks, drug testing and more to make sure that the people In your facility should really be there. Whether it's your office cleaners or your day porters, your commercial cleaning company must do everything they can to staff your facility with great people. On top of screening, your janitorial services in Michigan must put time and money into training their people. Training takes good employees and makes them truly effective. Finally, your janitorial company must provide management support and feedback to help drive continuous improvement.
Cleaning Up Green Cleaning Claims From A Professional Janitorial Service
According to some estimates, institutional cleaning uses as much as 6 billion pounds of formulated chemicals. Commercial buildings alone can churn through 4.5 billion pounds of hand towels and toilet tissue, much of the chlorine-bleached, virgin pulp variety, and over 30 billion plastic trash bags annually. But much of that is changing as facilities, facility managers and commercial cleaning companies alike look to make the kind of changes in their processes and products that really add up. Green cleaning — using products and processes that reduce the environmental and health effects of housekeeping on both the indoor and outdoor environments — is catching on with industrial cleaning, school cleaning, factory cleaning, office cleaning and medical and hospital cleaning in part because janitorial companies and their customers look to balance cost and environmental concerns. The challenge is that as facility managers clamor for green cleaning, many Facilities services company say they are green with little or no follow through in actual practices.
What kinds of things really matter when it comes to green cleaning and your janitorial company? Well, it's the big things and the little things. Of course recyclable paper products and green cleaning chemicals are a must. But other things like the use of backpack vacuums, low moisture carpet cleaning, exact amount product dispensary and Smart cleaning measures like emptying trash receptacle without changing the plastic bag when possible, all add up. If your janitorial service has a green cleaning program, ask to see it first hand. Green cleaning claims should also be substantiated by observable training systems because for all the great products and processes, if no one knows how to use them or follow them, there might as well not be a green cleaning program at all.
Will You Get The Best Service From A Local Michigan Janitorial Company Or National Cleaning Companies?
There are certainly both good and bad National janitorial companies just as there are both good and bad local janitorial services in Michigan. Whether you are in search in Auburn Hills janitorial service or even commercial handyman services, local is a better choice for number reasons. First, it keeps janitorial jobs in Michigan. Local businesses are committed to their local communities and keep jobs and tax revenue right here In Michigan. National janitorial companies operate throughout the country meaning no matter how large your account is, it is likely going to be difficult to get the responsive, personalized service you and your facility deserve. Additionally, national janitorial services primarily focus on securing huge profit returns because the serve their shareholders first. It's this mindset that drives everything they do, not a commitment to quality service or a great reputation within your community. Whether you are looking for Day porter service, hospital cleaning, school cleaning or general office cleaning, A large local Michigan janitorial company can secure nearly all of the benefits in national janitorial company can with the level of responsive personalized service in national janitorial company will have a difficult time executing.
Can You Clean Up With A CIMS Certified Commercial Cleaning Company In Michigan
Professional industry certification like the ISSA's Certified Industry Management System, (CIMS), demonstrate a cleaning companies commitment to both professionalization and industry best practices. CIMS certification is held up as one of the most demanding and difficult levels of certification offered. The CIMS standard includes:
Quality Systems: A framework to ensure effective operations & continuous improvement
Service Delivery: Processes & systems in place to deliver consistent, quality service
Human Resources: Best practices for managing any service industry's greatest asset—their people
Health, Safety, & Environmental Stewardship: Ensuring regulatory compliance, workplace safety, and health and environmental management
Management Commitment: Establishing our Mission, Vision, and Values and ensuring that the organization's continuity is secured.
CIMS certification offers tremendous benefits to you as a facility manager whether you are in search of healthcare cleaning services, Hospital cleaning services for any kind of building maintenance services. Even membership into professional organizations like the BSCAI show a competency and engagement that predict solid service delivery.
If you are not getting the level of service you deserve from your janitorial services, it's time to tell them to clean up their act. From people to processes, to green cleaning and pricing, you as a Facility Manger deserve quality, responsiveness and value from your janitorial company.