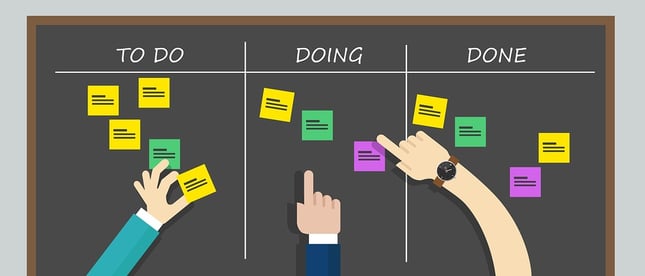 Is Your Building Maintenance To Do List Growing Out of Control?
Even experienced Facility Managers can get flooded by the sheer volume of work their facilities can create. It doesn't take much to tip a Facility Manager's 'To Do' list from barely workable to teetering out of control. A few unplanned maintenance issues accumulate faster than you can take care of them or ongoing maintenance issues start to pile up to the point where you aren't even sure what to tackle first. Sometimes it is a lack of preventative maintenance coming back to haunt you, sometimes it's new tenants or a building issue happening in multiple places at once and sometimes it is just plain old bad luck. When you are in the weeds and it feels like you might never catch up, commercial handyman services can save time, save money and reduce your workload to a manageable level. An effective commercial handyman service can attend to day-to-day issues before they get out of control and even help you complete projects that you have been putting off. Sure, what Facility Manager wouldn't want some professional help, but maybe you think it's going to throw your budget completely out of whack.
Are You Concerned Commercial Handyman Services Are Too Costly?
If you have put off critical maintenance because you think you cannot afford it, you should consider the following. First, when you partner with a solid commercial handyman service, you are creating a partnership that benefits you both. Your maintenance company gets ongoing work and you get to move to the front of the line and pay less than you would with a steady stream of new, individual contractors. Second, as tough as it can be to budget for preventive maintenance, a little money upfront for maintenance can save a lot of money and hassle later when things start breaking. For instance, an HVAC inspection off season is going to be much easier and cheaper than an AC service call from a new company on the hottest day of the year. An experienced building maintenance company can help you schedule preventive maintenance and even put their expertise to work creating an affordable maintenance schedule that makes sense for your facility and your budget. Third, supervising a team of in-house maintenance staff is a full-time job that you don't want and there are simply too many associated costs. There are wages, benefits, health care costs and overtime associated with employees, not to mention the costs connected to recruitment, screening, interviewing, training, drug testing and criminal background checks and training. Outsourcing your building's maintenance to the right building services company will save time and money as well as shield you from unnecessary liability and the issues associated with managing additional employees whose responsibilities are beyond the scope of typical business operations.
Are You Tired Of Starting From Square One Every Time You Have A Facility Maintenance Issue?
If you have to start from square one every time you have a maintenance issue, no wonder you are overwhelmed. Think of what you must endure every time you need help. There are often canceled appointments, frequent more no-shows, price gouging and waiting far longer than you should for service to be completed. With a reliable, effective commercial handyman service, you go directly to the front of the line. If you have already established a relationship and trust with your building maintenance company, diagnosing, pricing and completing work is much more straight forward. What if an electrical issue comes up and you didn't have to search a contractor out, meet with them, haggle over price or get multiple estimates? What if when it was time to have your office's carpet cleaned, you had a great company at the ready? What if you could just dial up or email your point person at your building maintenance company and let them coordinate it for you? What if you could get a faster response and better work all while paying LESS than you would with multiple, individual contractors?
What Things Will a Professional Handyman Service Do?
Considering outsourcing building maintenance? Can you imagine the ease of having a trusted, reliable building services company that does it all? While not all building maintenance companies offer such an abundance of services, there are many that do. It is generally the larger maintenance companies that can afford a large team of trained technicians and professionals at the ready. So what kind of work and tasks can you expect a large facility maintenance company to offer?
Wall repair
Painting & touch-ups
Plumbing Repairs
Carpentry Repairs
Electrical repair
Carpet/Tile Repairs, Restoration & Replacement
Carpet cleaning
Ceiling Tile Repair/Replacement
Flooring restoration
HVAC preventative maintenance & repairs
24/7 Emergency Repairs
Office Furniture Moving & Assembly
Remodels/Alterations
Lock and Door Repairs
Ballast Replacement
Door/Hinge/Hardware Repair
Roof Inspections
Group Relamping
Painting/Wallpapering
Life/Safety Audits
Light bulb changes/Light fixture installations
Comprehensive building inspection
Exterior power washing
Caulking & Glazing
Water Clean Up
Construction Clean up
How Will Having Your Own Team of Building Maintenance Pros Make Life Easier?
With an experience building maintenance company, you can get quick fixes to your maintenance issues, go straight to the front of the line, extend the life of your property's assets, forecast better, cut maintenance expenses and even plan work around your needs. When you contract with a commercial handyman service, you get help where you need it at any given moment. That means you don't over hire or pay someone when there isn't work. Likewise, with a team of building maintenance pros, you can forego individual contractor specialists without settling for sub par contractors who might lack the experience needed to get the work done. Rather than go through the frustrating process of searching for and waiting on individual contractor for minor repairs, you get a turnkey, hassle free solution to the bulk of your building maintenance needs.
Do You Have Enough Work For a Commercial Handyman Service?
Some Facility Managers like the idea of having their own 'A' team but worry that they simply don't have enough work to make it worthwhile for a commercial handyman service. Others worry that a professional maintenance company is beyond their budget. The reality is that most commercial handyman services will customize a maintenance plan to correspond with your requirements and your budget. They know there is not any one size fits all solutions. They already wok with a variety of businesses, they understand each facility is going to be different. While some facilities may need a lot of help getting back on track, others might only need less frequent help. The most effective professional maintenance companies will work with you to figure out precisely what you need and how they can help you.
Are There Benefits to Outsourcing to a Commercial Handyman Service?
Yes! Outsourcing your building maintenance services not only helps you maximize your building services budget, it makes life easier by better managing your ever growing to do list. The advantages of farming these tasks out to technicians with specific expertise are clear. First, you can reduce and even eliminate the time and money associated with finding, hiring, administrating and managing your own in-house facility maintenance staff. Likewise, you do away with the costs associated with procurement, maintenance, inventory, equipment, supplies and uniforms. Third, you have access to expert service in a variety of specialties and even help with when planning larger, more difficult projects. Fourth, as far as budgets go, outsourcing can help you control and predict costs. You don't pay for help you don't need but you still aren't paying the premium you might with individual contractors. Fifth, you get quick turn around and responsive service from people you already trust. Finally, enlisting the help of a commercial handyman service allows you to focus on your business.
Let Stathakis Help You Tackle Your Facility Maintenance
Need help tackling your towering to do list? Feel like you are constantly running around putting out fires? Investing a bit of time to find the right maintenance company to meet your needs will pay off for many years to come. Outsourcing your building maintenance services is likely to reduce and stabilize your maintenance costs considerably, while also offering you, tenants and employees more consistent maintenance. Make outsourcing commercial handyman services work for you and your organization by choosing a building services contractor with a solid reputation and over 35 years of experience. To get more information or to schedule a free consultation, call Stathakis at 1-(800) 278-1884.