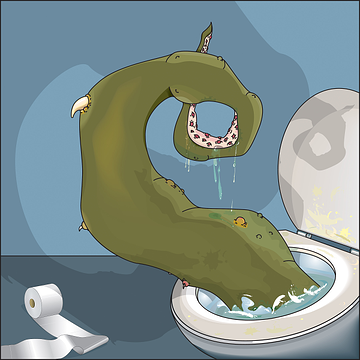 Are Dirty Restrooms "Stalling" Business and Morale?
Don't let dirty restrooms "stall" company morale. If you make sure your facilities restrooms stay sparkling clean and fresh, you will be a real hero around the water cooler. Dirty restrooms are the bane of any business whether your restrooms are frequented by customers, employees or both. When it comes to maintaining an environment for your staff to work in, dirty restrooms can have profound negative consequences.
When you have dirty restrooms, exposure to germs that cause disease can escalate employee absenteeism and even lower productivity. If you don't care about clean restrooms, you are unwittingly giving the impression to employees that it is okay to cut corners. If your customers or the general public have access to your facilities, the repercussions of dirty restrooms can be even more severe. You have probably heard people talking about when bathrooms, areas customers can see are dirty, how bad do you think the other areas customers can't see are? Even if other areas of your facilities are clean, that isn't the impression your customers will have when they use your dirty restroom.
Don't let dirty restrooms negatively impact your bottom line. Make sure your company offers clean restrooms, and your employees and customers alike will thank you. The benefits of clean restrooms go well beyond aesthetics.
Reduces absenteeism
Positive customer perception of the overall quality of your business
Increased efficiency and work output
Better sales
An increase in your overall bottom line
The Perils of Trying to Tackle Dirty Restrooms Yourself
So you understand that clean restrooms are integral to good business, a positive customer perception, employee morale and of course dollars and cents, but how do you make sure that your restrooms are really clean? In an effort to reduce costs, many facilities managers try to handle dirty bathrooms in-house. There are very few circumstances where this usually works out. Smaller organizations might give the responsibility for clean restrooms to an employee who has been hired for other purposes. This generally leads to inadequate cleaning as employees hired for administrative responsibilities and the like are not typically receptive to cleaning dirty restrooms.
In some larger organizations, you might be considering hiring a single person or team of people with whom the responsibilities of keeping restrooms clean falls upon. All too often managers who go down this route underestimate the amount of resources that will go into managing what amounts to a business within a business. Whether it is simply figuring out who is can be responsible when the job isn't done to the administration of things like payroll reviews healthcare and the like.
What Is Really Involved in Insuring Clean Restrooms?
Some people think that cleaning the restroom is a no-brainer but the reality is far from it. From periodic checks throughout the day to regular deep cleaning, making sure your employees and customers have clean restrooms is a big job.
Check fixtures and devices to make sure they work properly.
Restock supplies like toilet paper and hand towels.
Clean first and then disinfectant surfaces.
Target "hot spots" or "touch points"--areas for bacteria buildup, such as door, toilet, urinal and faucet handles, light switches and diaper stations.
Sweep floors to collect trash and debris.
Regularly remove trash & empty sanitary disposal containers
Clean floors to eliminate puddles and clean surfaces.
Periodic deep cleaning is essential to truly clean restrooms. This often Herculean task is better left to the professionals who have the equipment, products and training to get the job done right. Deep cleaning eliminates a build up of gunk and dirt that can cast a shadow on clean restrooms and leave lingering restroom odor. What can a good deep cleaning do for your facility's restrooms?
Using chemicals, agitation and extraction, walls, floors, toilets, urinals, sinks, mirrors and fixtures are scrubbed and deep cleaned
Careful cleaning behind toilets and other hard-to-reach but important areas.
Rid your restrooms of soil from fixtures, darkened grout lines on floors, gum and graffiti.
Dust free vents, clean corners, ceilings, base boards free of visible dirt,.
Repair any broken fixtures.
You could don a cape and leap tall buildings but you are more likely to be your company's hero by insuring clean restrooms. Don't try a DIY with dirty restrooms, bring in a reputable, professional Michigan janitorial service to cover clean restrooms.