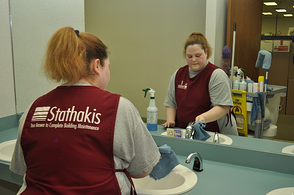 Many people don't see the value of "clean" today. We all know that good cleaning practices promote good health. However, it's also true that most people consider cleaning to be both a chore and an expense…so at what point are we not willing to tolerate "dirty"? For some businesses it may all come down to dollars and cents. That's right; it may be that businesses are not willing to tolerate "dirty" when it starts to affect the bottom line. A recent survey by the Cintas Corporation of 1,000 adults found that 94 percent would not return to a business if they walked into dirty restrooms on their first visit.
Dirty restrooms can also be a strong indicator of employee morale. "I have been inspecting restrooms for over 25 years in facilities across Michigan and can't tell you how many times I have seen low morale in a workforce without ever talking to one employee in that facility," says Don Simon of Stathakis. He continued by saying, "When we have a good restroom hygiene program in place and the restrooms still look trashed that usually puts up a red flag for low employee morale." Don says that, "Stathakis works closely with our customers' Management Teams to properly address such concerns and help out wherever we can."
A clean restroom also promotes a healthy work environment. Cleaning for health in restrooms helps minimize the spread of germs and infection that leads to companies paying out sick time. There are a variety of sicknesses that can be contracted from an unsanitary restroom, ranging from the common cold to stomach flu viruses and even H1N1. Touching different restroom surfaces, such as sinks and door handles, can spread these ailments and many others.
Clean restrooms promote good health for both employees and a company's bottom line. To take advantage of these benefits just make sure that your restroom cleaners are cleaning for health and just not appearance. They should be using germicidal cleaners to disinfect ALL surfaces in your restroom. For more information on how you can create a healthy work environment contact Stathakis, an industry leading standout amongst Michigan cleaning services for over 35 years. Visit http://www.stathakis.com/janitorial-services/restrooms.html for more information on Restroom Cleaning.