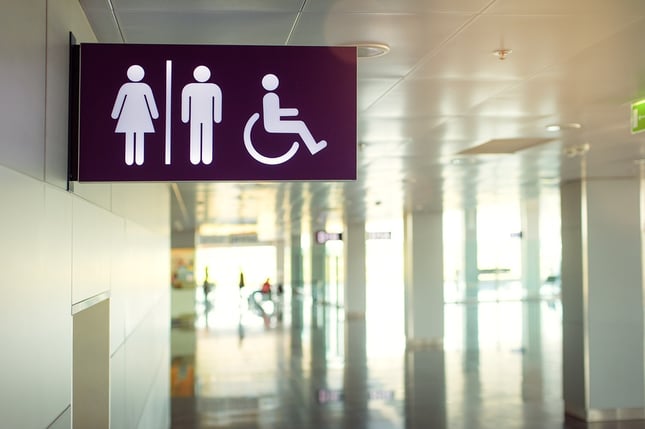 Commercial Restroom Cleaning Is a Dirty Job
Commercial restroom cleaning services, it's a dirty job indeed. So we look to the professionals to keep our office restrooms and facility restrooms in clean, fresh condition for the benefit of employees, visitors, customers and the overall positive image of our facility. But how do you evaluate your restroom cleaners? How do you know what your restroom cleaning service is and isn't doing? How do you evaluate what your restroom sanitation service should be doing? How do you assure you are getting real value from your restroom cleaning and not just a quick once over that leaves behind odor and germs? And if you have dirty restrooms and your restroom cleaners aren't delivering on their promises to you, how do you make them step up or step out?
What Too Many Janitorial Services Companies Aren't Doing
Cleaning restrooms might seem like a no brainer, but there's actually some real science behind cleaning these most dirty of communal rooms. Maybe you are lucky and you ended up with a janitorial services company that is serious about their business and serious about your office bathrooms. If that's the case, consider yourself lucky because there are far too many janitorial companies out there that are not giving your office restrooms the care they require. Do your restroom cleaning services stink? Let's consider what signs might indicate your office restrooms are not being properly cared for. It could be you can smell it as soon as you walk through the restroom door. Or you see it in the scattered trash, grubby, gunky corners and soiled sinks. Maybe your commercial restroomslook okay on the surface but cleaning for health and minimizing disease causing bacteria has been utterly neglected. Whatever the condition of your overall restrooms, these are signs your restroom cleaning is lacking:
There is soil, smudges and dirt on and around door handles.
Wetness, smears, streaks and worse sully restroom mirrors.
Your restroom floors are filthy or once over cleaned with little attention to detail.
There is an unpleasant, noticeable "bathroom" smell.
Soap, paper towels and other supplies are not fully stocked.
There are overfilled trash cans and refuse may eve have accumulated on the floor.
Sinks are soiled or replete with deposits and grime. Spilled soap and soil collect on and around sinks.
Sink hard ware is grimy and sink counters are dirt or have standing water.
Inadequate maintenance of toilets and urinals is reflected in sediment and grimy buildup.
The panels and stalls are poorly maintained with grime, fingerprints and graffiti.
Sanitary disposal containers are broken, damaged or full.
Floor drains have accumulated soil, dust and debris and the grout is soiled.
What Your Commercial Cleaning Company Should Be Doing
One of the many challenges in getting great restroom cleaning services is how do you know what great restroom cleaners look like if you have never had them? The best janitorial companies are clearly doing something different to carefully maintain restrooms, but what exactly are they doing? Proper restroom sanitation depends upon a myriad of factors from cleaning for health to Smart Cleaning to the many details that make all of the difference in looking clean versus really being clean. No janitorial services company is going to get your office restrooms so clean that you'd eat off of them—that's just gross. But the best commercial cleaning companies can deliver consistently clean restrooms that look clean, smell fresh and offer a micro level of clean that will reduce the spread of disease causing germs in your facility. Germs that cause illness that reduces employee productivity, increases absenteeism and even elevates employee turnover! Office restroom cleaning is a whole other animal than your average home bathroom. Commercial restrooms see very high turnover and all of those people in and out of your office restrooms can make for a tough job worthy of only the best janitorial service companies. Evaluating your restroom cleaning services as well as regular janitorial inspections can help keep your commercial cleaning contractor on track and your restrooms well maintained. What do well maintained office restrooms look like?
Meticulous cleaning of "hot spots," and high contact "touch points" is done to reduce the spread of disease causing germs where it is needed most.
The toilet and toilet seats are cleaned, disinfected and wiped dry.
The mirrors should be shiny, clean, and free of streaks and smudges.
Areas behind toilets and other hard-to-reach yet essential areas are well cleaned to minimize odor.
Urinal handles are cleaned, disinfected, wiped dry with urinal screens cleaned and blocks replaced.
Feminine hygiene dispensers are cleaned, disinfected and restocked with new liners put in place when needed.
Regular restocking of must have supplies like toilet paper, hand soap and paper towels is done.
Trash & sanitary disposal containers are emptied regularly well BEFORE they are full.
Fixtures like dryers, paper dispensers and more are regularly inspected to confirm they are functioning properly.
Industry best practices are used regularly-- chemicals, agitation and extraction to insure walls, floors, toilets, urinals, sinks, mirrors and fixtures are scrubbed and deep cleaned.
All cleaning is completed first, then disinfecting with proper dwell times is implemented to reduce disease causing germs and bacteria.
Restroom cleaning cloths, towel and mops are color coded and never used outside of the restroom.
Restroom stalls and partitions are free of grime, fingerprints, gum, gunk and graffiti.
Restroom floor drains and grout are sufficiently clean.
Air vents receive a regular dusting or vacuuming.
All restroom lighting is functioning.
There are no noticeable 'toilet' odors and the overall smell is clean and fresh.
Corners, ceilings and base boards are regularly cleaned and maintained.
Deep cleaning is periodically done to eliminate long term issues piling up and protect your building's assets.
Your janitorial services employ state of the art cleaning equipment to do the best job for the best price delivering both great service and great value.
Visual inspections are done regularly and areas needing future maintenance are noted.
Your janitorial supply closet is tidy, organized, labeled and stocked.
Maintaining, repairing and replacing cleaning equipment is done when needed.
Getting Effective Service & Real Value from Your Restroom Cleaning Service
If your janitorial services are in the toilet so to speak, they need to ether step up or move on. Maybe you need a clean break and are looking for a janitorial company or commercial cleaning company ready and able to deliver top notch restroom cleaning services in your facility. While it isn't a snap, finding the most effective restroom cleaning company is possible. If you are looking for a new building services contractor, you must arm yourself with the information needed to evaluate whether a cleaning company is going to be able to deliver the level of services you and your facility deserve. Your office restrooms and commercial restrooms are an essential component of the all-encompassing health and image of your facility and business.