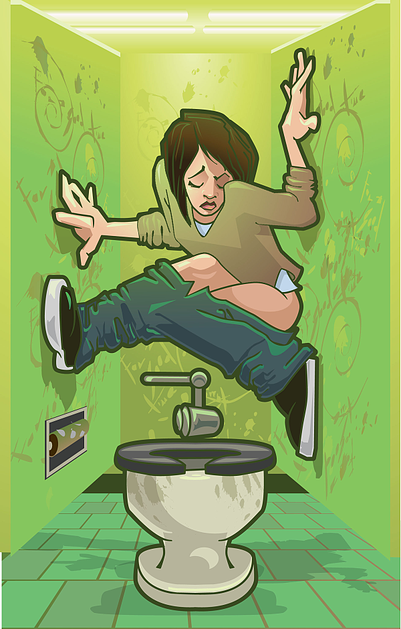 Restrooms, It's Where You Do Your Business
Restrooms, it's where you do your business so to speak. But if you have less than clean restrooms, your customers may not want to do business with you. In your customers' minds, the state of your restrooms says a great deal about the state of your business. Don't leave a negative impression in the minds of your customers or your employees with dirty restrooms. As an owner or facilities manager, you may fail to recognize the warning signs that your dirty restrooms are getting in the way of your business. With restrooms, most of us are in and out and it can be easy to ignore the signs that your restrooms are being inadequately cleaned.
Don't Put Clean Restrooms on the Back Burner
It can be easy to put getting clean restrooms on the back burner. If you are like most managers, you probably have a big "To Do" list of things integral to your business and maybe it doesn't feel like there is room for dirty bathrooms on the list. If you fail to recognize the 15 warning signs that you have less than clean restrooms, be prepared for a longer to do list. From fielding customer complaints to employee apathy, dirty bathrooms are bad news. The reality is, dirty restrooms can have a profoundly negative impact on your bottom line.
Increased absenteeism
Negative customer perception of the overall quality of your business
Lowered Employee Morale & higher turnover
Decreased efficiency and work output
Missed sales & opportunities
A bottom line that suffers
The 15 Warning Signs That You Have Less Than Clean Restrooms

Areas around door handles is dirty or smudgy.
Trash is piling up.
Sanitary containers and stalls have not been emptied.
Countertops are wet, visibly soiled and have mineral deposits, soap scum and fingerprints.
Counter fixtures don't sparkle and stainless steel is cloudy with fingerprints, soap spots, dust and grime.
Sinks have visible soil, mineral deposits, soap scum and dirt collected at the drain.
Mirrors are noticeably soiled, peppered with water and soaps spots, streaked or worse.
Partitions or stall walls look dirty, dusty, riddled with fingerprints and graffiti.
Soap dispensers are empty or near empty.
Hand towels are inadequate or scattered about.
Toilets and urinals have signs of visible soil, mineral deposits and gunky buildup around hardware.
Floors are wet or dirty with dirt and dust collected in grout and corners.
Floor drains are visibly soiled, dusty with the buildup of hair and debris like mop strings.
Grout is gunky and visibly soiled or stained.
There is noticeable odor.
The good news is, unlike much of your to-do list, getting consistently clean restrooms is fairly straightforward. Truly clean restrooms don't just look clean, they are clean. If you can actually see visible dirt, you can be fairly certain that surfaces and touch points are teeming with disease causing bacteria. Also, if surfaces are just hastily wiped with a rag or floors quickly mopped, dirt, grime and germs are just being spread around. Likewise, inadequately cleaned restrooms can smell very bad because odor causing grime still remains. A truly clean restroom will have the following:
A clean, fresh scent within absence of foul odor
Real, effective sanitization that doesn't just spread germs around
Clean and sparkling touch points like handles, dryers & knobs
Well-stocked supplies
Carefully cleaned and detailed counters
Sparkling floors
Clean and shiny mirrors
Absence of graffiti
Working stall doors, sink fixtures, etc.
Immaculate sinks, toilets, and urinals
Don't ignore your dirty restrooms. Clean restrooms are just easy on the nose they're good for business. Protect your reputation with customers in set the bar high for employees with fresh smelling and sparkling clean restrooms.