We are excited to announce the addition of Mitch Hesson to the Stathakis sales team. After our Farmington Hills expansion in April of 2014, our continued growth has created the need for an experienced, customer-focused sales executive who will use our position as the leader in southeast Michigan for quality, safety and value in facility services to bring our specific value proposition to more and more customers.
Here at Stathakis, we are committed to giving our customers the best people and Mitch is an important part of that commitment. Mitch's extensive experience in facilities services and his customer-centered philosophy make him uniquely qualified to identify, present to and bring new customers in under the Stathakis umbrella of building services and create the lasting partnerships with customers we are known for. As Mitch himself noted,
"I always approach a customer or business opportunity with honesty and integrity. It doesn't matter what you're selling, your product or service must provide real value to the customer. It must meet an unfulfilled need or solve a problem. If it doesn't, then I tell them and walk away. I also believe you must be passionate about the product or service you offer. Customers sense your confidence in your offer and only then will trust you with their business."
Stathakis understands that great service must begin with great people, but finding those people that are the best fit isn't always an easy or quick process. Director of Business Development, Brian Mamo told us,
"We went through an extensive search to find the right person. And we passed on a number of individuals who were close, but not quite right for what we really required at this time. We needed someone that would fit our brand and philosophy. That individual needed to possess a great attitude, work ethic and solid experience in this industry that would serve our existing and new customers. Mitch was a natural fit but we still ran him through the paces. He was able to show us what he is capable of and not just tell us and I think he is a great fit for our organization and we are happy to have him."
Before joining Stathakis, Mitch worked as a facilities services sales executive for a janitorial supply company and most recently with Cintas Corp., selling facilities services, cleaning products and services. This experience prepared him for the lofty goals and high expectations Stathakis has for their team members. Mitch has a natural talent and a passion for working with people, discovering what they need and then partnering in a targeted way to deliver. As Mitch told us,
"I really admire the Stathakis commitment to the customer. In fact, my primary goal is always to identify how Stathakis can solve a problem. Uncovering a prospects business objectives and pain points is the critical first step in matching our solutions to their needs. Engaged conversations, facility tours, and relationship building provide the passion for long-term partnerships. A good "salesperson" must first listen to the customer. Nobody wins if the customer's real needs are not identified. Then, the right solutions need to be implemented. Each customer has unique challenges that keep them up at night. It is my job to show them how our processes can truly solve their problem."
Likewise, with nearly 25 years of time spent working with businesses in a sales and marketing capacity, Mitch understands the pressures businesses face to cut costs, improve efficiencies and negotiate partnerships that offer real value. His drive to provide customers with real solutions customized to their individual needs makes Mitch skilled at helping us deliver the individual service we are so proud of here at Stathakis.
For his own part, Mitch has expressed excitement at working with new customers within an organization that works hard to create both a culture of and reputation for excellence. As Mitch told us,
"Chris Stathakis, CEO, has really established a clear vision for our growth. He has invested heavily in processes that help the customer. Everything is customer focused. CIMS, the vigorous certification process, gives our customers the confidence in knowing we do things right, every time. Our proprietary Quality Chex system ensures we are always exceeding our customers' expectations. Lastly, we go to great lengths to make sure we hire the right people, and place those people at the right location performing the right duties. Because of these processes, customers see real value in the services we provide. "
But where do Mitch and his philosophy of business fit in with the Stathakis standard? Asked this very question Mitch gives us this example,
"I put my cellphone number on my business card. Sales reps I have worked with in the past have asked, 'why would you do that, you will get nothing but customer complaints and annoying calls.' I disagree. I feel its important to the customer to know that if they have questions, concerns, complaints, and sometimes even praise, they can contact me directly. As the salesperson, I am the first contact, the first relationship they build with the company. They put their trust in me first. I always want to keep that relationship with the customer."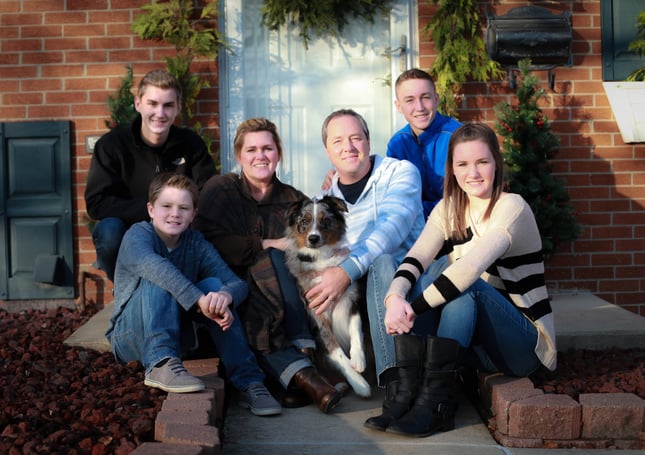 Mitch is originally from Sterling Heights, Michigan where he attended Bishop Gallagher High school later attending the University of Michigan – Ann Arbor on a baseball scholarship. Mitch now calls Rockwood home where he lives with his wife of 22 years, Jennifer. They have four children Patrick (17), Kyle (16), Claire (14), John (11) and an Aussie Shepard named Callaway that keep them busy. Mitch shared with us that outside of work, most of his time is spent at his kids' sporting events with each of them active in a variety of sports – baseball, softball, golf, tennis, and basketball. Both for pleasure and their team travel, Mitch and Jennifer travel quite often.