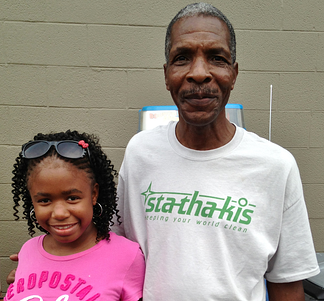 We had an employee appreciation cookout behind our office at work yesterday and it was such a pleasure to see so many familiar faces in one place and a few new ones too. It was great talking to everyone and hearing their many stories about their lives, families and work. It just reiterated for me that people are the most important component of our business and I am really proud of the people that make up our many teams.
In getting to talk to everyone, there was one story in particular that stuck with me. One of our employees found a $100 bill laying on the floor in a bank that she cleans each night. Because it was late at night, she could not get in touch with the customer. She did not want to leave the money but she didn't want to take the money home to return it the next day fearing that it might look dishonest. So she cleverly hid the $100 bill where no one would find it and the next day she visited the customer taking them to the hiding place and returning the $100 bill to it's rightful owner. That is some pretty impressive problem solving.
At the end of the day, we have a lot of great employees who care about their jobs and our customers. Without our employees there would be no customers and without customers there would be no company. Thank you to everyone who was able to attend the cookout and thank you for sharing your experiences with me. I am really proud of the kind of people that make up the Stathakis team and I hope everyone enjoys these last few days of summer.