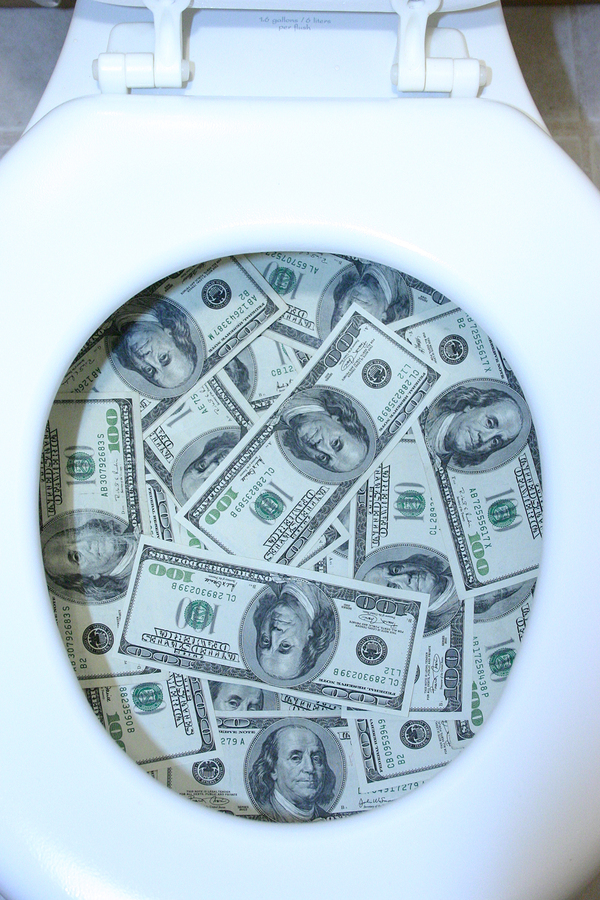 I was at a restaurant just the other evening and went to wash my hands before the food came. I opened the door to the restroom and was immediately struck by how poorly maintained the restroom was. The trash can was overflowing with hand towels indicating that while the restroom might have started the day clean, no one had checked on it in hours. There were puddles of water collecting on the counters and several of the stalls had no more toilet tissue left. Being in the janitorial industry, I looked for the cleaning log posted and sure enough, the restroom hadn't been serviced by an employee all day and into late dinner service. This was a nice restaurant, with good food, very good service, a high ticket menu and their dirty restroom was all it took to completely change the way I felt about the entire dining experience. Of course, as a restaurant restroom, it's pretty easy to make the connection that if the patron restrooms are dirty, what must the state of the kitchen be, but really this is true of every business.
Dirty Restrooms Speak Volumes & The Message Isn't A Good One
Dirty restrooms speak volumes and the message isn't a good one. Whether you have customers on-site or just employees, if your restroom cleaning is in the toilet, you risk flushing your bottom line down as well. Whether you have an employee in charge of restocking and looking after your office restrooms, you have a professional cleaning company or your restroom cleaning goes mostly undone, you should be aware of the signs that your office restroom cleaning and facility restroom cleaning is in the toilet or headed their quickly.
The Signs Your Facility Restrooms Need Serious Help
Maybe you think your office restroom should be immaculate or perhaps you are one of those people that could care less what the bathroom looks like as long as there is toilet paper on the roll. Or maybe you think your facility bathrooms get used so frequently they'll just get dirty again if you have them professionally cleaned and maintained. It is true, your facility restrooms get high traffic and do have to be continually maintained. What are the signs that your regular maintenance or lack thereof isn't cutting it?
Look around, do you or employees note that hand washing supplies like soap dispensers or paper hand towels are often empty? Are wastebaskets only intermittently emptied and allowed to reach overfilling proportions? Does trash like towels and such collect around the trash can? If you lean in to wash hands are you getting wet from the water that has accumulated on the counter? No one likes walking around with a wet shirt front or pants. Do your office restrooms smell bad? It is a bathroom and not a proper French flower garden but waste and other smells should at the very least be neutralized. Are counters, sink or toilets visibly dirty with dirt, mineral deposits, and soap scum present? Do the mirrors look smudgy, wet or cloudy? Do you grimace looking at the motley collection of unidentifiable grime, mystery stains or graffiti on bathroom stalls? Are floors wet, dirty or strewn with dirty mop string? Does the overall atmosphere of your office restrooms make you think yuck?
Dirty Bathrooms at Work Can Impact Your Bottom Line
Dirty bathrooms are often a sign of other underlying issues but even on their own, improper restroom maintenance can impact your bottom line. Unclean office restrooms can mean increases in employee illness and absenteeism. Likewise, stinky, funky restrooms will eventually create a negative customer perception regarding the overall value of your products or services. Customers see a dirty restroom as the 'tip of the iceberg.' Over time, employee Morale takes a hit and turnover goes up if your restroom cleaning is under delivering. When you allow your restroom cleaning to suffer, your best people will eventually look elsewhere wanting to align with a company with the same standard of excellence. While employees that remain often show a lowered efficiency and work output leading to lost sales and missed opportunities.
Solve Your Restroom Cleaning Dilemma & Get Your Facility On The Path To Success
A solid commercial cleaning service can solve your restroom dilemma and put you and your facility on the path to success. While improperly cleaned restrooms can bottom out your bottom line, cleaned, sanitized and well maintained office and facility restrooms can offer significant advantages for your business or facility. Think about it, a clean and welcoming facility, including the frequented and busy restrooms, sends the message that you are invested in your business, your team and quality. Employees can arrive at work to a properly maintained, healthy environment ready to do the job right. Limiting the spread disease causing germs means lower absenteeism, a rise in output and a jump in overall employee satisfaction. Along those same lines, your customers are sure to note the change to clean and well maintained facility restrooms creating an overwhelmingly positive impression of your business, people and products and services.