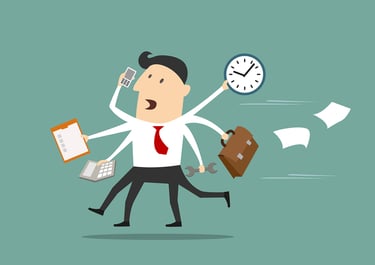 Has Your Building Or Building's Maintenance Become Overwhelming?
In the absence of regular maintenance, are issues becoming too big to tackle or piling up faster than you can get to them? Is the cost of each repair job or maintenance issue keeping you from crossing off your growing to do list? With larger facilities or multiple facilities, ongoing maintenance issues like electrical issues, plumbing, patching and painting or even installing fixtures pile up. When you must continually coordinate maintenance issues, it can be time consuming and far more costly than enlisting the help of commercial building maintenance or a commercial handyman service. Contracting with a commercial building maintenance company is a quick way to save time, save money and keep your building and its occupants happy. Is it finally time to consider a commercial handyman service for your facility?
Don't Let Day-to-Day Maintenance Issues Snowball
Even the best Facility Managers can get bogged down and overwhelmed by the amount of work their facility can generate. It can be seriously taxing to manage your building's ongoing maintenance. The right commercial handyman service address day-to-day issues before they pile up and become untenable. Finding time to get to all the little and not so little projects completed doesn't always happen. If you leave fixes too long or ignore things that need work, it can diminish your building's value and leave tenants or customers less than satisfied. An advantage to working with a commercial handyman service is that you can customize a maintenance schedule that keeps your facility in good shape. Repairs, fixes and installations can be planned, forecast, budgeted for and scheduled.
Skip To the Front of the Line To With A Commercial Handyman Service
Partnering with a commercial handyman service and professional maintenance technicians means they are focused on your facility. They aren't just another company you hope shows up on time and doesn't charge you an arm and a leg. They are your partners in an ongoing professional relationship and they are committed to keeping you satisfied. That means solid work at an affordable price. It also means no waiting for service as your job is priority number one. Likewise, with people you know and trust, coordinating the work to be done is far more straightforward. With the right building maintenance company, everything is just easier.
Your Qualified Maintenance Technician Know His Stuff
When you partner with an experienced, reputable, quality maintenance company, you get a team of expert maintenance technicians. These commercial handymen are highly qualified with years of experience in plumbing, HVAC, electrical, painting, general repairs and more. The best commercial maintenance companies have amassed a team of highly skilled maintenance technicians that can deliver nearly anything your facility's need, quickly and affordably. Not only will these commercial handymen tackle most repairs and issues as they arise, they can be an important source of information for larger or more involved issues.
Do I Have Enough Work A Professional Maintenance Technician?
Have you thought about bringing in some help but maybe you are not sure if you have enough work to satisfy your commercial handyman. Or maybe there is so much work, you worry about whether one company can handle it or if you can even afford it. With the best commercial handyman services, you can customize the work to fit your budget and your needs. Many facilities require need regular daily maintenance at multiple facilities. Perhaps other businesses may need only a weekly visit or every other week to manage a revolving to-do list. Or perhaps you just need help during busier short-term periods. The best commercial maintenance companies have the flexibility to create a customized maintenance schedule or plan to help you tackle your to do list and keep your facility in optimal condition.
Finding A Commercial Handyman Who's At the Top Of Their Game
Not all commercial handyman services are created equal. A commercial handyman is not the same thing as a one-man and a van kind of operation. While they might be okay for a home or small office, the little guys rarely have the experience or manpower flexibility to tackle the issues that come up in larger facilities. What you need is a commercial maintenance company with a team of professional maintenance technicians. Even when you have a specific technician that works with your facility, maintenance technicians at the larger more professional maintenance companies work together and assist each other in such a way that they end up very skilled in a number of specific areas. Your maintenance company becomes your partner and as such, they want to solve your problems and meet your needs. When they have specific questions about lighting electrical plumbing or HVAC, they utilize the rest of their team to troubleshoot issues that may arise in your facility. In this way, you benefit from the depth and breadth of their combined knowledge.
Imagine How Much Easier Your Job Could Be With The Right Commercial Building Maintenance Company
You can make your job as a facilities manager significantly more manageable and get your facility in peak condition with the right commercial handyman company. Your commercial handyman will partner with you to insure your facility is well maintained and help you where help is needed. Whether your growing to do list features light electrical, plumbing, installing bookshelves, hanging pictures or televisions, installing fixtures or patching and painting, your commercial handyman is ready to tackle all problems great and small.