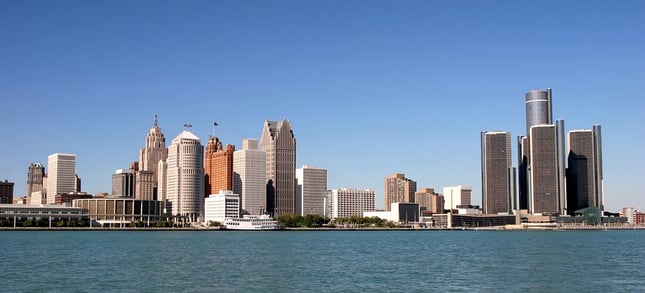 If Your Michigan Cleaning Services Are Ineffective, You Are Wasting Your Time
It is without a doubt that the right janitorial service company Michigan can benefit your facility in a number of ways. And yet, if your cleaning company is ineffective, they will create more problems for you than they solve. Don't waste your time and money on a janitorial services company that can't give you what you need. Cleaning and maintaining your facilities are an ongoing service that impacts your business each and every day, so choosing effective, professional janitorial services Michigan can save you money, time, costly mistakes, a stack of employee/tenant complaints and a myriad of hassles down the road.
Where To Begin With Finding Cleaning Services In Michigan?
So if finding the right prospective cleaning companies in Michigan is so critical, where do you begin? The best place to start is by putting together your short list and building a "proof" file for each contender. Janitorial companies can say anything they want to get your business, but that doesn't make it true. It is up to you to confirm that there is substance to their claims and that they have a history of doing what they say they will. Separating the sales pitch from the substance is critical to finding a janitorial services company that will honor their word and deliver the professional, effective service you and your facility deserve.
For instance, many janitorial services in Michigan will tout their cleaner training programs but are they actually putting their system to use training their teams or is it just a dusty binder sitting on a desk in HR? A potential commercial cleaning company should be able to offer documented proof that they are actually training employees with their system. Real training must happen prior to a cleaner entering your facility as well as follow up training in the field, don't be content to let a prospective janitorial services company use training as a prospecting tool alone.
Making Michigan Janitorial Company References Work For You
Real references from current customers are great but references from accounts a prospective janitorial service company has lost are gold. No matter how proficient a cleaning company is, they have lost business and a past customer is likely to be far more candid about their experience. And when you get references of any kind, follow through and call them. Sure not everyone will get back to you but many will understanding and appreciating the need for sharing this valued information. What kind of questions are good to ask?
What was the one thing that the janitorial company did really well?

What things might the cleaning company improve upon?

How did you find the overall quality of the company's front line employees?
How did you find the overall quality of the management team?
When you had an issue, was it communicated to on site staff timely?
Did they conduct regular janitorial inspections?
How did they generally communicate with you?

When you had an issue or problem, how quick & effectively did they address it?
Would you hire them again?
Is Your Prospective Michigan Janitorial Service Set Up To Succeed?
Many, many commercial cleaning companies truly want to provide great service to their accounts, but not all of them are set up to succeed. So it is wise to scratch beneath the service to see if a prospective janitorial service in Michigan has the systems and processes in place to assure reliability through accountability. So ask to be shown sample work instructions they give cleaners at another site. These work instructions should identify what individual cleaners are tasked with each day, by position. And if a commercial cleaning company has self-inspection forms, even better. Also inquire about their janitorial inspection process and ask to see a copy of one completed for another customer. You should be on the lookout for completeness, detailed notes and realistic scores. And even the best Michigan cleaning companies occasionally get off track so inquire about their communications process and handling of complaints. An effective, experienced cleaning company will have a clear, articulated communications plan in process, ready to show you.
Is Their Green Cleaning Program Real or Make Believe?
Does your Michigan janitorial company offer a real green cleaning program? In order to accomplish your eco goals, you have to be willing to look past the spin to the real core of green cleaning. Do their eco-friendly and sustainability promises hold up under scrutiny? Will they put green cleaning and sustainability into practice in your facility? Sustainable facility maintenance has never been more relevant than it is right now and even if you aren't sure green cleaning is something you need, your prospective Michigan janitorial services company should have a solid program for when you do think you might need it. Most businesses genuinely want to do their best with respect to green cleaning goals. But not every cleaning company agrees on what green means and how it should be implemented. That often means inflated claims, empty promises and watered down results in how green cleaning is implemented in your facility. If a cleaning company's green cleaning promises don't hold water, they offer us a false sense of progress and they sidetrack us from real and effective measures that make our buildings safer and healthier.
Finding Cleaning Services In Michigan The Easier Way
One way to streamline the process of finding the most effective Michigan janitorial company is to develop your short list from those companies that are CIMS certified, meaning that an independent examiner has performed an audit to verify that they have all industry best practices in place. This FREE shortcut can save you time and by weeding out those janitorial services company that are likely to take shortcuts with you, your employees and your precious reputation. An ISSA CIMS certified janitorial company has proven itself to be dedicated to a high standard of service, strives for customer satisfaction in every facet of its operations, from the pricing/bidding component, to the acquisition and training of employees to the actual execution of services right down to invoicing. And an ISSA CIMS certified company is far more likely to be with a solid management system and a competent staffing plan, allowing it to keep its own costs down, which translates into effective service and value for you.