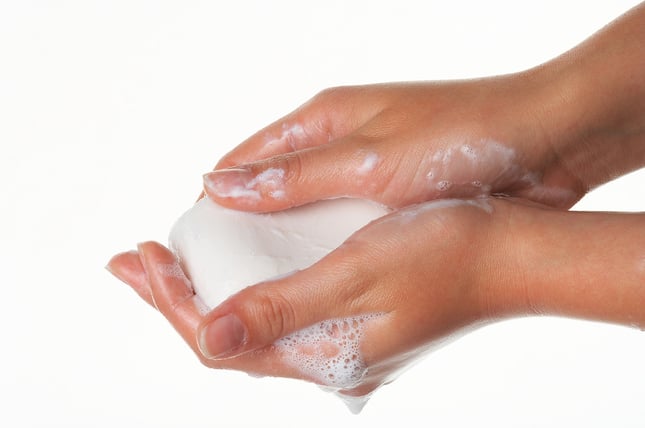 Global Handwashing Day is in a few days, are you ready to celebrate with a little soap and warm water? Yes, Global Handwashing Day is a real thing and with handwashing being such an effective and cheap way to prevent the spread of disease, it's no wonder why. Global Handwashing Day is an annual day of global advocacy centered on increasing awareness of the importance of handwashing as an easy, effective, and affordable way to prevent diseases and save lives. The 2017 Global Handwashing Day theme is "Our hands, our future!" reminding us that hand washing protects our health and the health of those around us.
The CDC, or Centers for Disease Control also are strong advocates of hand washing. As they say, "Handwashing is like a "do-it-yourself" vaccine." They advocate five simple steps for effective handwashing- wet, lather, scrub, rinse and dry. Good hand washing techniques reduce the spread of the flu as well as stomach and respiratory illness and regular handwashing, especially before and activities like preparing food or using the restroom, offer one of the most effective ways to reduce and eliminate germs, avoid getting sick, and prevent the spread of disease causing germs to others. The CDC has a number of free and easy to print posters that you can use to help illustrate the importance of hand washing with your tenants or employees.
Here at Stathakis, we have long advocated reminding employees and tenants of proper hand washing techniques as one easy way for Facility Managers to reduce the spread of disease causing germs that can raise absenteeism and lower productivity in their facilities. Hand washing is quick, simple and it can keep many people from getting sick. It is a win for everyone, with the exception of the germs. Influenza, the common cold and other easily transmittable illnesses that can wreak havoc on an otherwise well maintained facility. Why are disease-causing germs spread so easily in offices, schools, retail businesses and facilities like them? Well, you have a great many people touching things and surfaces that many other people touch throughout the day. Just one ill person can spread disease causing germs all over your facility. It's as easy as opening a door and then touching your mouth and bam, you have the flu! It is for this reason that frequent hand washing, especially after using the restroom, blowing your nose or coughing, can go a long way in reducing the germ load in your building.
Of course, most of the measures to reduce illness in your facility and maintain a healthy work environment are the responsibility of your janitorial services company. In order to assist in keeping your facility as healthy as possible your janitorial services company should:
Understand hot spots and touch points and focus cleaning on where disease causing germs congregate.
Follow cleaning product manufacturer instructions regarding dwell times and similar to assure the greatest efficacy of key products like disinfectants and sanitizers.
Store and use cleaning chemicals properly.
Frequently change mop water and mop heads to reduce the risk of cross contamination.
Utilize Team Cleaning where appropriate to reduce cross contamination & improve service through employee specialization.
Keep all cleaning equipment adequately maintained.
Do your part as a Facility Manager and partner with a commercial cleaning company or janitorial services company that is committed to a healthy work place and you can help reduce the spread of illness in your facility as well as reduce the negative impacts associated with it.
Here at Stathakis, we have spent over thirty years developing a standard of service that helps ensure a healthy work place. We have worked hard to develop and put into practice those systems and methods that help reduce and eliminate disease causing bacteria throughout our customer's facilities. We utilize Smart Cleaning and understand the Science of Clean. We focus on touch points and hot spots to kill the germs where they congregate and spread most easily. We always follow the manufacturer recommendations for cleaning products and we train and manage employees in safe chemical storage.We utilize a host of practices that reduce cross contamination including color coded cleaning cloths and Team Cleaning where applicable. Not only do we follow industry best practices, we help create them through our own innovation and striving to deliver the best in facility maintenance for the businesses of southeastern Michigan. If you are a Facility Manager in Ann Arbor, Detroit, Royal Oak, Farmington Hills, Farmington, Dearborn, Livonia, Troy, Auburn Hills, Novi, Plymouth, Downriver or surrounding areas and you are looking for commercial cleaning services, office cleaning, school cleaning, industrial cleaning, medical cleaning or other building services, please contact us to learn more about how we can help you maintain a healthy workplace and make your facility shine.