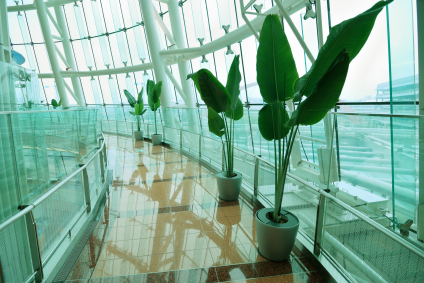 Everyone is
going green cleaning
these days because the result of doing so benefits the environment, your businesses image, and the health of everyone involved: from custodian, to facility manager, to your customers.
It's important to know what, exactly, makes green cleaning special, and to understand that not all cleaning contractors are qualified for going green cleaning. Green cleaning is so much more than simply using environmentally friendly cleaning products, microfiber, and talking a good
green cleaning game
. A true green cleaning program is tuned into your facility's specific needs and operates in such a way to efficiently and immaculately clean your building, improve its indoor air quality, and the health and well-being of your buildings occupants. There are still more benefits to going green cleaning that you can check out on our
green cleaning benefits page
.
The "secret" to get all that green cleaning has to offer is to hire a cleaning company that is on the cutting edge of the cleaning industry. Such a company won't just advertise that they offer green cleaning, but stand behind their going green cleaning commitment with
ISSA CIMS GB
certification.
So what is ISSA CIMS GB?
It stands for "International Sanitary Supply Association, Cleaning Industry Management Standard & Certification, Green Building". For additional information, check out their website.
To obtain this certification is a sign that a cleaning company is a leader in their industry and totally has their business in order. The qualifications for such certification are intensive and thorough.
A cleaning contractor who is backed by ISSA CIMS GB can sit down with you and fully guide your through the process of going green cleaning.
What does Green Cleaning entail?
Requires Special Training
Because going green cleaning implements special environmental friendly cleaning products and equipment, it's imperative that your
cleaning team is thoroughly trained
to use these innovative products correctly. In addition green cleaning uses efficient cleaning procedures that cut down on waste and concentrate on high traffic areas and "touch points" to stop the build up of filth before it can ever become an issue.
Uses High Performance Equipment
A
common misconception
of going green cleaning is that it uses brooms and dust mops in lieu of "wasteful" electronic equipment. The reality is that is uses energy efficient,
high performance equipment
with the following qualities and benefits:
Extremely energy efficient
Outstanding flexibility
Longer service life
Reduces time and cost
HEPA Vacuums that Improve indoor air quality trapping 99.96 % of small particles down to 0.3 microns in size
Micro fiber cloths that are reusable, reduce chemical use, and exhibit greater soil absorbency.
Improved Health and Well Being
Cuts exposure to toxic chemicals.
Reduces asthma attacks by keeping dust and chemical allergens at bay.
Cuts down on employee absenteeism.
Higher Safety Standards
Training programs that stress safety.
Reduces exposure to toxic and dangerous chemicals.
Safer handling and efficient use of chemicals with automatic dilution dispensers.
Proper and environmentally friendly storage of chemicals.
Regular and improved maintenance of powered cleaning equipment.
All of the above benefits translate into making your facility an environmentally friendly business that is run so efficiently, it your overall cleaning costs will eventually be reduces and you bottom line increased. Contact us today see first hand how going green cleaning can be a simple and rewarding process.