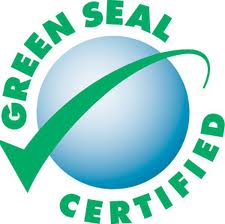 Today the use of word green is much more than compiling a sentence. The word itself defines a movement. A movement to save our planet and our eco-system. The whole point of the green movement is to do more using less. Going green helps a company to gain respect in the eyes of society and portray a sense of responsibility to their customers. Commercial cleaning companies have found their way to go green by realizing that chemicals used in the process of cleaning can be toxic and harmful for the health of the people using them and for the environment. Before contracting work to your cleaning company, you should always ask for ISSA CIMS GB Certification, which is a great way to make sure that the cleaning service you pick is truly "Green." This also ensures that business has a policy and procedure in place for innovative ways to reduce, minimize, or eliminate the need for cleaning chemicals. Going green is not limited just to the use of eco-friendly products, but also focuses on optimum utilization of resources. Green products are made with natural ingredients, low allergenic, non-toxic, biodegradable cleaning agents. All green products are biodegradable.
These chemical features:
Non-caustic
Non-corrosive
Non-flammable and non-fuming
No petroleum
No chlorine
No ammonia
No phosphate
No dangerous acids
No caustic ingredients
Purchasing these chemicals has a major responsibility in any successful environmentally friendly cleaning business. Even though these are environmentally friendly products, one should always look for smart and innovative method to minimize packaging waste and look for different purchasing options. At Stathakis,we work with our vendors to coordinate chemical and supply orders to minimize the number of deliveries received each month. This also helps to insure that packaging materials can either be returned for re-use or are recyclable to avoid the use of landfills. This makes Stathakis a true green cleaning company!
High Performance Cleaning Equipment
In the case of cleaning, equipment is re-usable and chemicals are not. Therefore, using equipment that minimizes the use of chemicals just makes true "Green Sense." Why many people see "Green" in the cleaning industry as using Green Certified Chemicals, equipment plays just as big of a role as chemicals. A need to use equipment that can withstand concentrated chemicals over extended periods of time without breaking, is essential in the cleaning industry. Properly training employees to use that equipment and chemicals can ensure the same. Such equipments are called "High Performance Cleaning Equipment." These are much more secure, reliable, and advanced then using traditional equipment.
These equipment feature:
High performance
Outstanding flexibility
Impressive product's service life
Eliminating fluid contamination
Reducing time and cost
Can be disposed safely without causing harm to environment
Along with improved green cleaning chemicals, innovations in high performance cleaning equipment have significantly developed. High performance equipment can effectively capture and remove more soil with the use of fewer chemicals than traditional equipment. Performance advancements include products such as microfiber materials and special vacuum cleaner air filters called high efficiency particulate air (HEPA) filters.
Examples of High Performance Equipment and their importance in green cleaning:
Microfiber Cloths, Mop heads and Dusters:
Offer greater absorbency of soil (picks up more).
Keeps soil from re-depositing on surfaces by trapping soil within the fibers.
Reduces the amount of chemicals used.
Can be laundered and reused repeatedly.
Green Label-Certified Vacuums with HEPA Filters (see note below):
Improve indoor air quality by trapping 99.96 % of small particles down to 0.3 microns in size (25,400 Microns are in one inch) that would otherwise be released back into the room.
Meet the high performance standards of the Carpet and Rug Institute.
STATHAKIS uses Seal of Approval/Green Label certification as the standard for its chemicals and equipment. Systems such as Dilution control to insure the chemical is not overused during the mixing process are in place. Also, at times we try to reduce frequency of cleaning when possible, to reduce chemical usage. All of our equipment that is used in cleaning are the latest and High Performance Equipment. We use tools such as vacuum cleaners, Wet/dry vacuums, which are extremely durable and have exceptional filtration, and floor machines (which allow chemical free stripping and rotate special pads against the floor to remove or polish the top layer of floor finish). Our floor machines are equipped with dust collection systems which bust the dust and prevent from becoming airborne during floor burnishing. Proper training programs have been designed to train our staff so that they can use and operate these chemicals and equipment smartly and efficiently.
CLICK BELOW TO DOWNLOAD OUR FREE eBOOK
If you are shopping for Cleaning Services see Stathakis' newest Ebook, "The 360 Buyer's Guide to Better Cleaning Services", cleaning industry experts provide key insight into how to navigate through the maze of Cleaning Companies to find the best value for your facility. Get this Janitorial Buying Guide today!