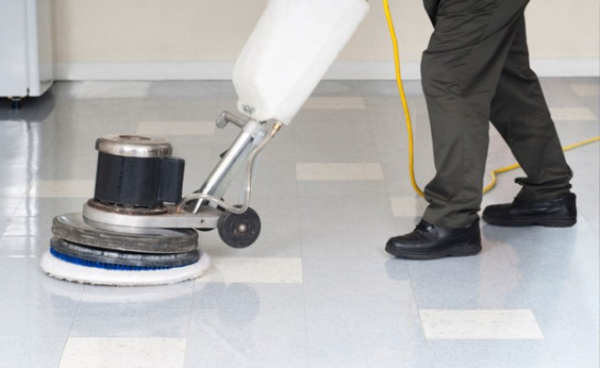 Commercial Floor Care & First Impressions
Imagine a new customer, prospective hire or state inspector visits your facilities, what is the first thing they come into contact with? It is your floors. Grimy floors, dirty corners, gummy moldings, gunked up grout can send the wrong message about your business. When you come into work each day, you get used to how things look to the point that maybe you don't even really
see
it anymore, but you can be sure others do. When you run a business, clean facilities are not just about appearances, although appearances matter, clean floors and overall order sets the tone with customers and employees about your expectations and quality standards. Send the right message with clean, bright, shiny floors.
Commercial Floor Cleaning is a Cost-Effective Investment in Your Business
Commercial floor care
can make a world of difference and it is an
investment
in your business rather than simply a cost. Regular floor care will prolong the life of your existing floor or even restore your old flooring to like-new appearance eliminating the need for costly replacement. Likewise, properly maintained floors reduce slip and fall accidents. These accidents can result in lawsuits, worker's compensation claims, lowered productivity not to mention the stress, time and money involved in getting them resolved.
Let Stathakis Deliver First-Class Commercial Floor Care for Your Facilities
With over 35 years in the professional janitorial services, Stathakis is committed to the highest quality standards and most state of the art cleaning methods. We offer expert solution-oriented services and a commitment to do the job right, every single time. We can provide you with:
Complete floor care including cleaning, polishing, chemical free stripping, waxing & maintenance of all floor surfaces including tile, wood, granite, composites & carpet.

Customized solutions including regular maintenance packages, special cleanings & complete floor refurbishing.

Johnson Wax products, CIMS-GB Certification & Green Floor Cleaning to get professional, consistent results in a safe & environmentally responsible way

A systemized approach that makes managing floor maintenance hassle-free & Complete Customer Care.
Stathakis is Southeastern Michigan's leading janitorial and maintenance company and we have built a solid reputation on our commitment to all of our customers whether they require cleaning and maintenance for schools, medical, corporate, manufacturing, offices, or industrial. At Stathakis, we understand that your facilities require expert management and quality work balanced with the realities of modern day cost-consciousness. Stathakis delivers cost-effective solutions backed by unparalleled service.