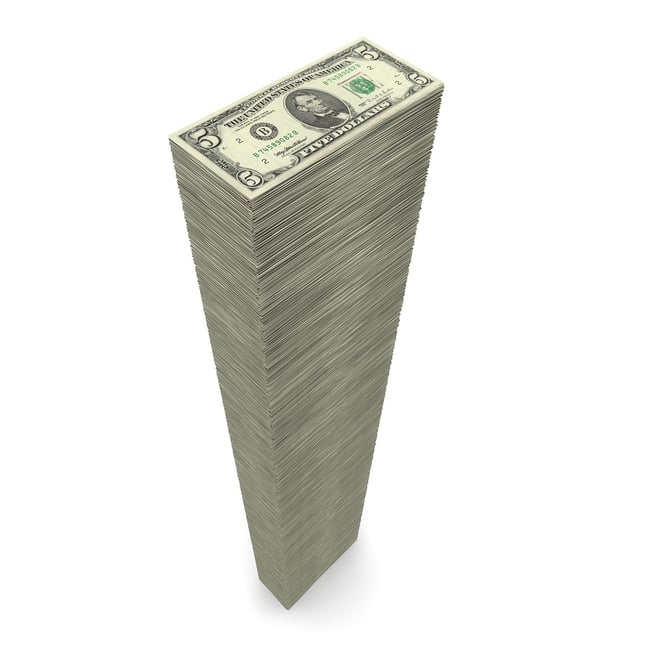 Is That Low Cleaning Bid a Gift From the Heavens or Too Good To Be True?
A professional commercial cleaning company can transform your facility. Whether you are looking for the right janitorial services or replacing your current cleaning company, one look at what is out there and you quickly realize, it is a daunting process. There are so many janitorial companies out there and janitorial pricing is all over the board. There are a myriad of cleaning companies form one-man operations, newly hatched start-ups, local Michigan janitorial services, giant national cleaning companies and more. Then, one look at janitorial pricing can have you scratching your head trying to compare apples to oranges and figure out what your facility needs and what it is going to cost you. It can be enticing when a low janitorial bid comes in, but don't be mesmerized by commercial cleaning prices that are simply too good to be true. That low price commercial cleaning service might cost you big time.
You Don't Always Get What You Pay For With Janitorial Services
With commercial cleaning and building maintenance, the adage "you get what you pay for" doesn't always hold true. Price doesn't always reflect service forcing you to look beyond just price to determine value. Why are janitorial prices so all over the place and often hard to pin down? One issue is that because of the supposed low cost of entry into the janitorial business, newly hatched startups appear every year. Of course, most disappear almost as quickly as they appeared, but while they try to operate, they can further complicate pricing with confusing, nonspecific cleaning bids. Likewise, many janitorial companies will price low in an effort to secure your business, only to grasp sometime later that such gutted pricing just isn't sustainable. Then they will simply come back to you for add-ons and extras that you thought were included in an effort to recoup their losses. Janitorial pricing isn't what determines value or quality. Instead, it is professionalism and the systems to insure consistent, responsive service.
What Really Low Commercial Cleaning Prices Can Tell You
A janitorial bid that comes in well below other quotes is a red flag. When you get a really low janitorial bid, you should consider how one cleaning company could do the needed work for so much less. Super low bid are often a sign of other problems. There is some crucial math when it comes to responsible, workable, livable janitorial bids. Too low cleaning prices can be a sign you are working with an inexperienced janitorial company. Cheap janitorial prices can also be a warning sign that a cleaning service is putting you at risk with illegal hiring. Illegal hiring brings with it a host of other problems from inadequate criminal and drug screening to increased turnover and a reduction in the consistency of services. Additionally, illegal hiring puts you and your reputation at risk. And if your janitorial company is willing to take short cuts on their people and people processes, the will take other irresponsible shortcuts. Furthermore, overly low pricing can be an indication of a janitorial services company that makes promises they cannot deliver upon. Still, a high cleaning quote or janitorial bid is no better an indication that you are dealing with a commercial cleaning company that will deliver.
Choosing A Cleaning Company That Will Help You Determine what Your Really Need & What It Should Cost
As we stated, there is some vital math and hard numbers when pricing the maintenance of your facility. A professional, established janitorial company can help you determine what you need and what it should run you. Janitorial labor is the most significant cost and will run anywhere from 50-70% of your Building Services Contractor's (BSC) budget. The right janitorial services company will listen to you and evaluate your cleaning needs. A solid understanding of what you need helps them estimate the correct amount of required labor. Some cleaning contractors calculate simply based upon your square footage, however, when they take the time to collect more information, you will no doubt get a more precise and accurate quote. What factors mater most? Your janitorial services company should look at the square footage of carpet, non-waxed tile, waxed tile and the like to estimate work. Likewise , they should examine the number, size and quantity of fixtures in restrooms. Other important factors in janitorial cleaning estimates are your employee population and the number of daily visitors. This process can accurately estimate the exact labor hours your facility requires.
Finding the Balance Between Price and Value
Of course a low cleaning bid can be hard to resist, we are all operating on tight budgets. But a low price without real value isn't low at all. A solid value in from your janitorial company can be yours even if you are operating on thin budgets. An experienced, professional janitorial company can help you maximize your janitorial budget without cutting important corners. Too low a cleaning bid is a red flag. Whether it's big problems like illegal hiring or still significant issues like higher turnover and added charges, your facility and your time is too valuable to waste time on janitorial quotes that are not even based in reality.