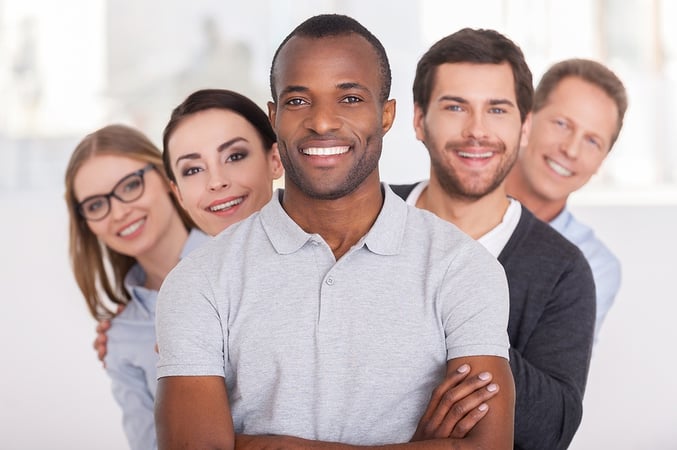 When it comes to securing effective, responsive, consistent service from your commercial cleaning company, there is ONE predictor of success you can look at that will reliably determine whether or not you will get what you need for your facility.
It's not whether your office cleaning services have the most state-of-the-art cleaning equipment.
It's not predicated upon whether your janitorial company offers a green cleaning program.
It isn't whether your industrial cleaning services is using technology to your benefit with apps and software to assure quality.
It doesn't hinge upon janitorial inspections.
These things are all great and can even make service even more effective, even more responsive and even more consistent. But the single greatest factor in effective service from your cleaning company or facility services company is the people and their people processes.
No matter what kind of commercial cleaning you need for your facility, be it:
-School cleaning services -Medical cleaning
-Detroit janitorial services - Industrial janitorial services
-Handyman services - Commercial office cleaning services
-Medical office cleaning - Hospital housekeeping
-Michigan school cleaning services - Premier building maintenance
-Green cleaning - Housekeeping services
-Commercial floor cleaning - Day porter services
-National janitorial company -Restroom sanitation services
-Post construction cleaning -Facility maintenance
From interviewing to screening to hiring to training to managing and rewarding, the way your janitorial company sees their people makes all the difference. Let's face it, commercial cleaning isn't really about who has the latest mop or most efficient green cleaning program. Success in the janitorial services industry depends completely on the quality of the team. An building services companies front line employees are the face of the janitorial company, the people responsible for delivering on a office cleaning company's promises to you the Facility Manager and the people showing up each day to keep your facility in good order.
So what should you be looking for from your Michigan Janitorial Services Company?
Your medical cleaning or school cleaning company should have a comprehensive hiring process that they can show you not just tell you. To begin with, all prospective employees should go through a thorough interview and testing process, including drug screening and criminal background check. And of course, your prospective janitorial services company should never hire undocumented workers or take part in illegal subcontracting. The better Detroit area cleaning companies will even do personality testing in order to find people who are a good 'fit' for both cleaning and customer service. Likewise the better Southeastern Michigan commercial janitorial services do complete reference checking and employment verification to further qualify individuals for the work. The reality is that the more work a janitorial services company does upfront in vetting prospective employees, the less janitorial turnover they will have which directly impacts your janitorial service and janitorial value.
How does janitorial turnover affect you and your facility?
It diminishes the value of your commercial cleaning.

It can cause poor overall quality work.

It can result in recurrent, unfinished work

Janitorial turnover erodes the relationship built between cleaners and customers.

Too may new people often means damaged equipment and material waste.

A sea of new faces can result in real and perceived security issues.

Too much janitorial turnover can lead to a poor reputation that can affect the quality of employees your janitorial contractor can attract, creating a vicious cycle of poor fit employees and even more janitorial turnover.

Creates significant costs for your janitorial company that are likely passed on to you.
Hiring Processes Are Important, But That's Not Where It ends
To provide you and your facility with consistent, effective, individualized service, your janitorial contractor must have a formalized training program for a systematized cleaning process. Good people must be equipped with the knowledge to do their best. What areas of janitorial training are most critical? That depends on your type of facility and industry in part but solid training should include:
Blood Borne Pathogen training

Hazcom Communications

OSHA & other Safety training
So once an employee has been trained, they must be managed. Good people need to be managed in a way that creates reliability and consistency through accountability. Taking it a step further, the best janitorial contractors will use competitive pay, benefits and Employee Recognition to find and keep the best employees.
Is Your Prospective Facility Services Company Invested In Finding & Keeping Good People?
Want to know if your facility services company is taking care to assure the single greatest factor in effective service is handled? Ask them to tell you AND show you how they find and keep good people. The janitorial contractors that put the time and money into their People Processes will be excited you asked because they know how much it matters. Ask about their hiring process. Ask to see documentation of drug and background screening. Ask to see the training programs their teams go through. Having good People Processes isn't a guarantee of effective service but it's the closest thing you can get to one because it is such a critical component of service.