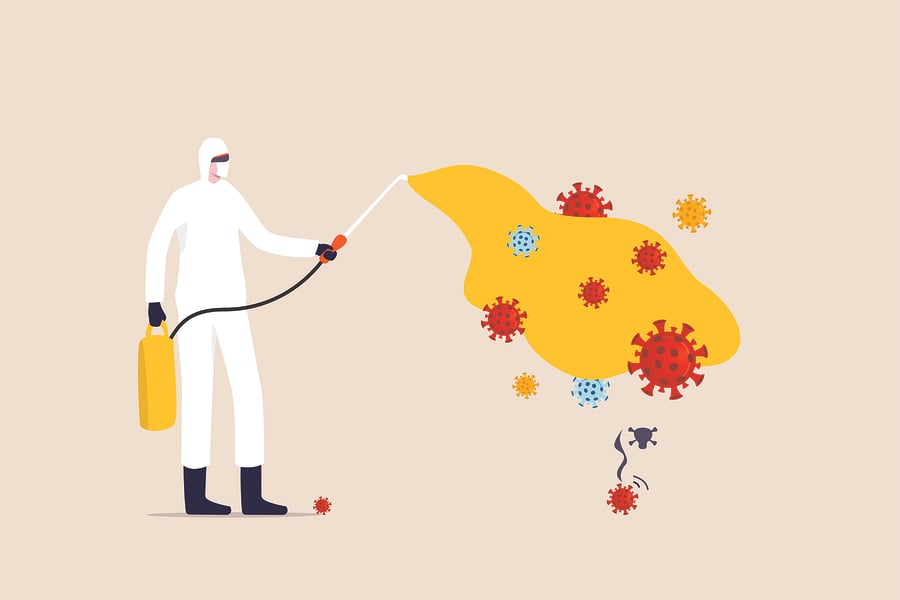 Commercial Disinfection Services Your First Line of Defense
There is no easy way of putting it, we are in the middle of the hardest hitting pandemic of the modern era. For many essential businesses, however, it is a time to rise to the challenge it presents to continue providing for their communities. Now more than ever before, businesses need to do everything they can to protect their staff and the communities they serve. The first line of defense for any facility manager is commercial disinfection services. A professional, reputable, experienced and effective commercial cleaning company is the best way to limit and control the spread of the COVID-19 virus in your building. Using industry proven techniques and CDC recommended practices, a professional disinfection service provider can help keep your building clean and occupants safe.
Your Commercial Disinfection Service Must Understand the Science Behind Cleaning
Understanding how viruses and other pathogens spread around a building is absolutely critical to proper commercial disinfection and sanitization. As it stands, cleaning today is far different than cleaning twenty years ago. Advancements in virology and pathology have given us a far better understanding of how disease is spread and the best ways to prevent it. If your office disinfection service or commercial disinfecting service isn't living in the present, you aren't getting the assurances you need. In fact, commercial cleaning services that ignore industry best practices often do more harm than good. Take the color-coded microfiber rag system that we use here at Stathakis. It provides a clear visual indication of which cloth belongs to which type of cleaning to prevent cross-contamination. The last thing you'd want is a poorly trained cleaning staff using rags that were used inside your restroom on a surface that you would regularly touch. This is one of the many different practices that can make a massive difference in the quality of cleaning that your facility receives.
Proper Cleaning Starts With a Solid Restroom Disinfection Service
According to one study, there can be up to 229,000 germs per square inch on a bathroom surface. If there was going to be a place that coronavirus would be in your facility, it would probably be the restroom. This is true of any number of illnesses that can be caught in the workplace. The first step in a solid defensive strategy against bacteria, viruses and pathogens is a properly disinfected restroom space. The damp environment and heavy use makes it the perfect place for disease causing bacteria to flourish. Fortunately, a well-trained team of professional cleaners can keep your restrooms clean and disinfected with a couple of proven techniques:
Observing proper dwell times, or the amount of time a cleaning solution needs to be on a surface to be effective, can massively decrease the bacterial load.
Targeting hard to get areas like grout and around toilets and sinks can help prevent small pockets of germs and unpleasant smells from becoming an issue in your restrooms.
Making sure to thoroughly disinfect touch points such as door handles towel dispensers and sink handles can make all the difference in halting the spread of illness in your building.
These are just a couple of what should be common-place practices. If your current restroom disinfecting service provider isn't observing them, then it is definitely time to make the switch to someone that will take you and your staff's health seriously. Now is not the time to settle for subpar cleaning.
An Office Disinfection Service Needs Office Disinfection Tools
We have all heard the manta "you need the right tools for the job" before and it applies to your office disinfection service provider. Office spaces often have the most hard, non-porous surface relative to other building types. As such, any professional office disinfecting service should be using tools that effectively clean this particular surface. Here at Stathakis we use Electrochemical atomizer fogging units to thoroughly clean hard surfaces to make sure that they clean and free of germs. Having the right cleaning tools is often as important as having the cleaning know-how.
The First Line of Defense in a Pandemic is a Professional Disinfection Service
At Stathakis, we not only follow industry best practices and CDC recommended practices to combat COVID-19, we excel at them. We understand the science of proper surface disinfection and how to protect you, your staff and your patrons. We work hard to be better, more effective, more responsive and offer Facility Managers all over Southeastern Michigan effective services that offer the peace of mind we need right now. With the right commercial disinfection service, you can safeguard your essential workers and give them the ability to continue working for the good of the community.