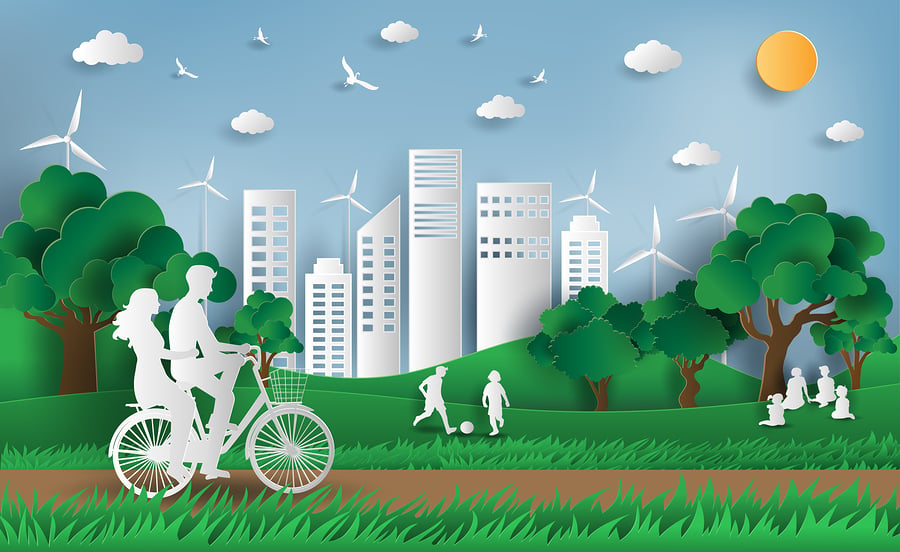 At first glance it may seem like cleaning for health and green cleaning are two separate things. It even used to be the case that green cleaning solutions were less effective than your standard cleaners putting you in the position where you had to make a choice between safe but less effective cleaning products or potent but dangerous commercial cleaners. Green cleaning has come a long way since then, but it still has that negative association of less effective cleaning or much higher cost attached to it. We are here to tell you that you can have your cake and eat it too. Green cleaning has made real strides and can both help protect you from harsh cleaning chemicals while making sure that your facility is properly cleaned for the sake of your health, all at prices that won't bust your budgets. Now you can have the benefit of better indoor air quality, environmental stewardship, and a high quality cleaning that you and your facility require.
Eco-Friendly Office Cleaning Now Versus Then
Green cleaning has significantly advanced in the last decade with advances in safety AND efficacy. By combining new advances in tools, training, and chemicals, new environmentally friendly cleaning solutions and techniques far surpass their predecessors. While you care about environmental stewardship, at the end of the day your facility needs to be cleaned at the highest level to both protect your reputation and safeguard the health of everyone who enters your facility.
The best commercial green cleaning services are going to utilize the best in green cleaning solutions like color coded microfiber rags, HEPA filtration vacuums, green cleaning chemicals, spray-and-vac equipment and other no touch cleaning systems. HEPA multi-filtration vacuums have been shown to improve air quality by up to 99% by removing allergens and other particulates. Additionally, color coded microfiber cloths are a good way to minimize cross contamination in your facility while remaining an effective way to remove dust and bacteria from surfaces.
Another important aspect of environmental stewardship is water conservation and material conservation. There are a couple of green cleaning solutions that make this directive a reality. Low-moisture vacuum systems like the Whittaker carpet cleaning method have been designed to use less water in the cleaning process as well as improving the life expectancy of your carpets. Another good example would be flat-mopping, or a system of carefully dispensing water and cleaning solution onto surfaces to make sure it gets spread evenly and does not oversaturate specific areas while not cleaning others. Even newer mechanical hard floor cleaners are using less water than ever. Not only are these cleaning solutions effective for keeping your facility bacteria free and looking presentable but they are the best in green cleaning. As for material conservation, a cleaning company's methods can help work to this goal. For instance, cleaning companies can opt to empty trash cans with mostly paper refuse without replacing plastic liners every time both cutting costs and plastic trash. Similarly, a cleaning company can stock restrooms with toilet paper and hand towels made with a high percentage of recyclable materials. These products, practices and equipment all add up to big green cleaning feats.
Green Cleaning Can Make Or Break Your Budget
With advances your commercial cleaning services can do more work in less time giving them adequate time to focus on cleaning for health and implementing green cleaning solutions that won't break the bank. These professional cleaning companies are experienced in tailoring their cleaning solutions to your facility and determining how green cleaning best fits into the specific needs of your building. The fusion of all these green cleaning techniques, technology, solutions and training is what makes the best Detroit cleaning services miles ahead of the competition. By going green you not only get access to better cleaning products and cleaning equipment, but you get the benefit of better trained teams and specialized cleaning built for your facility and its unique needs. Not only will you get a superior cleaning, but it will be environmentally responsible and better for you and your staff. The right green cleaning companies use green practices, green products and green technology to drive a better, more efficient service at a better price.
Using CIMS-GB To Find The Right Green Cleaning Company
While green cleaning is top of mind for many a facility manager, is can be a challenge to find a green office cleaning company that has a serious commitment green cleaning that goes beyond marketing buzz words. More often than not, you are going to run into companies that try to use green cleaning as a way to get your business and take your money rather than giving you the effective green cleaning service you seek. Fortunately for you, there is a good way to sift through the many cleaning companies looking for the shining stars among them. CIMS certification makes that sifting process much, much easier. CIMS certification is a comprehensive industry certification done by an independent auditor and examiner that verifies that a company holds up the industries best practices. On top of this, the CIMS-GB is a sub-certification specifically for green cleaning. Starting your search for a new commercial cleaning company is much easier and more likely to net the right partner when you limit your search to companies with CIMS certification.
Is There a Trade Off Between Green Cleaning & Price?
We all want to protect the environment, but at the end of the day, we need our facilities to be cleaned properly and at a reasonable price. There is a trade off between environmental stewardship and our janitorial and commercial cleaning budget. Fortunately, with the rapid advance in cleaning technology, you can get an effective green cleaning that fits your budgetary requirements if you partner with the right Michigan commercial cleaning service.
It can be helpful during your search for janitorial service to ask prospective companies about their green cleaning programs. Do they have real practices, policies and systems behind them or are they just empty promises? If you are in search of green commercial cleaning services in Ann Arbor, Detroit, Royal Oak, Farmington Hills, Farmington, Dearborn, Livonia, Troy, Auburn Hills, Novi, Plymouth, Downriver, please reach out to us at Stathakis. With over thirty years serving the businesses of southeastern Michigan, we are a respected and trusted part of the business community.