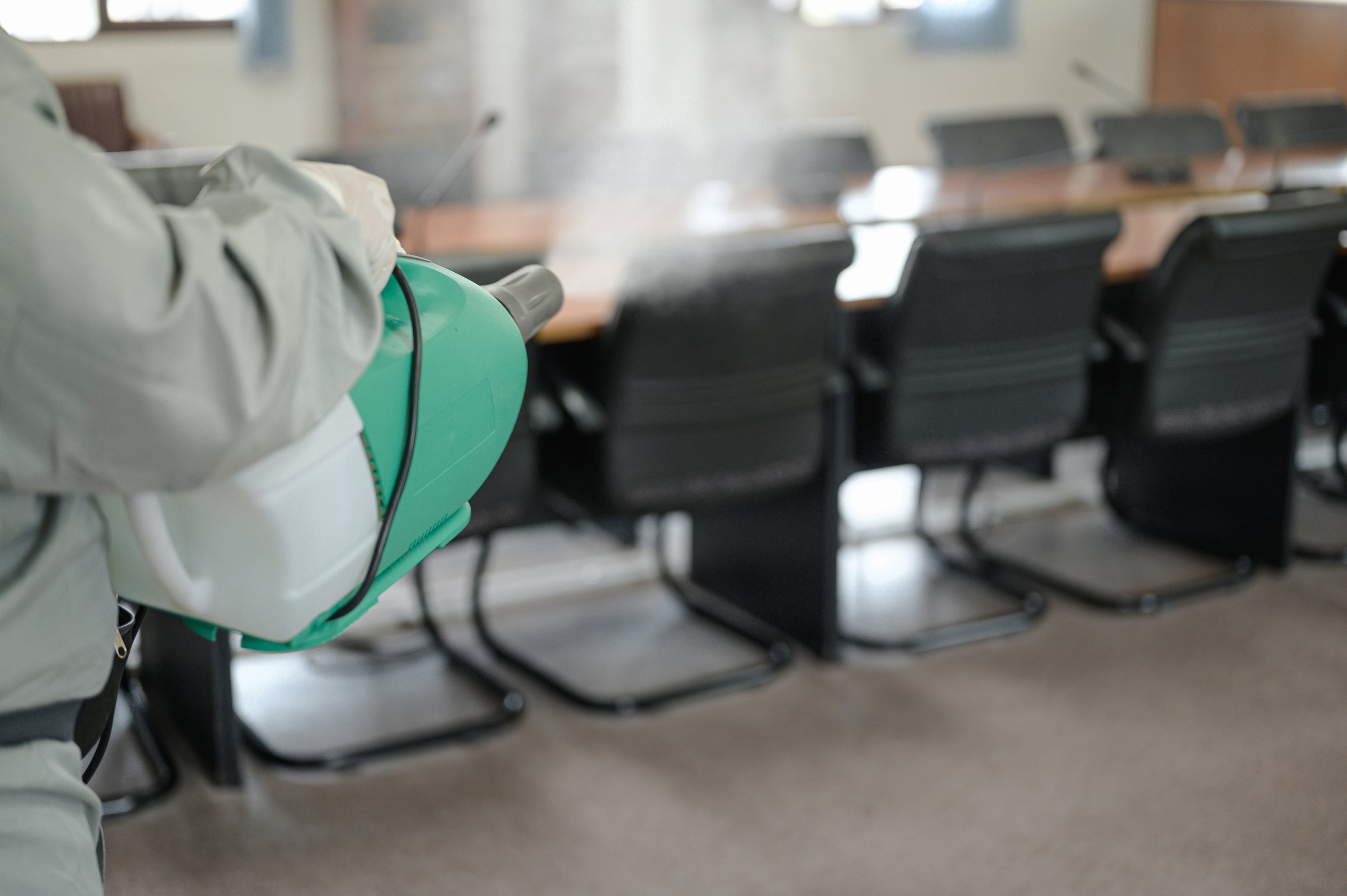 COVID-19 has forced us to reconsider our priorities when it comes to keeping our facilities clean. Right now we need more than clean, we need commercial cleaning and disinfection services. Of course, affordability and effectiveness are always significant concerns but in a tight economy with looming infection rates and public perception, we need quality disinfection services more than ever.
Previously, the risks to contracting with a cleaning company that didn't quite meet industry best standards posed far less of a risk. The advent of the coronavirus pandemic, however, makes for both a heightened awareness and a heightened need for top level commercial cleaning services. It only takes a single infected surface or one asymptomatic carrier to spread the virus like wildfire in your facility.
With the right disinfection service provider, risks cannot be eliminated but they can be mitigated with proper cleaning and disinfection and a plan in place to handle a "patient zero" situation. As you can see, a professional, effective cleaning service makes all the difference in safeguarding the health of you and your staff - but what characterizes a "professional" disinfection service and how do you find one?
Professional Disinfection Services Use Industry Best Practices
Commercial cleaning companies love to claim that they are the best, especially when they are bidding for your business, but what does best really mean? The best cleaning companies follow industry best practices. These are those practices determined by the industry itself and its professional organizations. An industry best practice is a data-backed service or technique that has consistently been demonstrated to be efficient, effective and necessary to proper facility function.
Take the issue of cross contamination, for instance. All too often, companies don't have a system in place to prevent the same rags that are used in your restrooms from being used in your dining area. All it takes is one mistake, one cleaner preoccupied or thinking about the next thing they have to do and it can be easy to mistake one rag for another. The industry best practice that combats cross-contamination is a color-coded cleaning cloth system.
By assigning a color to each cloth there is a clear visual indicator to staff what should be used where, reducing the risk of cross contamination to virtually zero. Not only is it cost effective, but it is a simple, streamlined approach to solving a potentially catastrophic problem. This is what sets an industry best practice apart from the rest and is the best indicator that your disinfection service is using the best data backed practices throughout your facility.
A Professional Disinfection Service Is Equipped For Success
The coronavirus is the first pandemic in modern history, so many Facility Managers don't have a clear map on how and what to do to keep their facilities running, minimize risk and avoid liability. There are no absolutely clear answers, but we do know what helps stop the spread of infectious disease and we do know how to clean for health. Many Facility Managers are worried that there may not yet be industry best practices to help safeguard their staff and patrons. Fortunately, the EPA and CDC have provided clear guidelines and systems for which effective practices can be implemented in your building to help combat COVID-19. For instance:
As mentioned before, color coded microfiber rags are the best way to minimize the risk of cross contamination, especially with the COVID virus, in your facility.
Cleaning staff should be wearing PPE, or personal protective equipment to protect your and their health.
During a pandemic, not every available cleaning chemical will cut it. At Stathakis, we use the EPA-certified Spartan Chemical Super HDQL-10 as well as the Spartan Chemical TB-Cide Quat cleaning solution to combat the novel SARS-CoV-2 virus.
Every building and

room has different needs and if your disinfection service isn't aware of these it can lead to ineffective service.
Aside from having the correct chemical cleaner for the job, manufacturer recommendations need to be carefully observed for them to be effective. Dwell time, for instance, refers to how long a disinfectant needs to be on a surface before it has sufficiently reduced the bacterial and viral load.
Cleaning staff are your first line of defense against the coronavirus. If your cleaning service provider isn't providing professional and demonstrable training, or perhaps even worse, is subcontracting their cleaning staff, you have no guarantee that they are implementing the best cleaning and disinfection practices in your facility.
There are a few of many different steps that a commercial disinfection service can be taking to better protect the health of your building and everyone in it. The most professional and effective commercial cleaning companies have the capacity to show you their implementation of these best practices and will explain how they will adapt their practices for your building.


The Most Effective Commercial Disinfection Company
The middle of a pandemic is not the time to take a risk on an untested cleaning service. If you are in the market for commercial cleaning and disinfection services or are unhappy with your current level of service, it might be time to make a change. Stathakis is an ISSA CIMS-GB certified company that not only follows industry best practices, but sets the standard industry wide. Don't take a risk with your next cleaning company, start with an industry professional. For more information or to get started, please call us at 1-800-278-1884