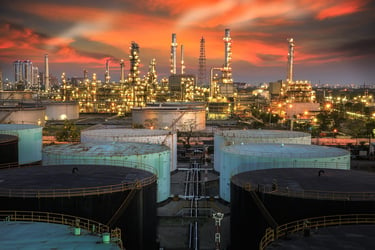 Industrial cleaning accounts need more from their building services companies, but are they getting it? "Industrial cleaning requires a great deal more from a building services company and the reality is that not every company is up to the job," said Chris Stathakis, CEO of Stathakis, a southeast Michigan commercial cleaning and maintenance company. "The hard part as a Facilities Manager is finding a company that can really do the work because many cleaning companies see industrial cleaning clients as an appealing new revenue stream but they don't grasp the complexity of the work."
With the commercial cleaning industry seeing so many new start ups every year, competition for customers is fierce. New revenue streams are attractive to any BSC as companies of all sizes line up for new business. With Michigan still a manufacturing and industrial center, these clients represent a boon to any company that can serve them. But are too many cleaning companies overreaching and taking on industrial accounts they just don't have the knowledge and skills to safely serve?
With an eye toward serving the Southeast Michigan industrial and manufacturing sector, Chris Stathakis and his team have worked hard to make adjustments to their services, training and processes in order to better serve these accounts. As Bob Abraham, a Branch Manager at Stathakis told us, "wWhen compared to general cleaning, industrial cleaning is much more labor intensive. We have seen that often new equipment is required and employee personal protective equipment and the cleaning itself is very different especially when we see plants and factories that operate continually."
Brian Mamo, Stathakis Sales Director tells us, "beyond equipment, products and schedules, the single biggest challenge in cleaning industrial and manufacturing facilities is the time it takes to uncover an account's processes and needs so that you can really develop a plan that works for them. I see these other companies come in and try to tell a Facilities Manager what they need before they have even asked a single question." When asked why, Mamo said this, "it takes time to sit down with a customer and really uncover what they need and how to get the most for them with the budget they have. Too many companies want the business, but are unwilling to spend the time upfront to make sure they deliver on their promises."
What does CEO Chris Stathakis see as the single biggest challenge for both Facility Managers and BSC's? "Hands down, the most critical issue is safety and compliancy issues. From our people to your people to the myriad of compliance and regulatory requirements, you just cannot go into these clients ignorant of what they need to stay compliant, whether it's OSHA, ISO or other special requirements placed on them by their own customers. It's our responsibility to go in at the very least understanding the basics and knowing enough to ask the right questions and understand their internal safety procedures so we can make sure every thing we do is safe and compliant."
So is industrial cleaning just a step removed from general office cleaning or is it a whole other animal? Industrial companies vary widely as do their needs. Here in Michigan, you will find everything from automotive, chemical, agriculture, energy, pharmaceuticals, water treatment, transportation and more. "Each company and facility is very different from how they operate to what regulatory and compliance mandates they must follow. With industrial cleaning there is no one size fits all solution," said Chris Stathakis.
Dale Saylor, another Branch Manager at Stathakis, had this to say about servicing their growing cache of industrial cleaning and maintenance customers, "Often when it comes to industrial cleaning, we have to dig deep for solutions to new problems. What works in one building won't always work somewhere else. For example, a chemical we use on the floors of one factory may not be compatible to use for another customer because of that customer's manufacturing process. We have even had to provide SDS information to make sure our chemicals don't have any type of interaction that could impact their product quality. Today's manufacturing plants are very sophisticated and greatly rely on subcontractors having knowledge, not just about their own company, but also about the Customer's facilities. Maybe we can still use the same electric auto floor scrubber but with a heavier duty solvent to target greasy deposits and residues. In a factory or plant, the scale of everything is so much bigger, you aren't emptying small trashcans you are doing everything bigger which means you really have to bring in people ready to work and train them for efficacy and safety."
The bottom line in industrial cleaning and manufacturing cleaning is this. If you are looking for a commercial cleaning company capable of handling your industrial account, you must look to those industrial cleaning companies that are going above and beyond to understand how your facility operates so that they can customize a cleaning plan to hit all of the important marks including efficacy, safety and compliance. Anything less leaves service holes, safety risks and significantly greater liabilities for all involved.