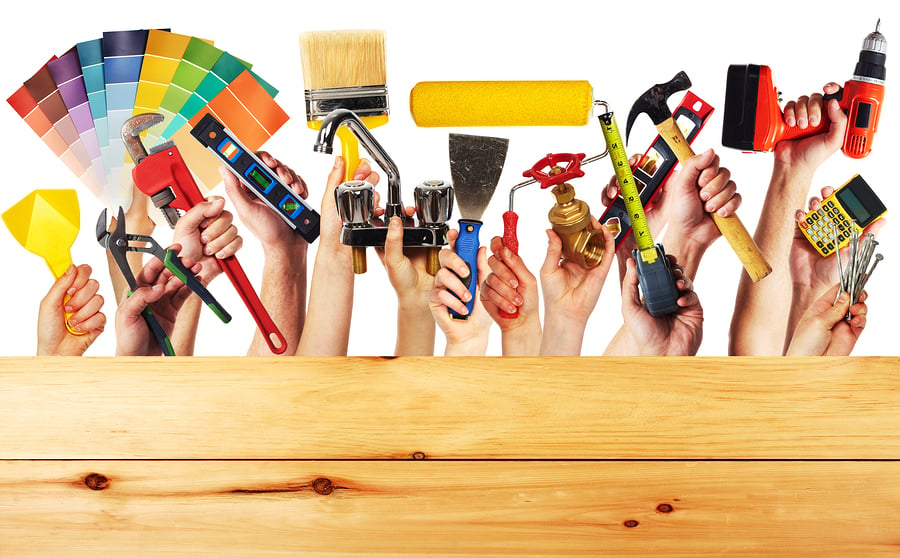 With a large facility or group of facilities, ongoing maintenance can quickly become overwhelming. But at what point could your facilities benefit from a commercial handyman service? Without regular maintenance, your facility or facilities can quickly fall into a state of disrepair. Likewise, when you have ongoing maintenance issues from light electrical to plumbing to patching and painting or even installing fixtures, your day can quickly become filled with appointments, site visits, estimates and follow-up. Not only is conducting ongoing maintenance this way time-consuming, it is also typically significantly more expensive than contracting with a commercial handyman service.
A Qualified Maintenance Technician is Like Having Your Own Superman
With the right maintenance company, you get a team of highly qualified maintenance technicians. These commercial handymen come highly qualified with experience in plumbing, HVAC, electrical and more. A solid commercial maintenance company will have a team of professional maintenance technicians that can handle nearly all of your facility's issues, quickly as they come up. Not only can these commercial handymen handle most of the repairs and issues that come up, they can be a valuable source of information for larger more involved projects.
A Commercial Handyman Service Like Having Another Set of Arms
When you contract with a commercial handyman service and professional maintenance technicians, you partner with a company dedicated to your individual facilities. There is no waiting for service, hoping someone shows up and coordinating the work. When you employee a commercial handyman, your work is always the priority and as you develop a relationship, your handyman or team of maintenance technicians will become like another appendage, doing the things you cannot get to with just a little direction from you the Facilities Manager.
A Maintenance Schedule Can Keep Your Facility in Optimal Shape
As a busy facilities manager, it can be challenging to manage ongoing maintenance and get to all the little and not so little fixes that can diminish a building's value over time. One of the many benefits of working with a commercial handyman service is that you can develop a maintenance schedule that keeps your facility running smoothly. On that same note, with repairs, fixes and installations planned through out the maintenance schedule, you can budget and forecast with ease and stick to those budgets while keeping your facility in good running order. The right commercial handyman service will get the job done right in a professional efficient manner and attend to those day-to-day issues before they snowball or reduce the value and efficiency of your building.
Does Having A Professional Maintenance Technician Limit My Flexibility?
Some facility managers wonder if having a commercial handyman service might be the right solution for their facilities' issues. They might wonder what if there's too much work? Or what if I don't have enough to keep a commercial maintenance service busy? One of the many benefits of the commercial handyman service is that you can fine-tune the work to precisely what you and your facility needs. Some companies and facilities require daily ongoing maintenance at multiple facilities. Others may require a once a week visit to tackle a revolving to-do list or even every other week. Other offices may have busier short-term periods with office furniture that needs to be assembled or other one-time help scenarios. Commercial maintenance companies will often have the flexibility to bring in extra people for larger jobs allowing you to staff up and down as needed.
Finding A Commercial Handyman Who's Up To The Job
When it comes to finding a commercial handyman for your facilities what you don't want is a one-man and a van kind of operation. While these guys are okay for a home or smaller business, they typically do not have the very experience that will help them tackle the different issues that come up in larger facilities. Rather, you want a commercial maintenance company that has a team of professional maintenance technicians. Even if you end up with one technician assigned to your facility, maintenance technicians at these kind of companies have essentially exchanged all of their professional skills and assisted each other in such a way that they end up very skilled in a number of specific areas. And if they have specific questions about lighting electrical plumbing or HVAC, they have each other to troubleshoot issues that may arise in your facility.
Little Known Secrets to Finding A Great Maintenance Company
There seems to be no shortage of commercial handyman services and yet finding the right maintenance technicians to care for your facilities can be daunting. Just because a salesperson makes the claim that their guys can do anything you need doesn't mean they can. The reality is anyone can say anything, if you really want to know if the maintenance company is up to the job of caring for your facilities, you need to dig a little deeper. Any maintenance company offering ongoing maintenance services should have a really good team. The reality is in this service business, you are only as good as the people you employ. So ask a prospective maintenance company about their people. How long have they worked there? What is their background? And is your maintenance company doing everything they need to find the very best people for your facility including background checks and drug screening? On that same note no matter how great your team of maintenance technicians are, there will be occasional issues or miscommunications. Ask a prospective commercial maintenance company what they do when problems arise. Do they have systems in place to manage issues? Do they have a formal process for getting back to customers who need help? Likewise, the best commercial maintenance companies will have transparent pricing that allows you to compare their services to other companies and determine precisely what you are getting for what you're paying for. And the right commercial handyman service understands the limits of your budget and will work closely with you to get the most for your facility with the budget you have.
Can You Imagine A Team Of Technicians On Your Side Ready To Pitch In?
If you find the right commercial maintenance company you can make your job as a facilities manager significantly more manageable. Over time, you can develop a relationship with your commercial handyman that makes getting things done efficient, smooth and straightforward. You can shorten your to do list and know that you have a maintenance technician or team of technicians on your side ready to pitch in and help you with whatever you need. Whether it's light electrical, plumbing, installing bookshelves, hanging pictures or televisions, installing fixtures or patching and painting, your commercial handyman can get the job done and keep your facilities in tiptop shape.