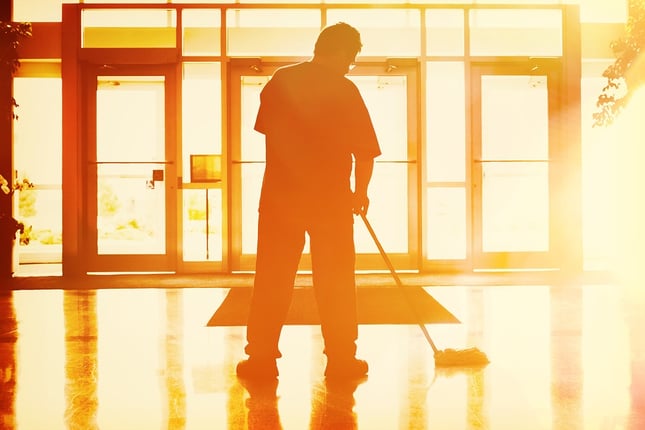 When Choosing Cleaning Services In Plymouth, You Need To Look Beyond The Surface
Everyone appreciates walking into a facility that looks and smells clean. Certainly if you enter a building and immediately notice smudges on the glass doors and debris on floors or carpeting, you get an immediate sense that the building is not well maintained. Walk into a bathroom where water is collecting on counters and overflowing trashcans abound and you know it needs cleaning. Yet, as obvious as these signs are that commercial cleaning services are insufficient, some signs are less obvious. What you can see is important, but equally important is what you CANNOT see. There is the appearance of clean and then there is a deep, thorough cleaning that not only makes a facility look good, it makes it a healthier environment. Is your Plymouth janitorial services doing the work needed to help you create and maintain a healthy work environment? Or are you ready to start fresh with a commercial cleaning company prepared to do the work at the level you require?
Is It Time To Say Farewell To Your Current Plymouth Janitorial Services?
Is it time to look for Plymouth cleaning companies more capable of maintaining your facility? Are you seeing visible signs that your commercial cleaners in Plymouth Michigan aren't hitting the mark? What do subpar janitorial services look like? The visible signs that suggest it is time to find a new commercial cleaning company may include specified tasks not being consistently completed. Of course, even the best cleaning services Plymouth Michigan are going to miss something now and then. But if missed tasks are becoming a regular occurrence, you are not getting the services you need. Dirty restrooms are another area of your building that can point to a diminished level of cleaning, in fact, they are often the areas of a building we notice problems first. If you observe things like the necessary supplies like toilet paper, hand soap and hand towels missing and gunk accumulating around your restroom flooring, the work has likely slipped. Commercial restrooms see a large number of people each day and as such, require regular care and periodic deep cleaning. The problem often becomes that your service diminishes so gradually, that you can just become accustomed to a less than clean facility, but you can be sure, employees, tenants and visitors do not.
Signs Your Cleaning Services In Plymouth Are Slipping
As mentioned above, there are visible signs your janitorial service is slipping and others signs that are less obvious. Perhaps you are you receiving more complaints than usual about the cleanliness of your building. Or it could be that you notice a myriad of lingering, unpleasant odors as a clean, well maintained building should smell fresh. Assertive odors are a sure sign that your facility isn't truly clean. Likewise, when you do have an issue, do you hear back from your Plymouth commercial cleaning company promptly? Good janitorial companies address minor issues quickly before they become bigger problems. If you are communicating service problems with your Plymouth janitorial companyand you are not hearing back, it's likely time to move on.
Effective Commercial Cleaners Plymouth That Are Getting It Right
While there are many cleaning services in Plymouth getting it wrong, there are also many that are getting it right. The trick of course, is identifying those commercial cleaning companies that will make excellent long term partners in your facility maintenance. So how do you identify those commercial cleaning services that are set up to deliver the level of cleaning you and your facility deserve? Well, to start with, the most effective, responsive janitorial companies set expectations from the get go with transparent pricing and a straightforward cleaning spec. In this way, not only can you compare prices to find the best value, you have a clear path to success and accountability by agreeing on what is expected from the beginning. Additionally, any prospective janitorial services company must use professional hiring processes in order to find and hire people who are a good fit. This means no short cuts on criminal background checks or drug testing. In addition to screening, employees must receive adequate training to meet the specific requirements of your facility. Moreover, when your janitorial company does make mistakes, they should address them immediately and provide a clear, measureable path to making it right. Good cleaning companies do not make the same mistakes over and over again. Lastly, they use systems and processes to put industry best practices to use assuring you better, more effective and responsive Plymouth commercial cleaning services.
Industry Certification Can Help You Find The Right Plymouth Cleaning Companies
Choosing a new commercial cleaning company isn't easy. There are many things to consider and many service providers out there, not all of them competent or capable. Asking the tough questions and asking prospective cleaning services in Plymouth Michigan to show you their processes, not just tell you, takes time. One valuable shortcut in the process is the use of industry certifications like the CIMS. The CIMS or the Certified Industry Management Standard, helps identify those commercial cleaning companies highly committed to industry best practices, practices that are highly predictive of effective, responsive, professional service. Finding a janitorial company that brings value, consistency and a thorough clean to your building makes everything easier. If you are looking for a CIMS certified partner in your building maintenance, check in with ISSA for a complete list of CIMS certified cleaning companies and building services companies in your area. If you are located here in Plymouth, Michigan or other areas of South East Michigan and would like a review of your current janitorial services, please contact us at 1-800-278-1884 today for a no obligation review and quote.