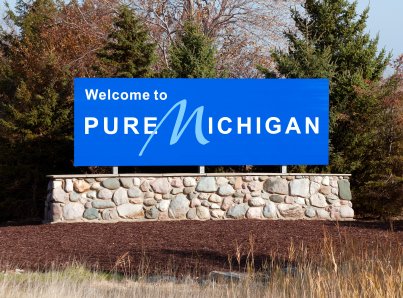 If you are considering cleaning services in Michigan, you have no shortage of choices. It can be confusing, but if you do your homework and weigh your options, you can get the right cleaning services and ensure your facilities are customer ready and sparkling clean.
One of the factors you may be considering is whether to use a large national janitorial company or a locally Michigan–based janitorial and building maintenance company. Bigger is not always better, but how do you know if a locally-based Michigan cleaning service can tackle the job at hand?
A large, national cleaning company might in fact be the right option for you. This is especially true if your business owns or operates facilities around the country. In this instance, it can really make sense for your headquarters to coordinate all of your facility cleaning and maintenance in one place. The large national cleaning companies, like other national chains, offer some advantages. These big guys can handle huge facilities, in many distinct and different geographical areas with an often remarkable consistency.
A large, national cleaning company might be right for you if:
You own or operate facilities spread all over the country
Your facilities are simply too big for most small to medium sized local cleaning companies
Most of your key services are administered to multiple locations from a central office
If you operate a mid sized building or do business on a regional level, a midsize, established cleaning service in Michigan may fit your needs far better. When you choose an established, quality cleaning service in Michigan, you work with a company that reflects your own business model.
While national cleaning companies may excel at country–wide coverage or tackling gigantic, monolithic buildings, these big companies often fail when it comes to customer focus. Like other national chain businesses, there may be a favorable consistency, however, getting services customized to your specific needs can be a challenge. Likewise, when a problem does come up, tracking down a solution and accountability can be evasive.
When you choose the right professional and reputable cleaning company in Michigan, you reap all of the benefits of a locally based company. The big national guys can afford to lose your business and unless you represent their top-tier companies, you're not likely to get special attention. Local businesses have a much smaller pool from which to draw new customers and as such will work harder to keep you happy and protect their reputation within the local community. When you choose cleaning services in Michigan you do business with other companies invested in our local communities. When you opt to work with local businesses, you keep your hard-earned dollars in Michigan growing our local economy. This in turn, gives local consumers more local spending power and everyone wins. Likewise, when you work with a Michigan area cleaning service, you benefit from their understanding of the local area on everything from hiring to the changing economy. Quality cleaning services in Michigan are likely to offer you and your business the highest level of responsiveness.
A well established, professional and responsive cleaning service in Michigan will offer:
An understanding of the local community, including how to find and hire the best people
The highest level of customer responsiveness
Services specifically tailored to the needs of your business and an ability to adjust these as needed
The ability to keep key financial resources right here in Michigan
High-level service as they strive to protect their local reputation
A high level of accountability and connection with the people in charge
Bigger isn't always better, and right here in Michigan, you can find an established, reputable janitorial company capable of keeping your facilities in top-notch condition and delivering the kind of customer focused service that you deserve. Are you considering hiring cleaning services in Michigan? Get our Free Cleaning Service Buyer's Guide.