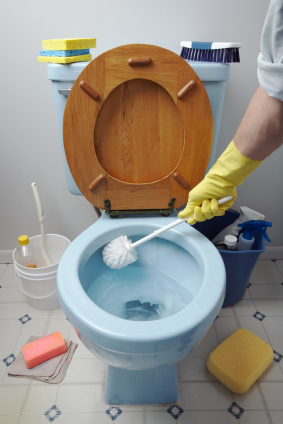 When it comes to outsourcing your
restroom cleaning
services, there's no room for cutting corners in job performance. Naturally, you want the best for your facility or office. And why shouldn't you? Dirty restrooms cast a profoundly negative image on your business. So when you're exploring your options in outsourcing your restroom sanitation service it's in your best interest to enlist competent professionals.
Expert restroom cleaning and hygiene is crucial because in any given building, no other area experiences as much daily traffic as the restroom. It's a known fact that an overwhelming percentage of building complaints are related to restroom cleanliness. This is why obtaining the best restroom sanitation service is so important.
What sets the best restroom sanitation service apart from the rest?
Well trained commercial restroom cleaning professionals have time tested systems in place and vast amount of experience and on the job knowledge to make sure nothing gets overlooked. Foul odors, dirty
grout
, and empty dispensers will never be an issue when you work alongside the best restroom cleaning service the industry has to offer. You'll know you're getting the best service if your facility exhibits these signs of ideal restroom cleanliness:
Clean, fresh scent
Well stocked supplies
Sparkling floors
Clean mirrors
Absence of graffiti
Working stall doors, sink fixtures, etc
Immaculate sinks, toilets, and urinals
Some cleaning companies will come in and only wipe down surfaces giving a false impression of clean and putting anyone who visits your restroom at risk for disease. An experienced company with a reputation for offering the best in restroom sanitation services understands that cleaning isn't just for looks. They clean first and foremost for health. That is, the health of your guests, employees, and yourself. Proper restroom hygiene keeps diseases at bay and the payoff of this includes several key benefits:
Reduces absenteeism
Increased efficiency and work output
An increase in your overall bottom line
When you outsource with a restroom sanitation service that knows its stuff, you are then free to focus on your own work with the confidence that the messy job is in good hands. You won't be dealing with the flood of employee or customer complaints that result from dirty restrooms. Furthermore, you get to enjoy the benefits of a clean restroom yourself! The best kind of restroom sanitation service is the one that you never hear about. That is, the one that does it job so well that you're time is never taken up dealing with complaints a dirty restroom.
Don't take your restroom sanitation services for granted. It's a big job and a dirty job that plays a crucial role in the image your business or facility presents. Make that image a positive one by outsourcing this important--and all too often overlooked--task to seasoned professionals who won't play games or cut corners with your restrooms hygiene.