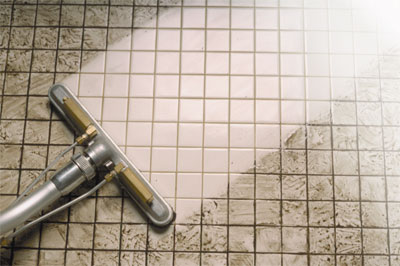 Let's face it, we all spend too much time at work in the office. However, since we're already there we might as well make our workplace somewhere we can enjoy and be productive. One way Facility Managers do that is by incorporating modern day tile flooring into commercial buildings. They beautify it with modern day tiles and floorings. If someone is installing tiles in their house, they must be aware of the related stuff. Few people are there who have never been there at the time of installation of tiles. For all the ones unaware, lets say the ceramic or any sort of tile installation is not only about sticking them with cement.
One of the most important part in doing so is GROUT. It is an obvious thing for some people to hear it for the first time. So for them, grout is a mortar like thick substance made from the combination of cement, water and sand. Once the tiles are put up in a place on the walls or the floor, the mixture is spread over it. Though the cement is enough to stick the tiles to walls or floors but what about the gaps between the tiles? Now here comes the grout in the picture. This neutral colored thick substance is needed to hold the tiles with one another by filling the gaps between them. It dries up very quickly and then becomes hard-rock. It even prevents any other substance such as water from going beneath the tiles resulting a smooth and clean finishing to the whole surface. Grout filling brightens up the whole room irrespective of the size of tiles.
The task does not end up with installation only. It requires equal attention and cleaning like that of tiles. Cleaning the tiles and grout as well is an important step in keeping that area look tidy. This thick porous substance can easily absorb the grease, lime scale and dirt. Grout paste is highly susceptible to moisture and which results in the growth of mold. Is severe measures are not taken, the mildew growing is likely to spread all over the tiled area and thus causing discoloration and dinginess. It seems like a greasy substance present between the tiles. It is very important to have the professional cleaning for tiles and grout. Many cleaning services offer such services. The housekeeping services provided by them are very flexible. They understand what are the necessary treatments for grout cleaning. The cleaning companies know the art of cleaning very well and help maintain the natural look and feel of tiles and thus improving the quality and inviting a pleasant shine.
Today all the available tiles in market can be cleaned without any problem using commercially available solutions and cleaning conditioners. There are a few general points discussed about grout cleaning:
Firstly, clean the grout with water and allow it to dry.

Using bleach on grouts is a strict no, when used on colored grouts it will discolor them.

While scrubbing, make a note of using a stiff brush. Avoid metals brushes, they shall wear out the grouts.

The room where the work has been carried out should have proper ventilation.

When working with commercially available chemical-based solutions, wear a protective eye-wear and gloves.

Perform a test of the solution over a small area first before going for complete cleaning. It will ensure that the grout would not get damaged or eroded.
Never mix the solutions. They might cause chemical reactions when they come in contact with the skin.
When the tile and grout are completely clean, it is our duty to keep them looking fresh and looking for new ways to make them last long. Tiles are just not tiles, but a drab piece that need to converted to an exciting and gorgeous piece of art.

Stathakis, an ISSA CIMS-GB certified janitorial company, has been providing business cleaning services for over 35 years. CIMS assures our customers that our processes are among the industries best. The "Green Building" (GB)*** part of the certification symbolizes our capability to assist our customers in achieving a greener clean, in addition to earning LEED-EBOM points.
If you are shopping for Cleaning Services see Stathakis' newest Ebook, "The 360 Buyer's Guide to Better Cleaning Services", cleaning industry experts provide key insight into how to navigate through the maze of Cleaning Companies to find the best value for your facility. Get this Janitorial Buying Guide today!