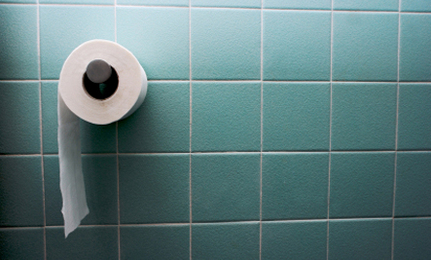 Proper cleaning techniques and protocol are extremely important when it comes to both public health and perception of a shared space. Restrooms are certainly no exception, and as more and more people share fewer and smaller spaces, it will become increasingly important to understand the risks of improper or inadequate restroom cleaning. Some cleaning companies merely wipe down surfaces with mild cleaners or soaps, but more and more research is pointing to the fact that unless certain products and techniques are used to clean a public restroom, there is a high likelihood that such a place will become a breeding ground for all kinds of bacteria and disease. Dirty restrooms lead to lost business and a quick increase in negative perception. Worst of all, an unclean restroom containing bacteria and diseases can kill people.
One way to reduce or eliminate many of the bacteria and viruses that cause sicknesses such as Hepatitis A and B as well as gastroenteritis, is to hire a cleaning company that uses cleaners that not only clean a surface but also disinfect it. This is important because a surface can both appear and smell clean after it has been wiped down, yet still be infested with the kinds of bugs and bacteria that will harm or even kill a person. Disinfecting a surface in a restroom involves using chemicals like bleach that are specifically designed to kill bacteria and viruses. To make matters more complicated, it is nearly impossible to disinfect an unclean surface. This is to say that a surface or restroom must first be cleaned in order for the disinfectant products to be completely effective.
Another common place for bacteria and viruses to collect are on the restroom's "touch points". These are areas where people often touch after using the restroom or while washing their hands. And while nearly 40% of men and 80% of women do not regularly wash their hands after using the restroom, it is important to recognize these places as mini breeding grounds for bacteria. These "touch points" include light switches, toilet seats, toilet handles, sinks, soap trays or dispensers, faucet handles, and towel racks or dispensers. These areas require special attention when being cleaned and disinfected and need to be taken care of properly in order to ensure good health and hygiene, so it is important to hire a cleaning company that understands all of this.
Nearly everyone at some time or another will encounter a dirty restroom, yet most people don't realize that many of the dirtiest restrooms, as far as high levels of germs, bacteria, and viruses, appear to be some of the cleanest. A good
restroom cleaning service
will work with you to understand your company's specific concerns. This way, you can even offer your customers and visitors products like toilet seat covers and disinfecting wipes to customers and the public who use your restrooms to help encourage proper hygiene when your cleaning crew or staff are not working.
People can and will become ill, perhaps even gravely so if restroom cleaning is not taken seriously
and dealt with in a professional manner. Keeping your restrooms clean is all about hiring the right restroom cleaning service company; one that not only understands the connection between clean restrooms and good health but the connection between cleanliness and a positive business perception as well. Germs, bacteria, viruses, and diseases kill people everyday, hire a cleaning company that thoroughly understands how to both clean and disinfect your restrooms.