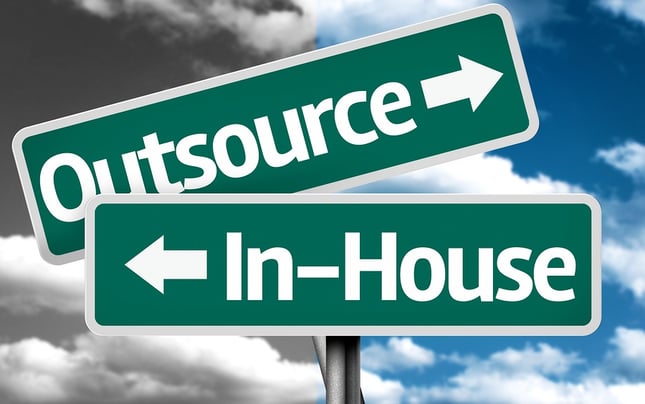 While the economy has improved in many sectors, building owners and facility managers continue to look for ways to lower costs and stay on budget. This belt tightening can mean a bigger workload for Facility Managers with fewer resources to do it. In an effort to get vital services covered while reducing cost, many facilities have turned to outsourcing janitorial services as a workable cost cutting solution. In addition to an immediate drop in costs, outsourcing cleaning services can help stabilize costs, improve services, protect your building's assets and manage and reduce your workload.
The decision to outsource your janitorial services is a significant one. No matter what services you outsource, from office cleaning to preventative maintenance, the competency and professionalism of the building services contractor you choose will decide the outcome. Outsourcing facility services to the right Michigan commercial cleaning company creates value for your organization by reducing operating costs while protecting your facility and your reputation by keeping your facility safe, clean, comfortable and energy efficient, through individual or integrated solutions.
1 - Janitorial outsourcing is cost-effective.
Outsourcing cleaning services can have a significant impact on your bottom line in many ways. Primarily, there is most often an immediate cost savings as a professional janitorial services company can get more done in less time. Likewise, your commercial cleaning company procures optimal pricing on equipment, supplies and refillable goods. Secondarily are the cost cutting measures associated with the sizable costs of recruiting, screening, hiring, training and managing employees. The time and management of benefits administration, health care, employee status verification and other time intensive tasks are shifted to your commercial cleaning company Michigan.
2 - When outsourcing building services, the quality of your building maintenance often improves significantly.
Commercial building maintenance companies make cleaning and maintenance their business and as such can reach a level of expertise that just isn't possible if it's a needed task but not your core business. Handling your cleaning and maintenance in house is like running a business within a business. Do you want to run a commercial cleaning company? If no, outsourcing your facility maintenance can be a blessing. In a competitive business environment, janitorial companies understand you have many options when outsourcing cleaning services. The most effective janitorial companies will work hard to get and keep your business. Likewise, a sizable cleaning company can adjust to accommodate your changing needs quite easily. That means you can avid the waste of over hiring and meet times when your needs shift into overdrive.
3 - Outsourcing janitorial services can net you a better value.
Think about it, your cleaning company can offer you real value. They procure supplies and equipment at a level you cannot and through experience, they have learned how to do more in less time saving you money and increasing the value of your clean.
4 - Outsourcing building maintenance can get you more responsive services.
With many facilities, your needs shift around things like industry cycles, peak times and more. The right janitorial company can shift with you and likely has a large enough pool of both employees and customers to shift teams as needed. Likewise, the larger professional janitorial companies in Michigan have highly trained and competent floaters that help keep coverage and service seamless even with employee time off, illness and attrition.
5 - Outsourcing your janitorial eliminates the issues associated with using your own employees to tackle facility maintenance.
Whether you shift cleaning to employees hired for other duties or manage your own in house team of office cleaners, all too often the work goes undone, is poorly done or employee morale and turnover suffer. When you lean on your employees to tackle office cleaning you most often end up with unhappy employees and a dirty facility. Do you think Janine in the warehouse really wants to clean the restrooms her coworkers use everyday?
6 - With outsourcing facilities services, you can transfer the liability and insurance costs to your commercial cleaning company.
As in any industry, with cleaning and janitorial, there are specific liabilities associated with janitorial jobs. Insuring you are properly covered costs money and time as you must adjust coverage as the scope of the services and people change. Outsourcing janitorial can save you time and money as they will insure their own employees and can even add you or the facility owner to their contractor's policy shielding you from third party litigation.
7 -

When you outsource janitorial, you transfer management intensive duties to your janitorial service

provider

.
Every component of the management of your cleaning program becomes your contractor's responsibility. That means things like cleaning staff, training and standards, supply procurement, equipment repair and other time intensive tasks shift to your facility maintenance company leaving you free to put your focus where it is needed.
8 - With outsourcing facilities services, you often get an umbrella of other building maintenance services that can reduce time, hassle and costs on other needs you have within your facility.
The most highly skilled, professional building services contractors have a menu of other services that you can utilize as needed from minor facilities repair to carpet cleaning. These extras like plumbing, HVAC and commercial handyman services can come in handy when you have a need. Save yourself the time of searching for a reputable, affordable contractor and get the work budgeted, planned and executed with a contractor you already trust.
9 - Outsourcing can net you better cleaners, better training, better products and better equipment.
Outsourcing your janitorial to a professional means you get better work done in less time. An experienced, effective commercial office cleaning company with years of experience will utilize the most advanced and effective methods to get the work done right. Whether you need industry specific cleaning like the industrial cleaning, medical cleaning, school cleaning or you are considering green cleaning possibilities, your janitorial cleaning company can help you explore your choices.
10 - Outsourcing allows you as a Facility Manager to streamline your workload and shift focus to areas of your business only you can manage while offloading other labor intensive tasks to your contract cleaning company.
At the end of the day there are those things you as a Facility Manager, or Property Manager, must manage and other duties and tasks that while they must be done, don't need to be done by you. The process by which you maximize the value YOU deliver to your organization involves passing on those duties that don't require YOU to a trusted partner. When you contract with a professional, responsive, effective commercial cleaning company, you are free to put your focus where it is needed and your building and its assets are still in good hands.
In order to reap the benefits of outsourcing, you need to choose a service provider that understands your industry. The truth is one size does not fit all and not every janitorial company is poised to meet your needs. But with the right partner, your facility maintenance can be straightforward, relatively simple and affordable.