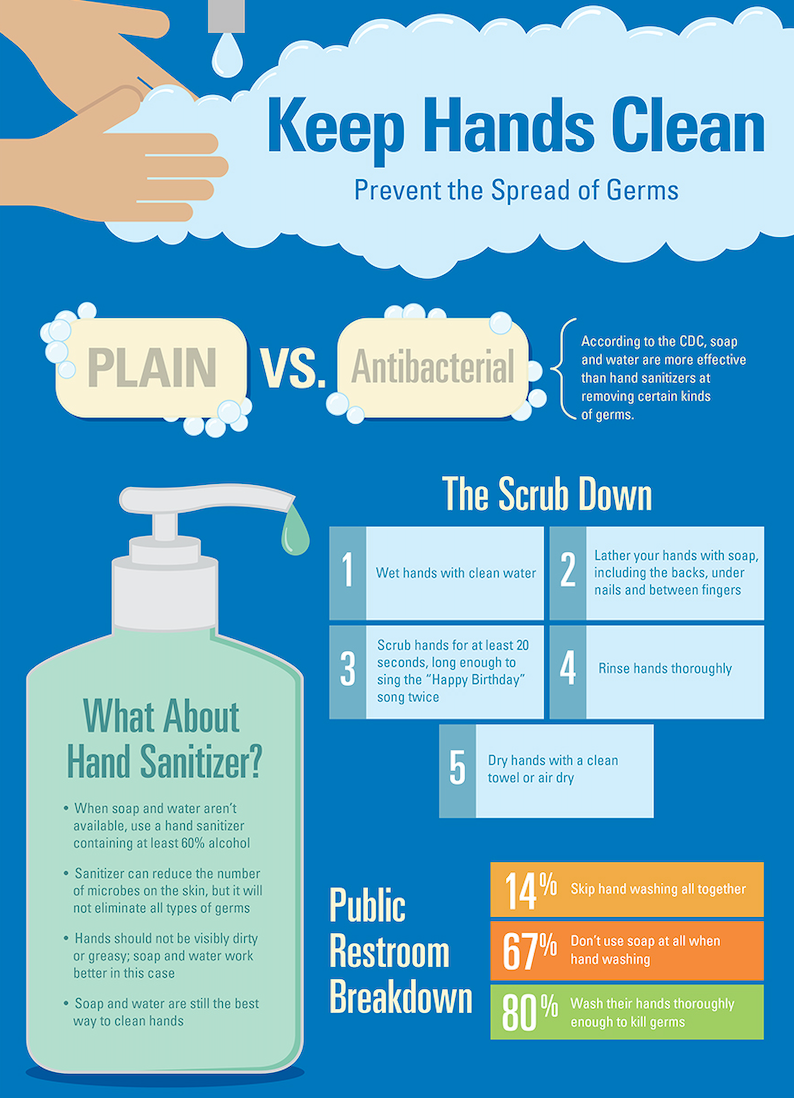 A healthy work environment is always important but never more so than today when we are facing a mounting public health crisis. A healthy work environment can include commercial disinfecting, restroom disinfecting, industrial disinfecting, or office disinfecting services. These disinfection services can help assure your facility is truly clean with a specific focus on touchpoints and hotspots where disease-causing germs like Covid-19 are most likely to congregate.
Don't Ignore Hand Washing
Over the course of a workday, people touch many surfaces and objects. In a normal scenario there are already myriad germs making their way across your facility. Germs often congregate on the hands, which in turn can be the cause of infection by touching the eyes, nose, or mouth. Thankfully, most of them are not harmful to humans and those that are, are manageable. Covid-19 presents special challenges. With the novelty of the virus, there is so much we don't know yet and it does appear to be easy to spread and making many people very ill. To keep yourself and your facility occupants healthy, it is important to keep hands germ-free by washing them frequently to limit the transfer of any bacteria, viruses, and especially Covid-19.
Traditional hand soaps or any antibacterial hand sanitizers are both good options for cleaning your hands. Still, washing with soap is the best method to prevent the spread of diseases. Think about it, if you plunged your hands into wet trash would you want to rub on a little hand sanitizer on them, or wash them with soap and water? Germs and microbes are no less dirty or harmful, they are just invisible to us, so hand washing is still our best defense against this invisible enemy.
Wash Your Hands Correctly
Unfortunately, far too many people do not wash their hands or wash their hands incorrectly. The process includes washing your hands on both sides, with soap, in running water for about 20 seconds.
Wet your hands with running water.
Apply soap (liquid/bar/powder) on your hands.
Rub your hands for good amount of lather.
Rub both the hands vigorously for at least 20 seconds. Rubbing must include all of the surfaces- the back of your hands, wrists, between your fingers, and under your fingernails.
Dry hands immediately with a clean towel or under an air dryer. Wet hands are more susceptible to bacteria than dry hands.
Getting Back to Business
If you are looking to get your facility back to business or want the peace of mind that total facility disinfection services can offer, we can work with you to create a comprehensive professional disinfection service plan. Here at Stathakis, we are working with businesses just like yours to remove biohazard contaminants using CDC approved disinfection methods, as well as other best practices to reduce the risk of disease transmission. Call us at 1-800-278-1884.