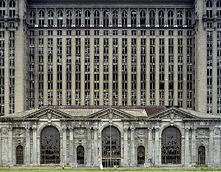 Whenever I am traveling around America and am asked where I am from, my answer is "Detroit." The next sentence almost always starts out in a rather apologetic tone as they look down at the floor and try to think of something nice to say. I then follow with a, "No, we're alright, really!" So when I saw Chrysler's Super Bowl commercial starring Clint Eastwood I was elated to see that someone was able to catch the spirit of what is really going on in Detroit.
Our journey started over 100 years ago in the automobile industry and is not going to end now. We have the infrastructure, the educational support system, the skilled labor, and the hard work, blood, sweat, and tears that went into putting it all together. That's the spirit of Detroit.
So if it is only halftime, that means we have another 100 years here in Detroit as the automobile capital of the world. Yes times have certainly changed, but so have we. We're a little older and a lot smarter. But as the commercial said, "We all pulled together, now Motor City is fighting again." So as a Detroit Janitorial company, I am proud to be here in the heart of Motown, my town, the Motor City.
It is halftime and Detroit is coming out of the locker room leading America's battle cry. The message of unity, pulling together, and fighting for one common cause is something that we all need to embrace as Americans if we want to be successful in the second half.
So in the words of Clint Eastwood, "Detroit's showing us it can be done. And, what's true about them is true about all of us.
This country can't be knocked out with one punch. We get right back up again and when we do the world is going to hear the roar of our engines.
Yeah, it's halftime America. And, our second half is about to begin."
WATCH THE VIDEO HERE: