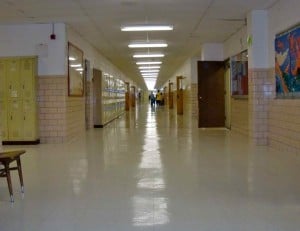 Chris Woodruff has spent 22 years of his career at Beacon School, a day treatment program for children and adolescents with behavioral management problems. However, 2009 marked a big change for him. It was his first year as principal and he was put in charge of moving the school to a new location in River Rouge, Michigan.
The construction company promised that the school was going to be move-in ready when they turned the building over to Woodruff in July. However, it was in no condition to open the doors to kids.
"The building was a mess," explained Woodruff, "It was dirty and filled to rafters with junk. Stathakis stepped in from the beginning, cleaning the mess the construction company left behind, taking their trash out to the dumpsters, helping to put combinations on the lockers and even installing all the paper towel dispensers in our thirty-two bathrooms. They went way beyond cleaning. It is amazing the gamut of what Stathakis offers."
When moving day finally came, Woodruff quickly realized that he miss-calculated the number of staff he needed. "I placed a call to Stathakis and they sent over every available staff member to help us move furniture and supplies to the right rooms. They even had people coming over in suits from their main office. Stathakis is completely responsible for getting us into the new building on time."
HIGH MARKS FOR QUALITY, CONSISTENCY
The partnership between Woodruff and his Stathakis crew remained strong once the move-in was complete and it was time to switch to maintenance mode. Brad Jordet, Customer Loyalty Representative, was heavily involved in helping to tweak Beacon's janitorial program. About 3-4 times a week he would meet personally with Woodruff to discuss what the new principal was happy with and where improvements could be made.
According to Woodruff, Beacon has never been cleaner. In fact, his staff used to bring in their own cleaning supplies, because they were concerned about the kids health and never felt the classrooms were clean enough.
"We are not used to this level of service," he said, "You always wonder when you enter a long-term contract with a company if, after the honeymoon period, it will come apart and things will slide. But our school continues to be maintained to a "T". My staff is thrilled with how clean their classrooms are and they are delighted that they don't have to clean it themselves."
EXTRA CREDIT FOR KEY STAFFERS
Teamwork between the school staff and Stathakis is stellar, claims Woodruff. "Melissa Williams, our Team Leader touches base with me every night and does a great job communicating with my staff through the log book. If anyone has any concerns, they write them down in the log book. Even if it's a little thing, like replacing a light bulb, Melissa writes back to let us know it's done."
"Tom Brooks, Service Technician, is like one of Beacon's own hired staff. He not only does a great job, he is good with the kids. If he is setting up for a production, he includes any kids who are available. He works with them great."
"When the pipes froze Brad Jordet had an army of people come over and they got on it, tirelessly mopping up floors until it was fixed."
Woodruff is so impressed with the responsiveness of his Stathakis team, he thinks the 10-Minute Response Guarantee is unnecessary, "They didn't need to send me a stopwatch, if I need anything I know they are on top of it. A simple phone call gets stuff done."
SCHOOL PRIDE IS ON THE RISE
Chris says that the the kids, parents and staff take pride their new school and how pristine it is maintained, "The kids we service are from difficult backgrounds and sometimes places like ours are seen as dumping grounds. Generally, they don't get the best of best. But now you can see it in the kids, parents and staffs faces — they are proud to call Beacon their school."