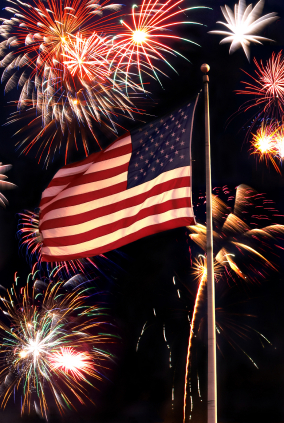 Independence Day has become for most of us a day of gathering. A day to celebrate with food, fun and the ever present and symbolic fireworks. Who among us could not benefit from a day off and a reason to join with friends and family and enjoy a warm summer day? And who doesn't enjoy fireworks? Well, maybe a few household pets cower over the booms and bangs, but watch the faces of the children around you and you can see what a powerful symbol fireworks can be.
Do you know why we commemorate our Independence Day with fireworks? It was John Adams idea, you know, that guy who helped Thomas Jefferson draft the Declaration of Independence and went on to become the 2nd President of the United States, yeah that guy. In fact, he imagined the kind of celebrations we have before the Declaration of Independence was even signed. In a July 3, 1776 letter to his wife Abigail Adams, John Adams wrote of "pomp, parades, sports, bells and illuminations." In fact, the first fireworks to commemorate the July 4 Independence Day were set off just one year later on July 4, 1777. A grand exhibition of fireworks took place on the Commons in both Philadelphia and Boston that year and began a tradition of celebration that continues today.
We use fireworks to commemorate, meaning to recall, remember, memorialize and celebrate. We stand together as Americans to celebrate what was for our founding countrymen, a bloody, violent day, the beginning of many hardship days to come in a long fight to win our independence. We celebrate with joy and revelry because although the American Revolution was a war and war by its very nature is ugly, the ideas that our countrymen fought for are as vital today as they ever were.
When we light our fireworks, play games, eat food and join with our family, neighbors and friends, we reaffirm what a powerful thing it is to be free. We restate our commitment to free political discourse and disagreement, whether it's on our legislative bodies or even Facebook. We look to our children and hope the same or better is available for them as they pursue their own happiness. We reaffirm that government is to help protect the rights of the people, that we the people put that government in place to remedy the abuses of a tyrannical king. We celebrate the notion of individual freedoms and rights within the larger societal needs. We express our gratitude for what it is to be American.
At Stathakis, we take July 4th off from delivering our Janitorial Services to take time and reflect on our independant American heritage. So have fun, celebrate, eat good food, revel in the day and the festivities, but take at least a moment to acknowledge what it took to get to this place and remember that as Americans we are active participants in our own future destiny as individuals and the nation.