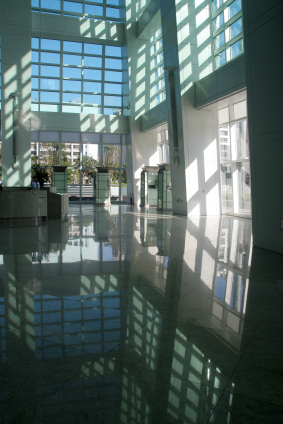 Looks can be deceiving when it comes to floor cleanliness. A shiny floor may appear to be clean, but what you can't see can actually be detrimental to your employees' and customers' health. To make sure your floors are genuinely clean, it's important that your commercial floor cleaning service tackle three key elements: dirt, sanitation, and looks.

1. Dirt and Debris. Dirt and debris cause damage to your floor. As people walk on your dirty floor, your floor's finish is compromised, and it deteriorates much more quickly than it would if it were kept clean. In reality, dirt acts like sandpaper on your floor whenever it's stepped on. A floor that has been stripped by too much wear and tear requires much more maintenance, which costs you money in the long run. Commercial floor cleaning can preserve your floor.

In addition to preserving your floor, keeping it clean will also make it safer for everyone who walks on it. Dirty floors are slippery floors, and you certainly don't want your floors to become a liability.

2. Sanitation. Sanitation is tricky because you can't count on your eyes to tell you whether or not your floor is sanitary. Your floor may look clean and shiny, but if it hasn't been disinfected, it could be harboring all kinds of germs and bacteria.

To make sure your floor is truly sanitized, you've got to hire a trustworthy commercial floor cleaning service that uses the right methods and chemicals in the daily service of your floor. Your floor sanitation requirements depend on the type of work environment you run. For instance, a medical office requires much more frequent disinfecting than an industrial warehouse.

It's possible to get a floor nice and shiny with just water and a mop, but an expert commercial floor cleaning service will use the correct disinfectant for your particular floor and apply it in such a way that your work or learning environment will be germ-free.

3. Looks. Does your floor look good? We're not just talking about whether or not it's been swept or mopped. Does it look the way it was intended to look? If you've noticed a degenerative trend in your floor's appearance or wear, perhaps it's not being cleaned appropriately for its materials or finish. Hire a commercial floor cleaning service that will improve its looks today and preserve its good qualities for the future. You'll save money in the long run by properly maintaining your floor instead of letting it wear down before it should.

The cleanliness of your floors sets a higher cleaning standard for the rest of the building. In sociology, the "broken window theory" states that if a neighborhood doesn't fix its broken windows, the environment will descend into crime and chaos. This rule theory holds for cleanliness as well. When your employees, students, or customers walk into a room with a dirty floor, they behave differently than they would if they walked into a room with a spotless, shiny floor. When you start with a spotless floor, the tone of the building changes, the standard is lifted, and everyone feels more professional and willing maintain and improve their working environment.

If you're ready to tackle the dirt and debris, sanitation, and looks of your floor, find a good janitorial service to take care of the work for you. An excellent janitorial contractor will provide you with a floor maintenance system that can keep up with the demands of your facility.